Ford's Theater
Already garnering raves on the festival circuit, Tom Ford's directorial debut—a poignant, stunningly realized tale of loss and longing, starring Colin Firth and Julianne Moore—is ready for its close-up.
---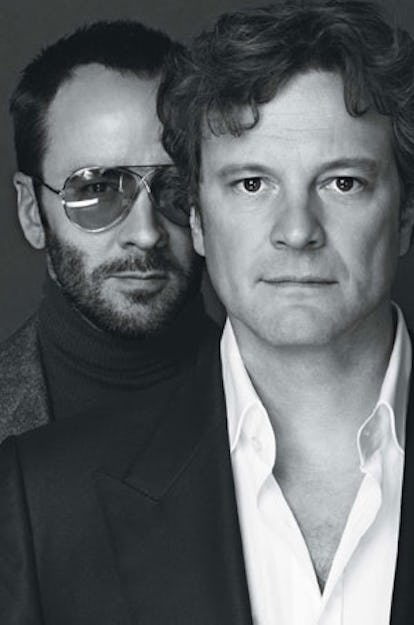 Hollywood knows no dearth of audacity. Nor, for that matter, does fashion. When, in the midst of his contentious departure from Gucci Group, five years ago, Tom Ford revealed nonspecific plans to become a filmmaker, skepticism ran rampant. Yes, he had transformed a mess of a European leather goods house into one of the most dramatic success stories in fashion history. Yes, he had done so on the strength of an alluring aesthetic as impeccably rendered as it was sexual and slick. Yes, it had made him a Hollywood darling (and very rich). But the skill set inherent in designing fabulous clothes and showcasing them in high-glam, high-voltage runway presentations to an insider audience (the celebrity front-row obsession not yet in full flower, and the Internet and social media–fueled madness not yet a factor) would hardly translate to the stuff of celluloid glory. Right?
Wrong. Very wrong. Ford's exquisite film debut, A Single Man, adapted from Christopher Isherwood's 1964 novel of the same name, opens on December 11 after making the worldwide rounds of film festivals: Venice, Toronto, Tokyo, London and, in November, Los Angeles, where it closed the American Film Institute Festival.
In New York briefly before heading to London for the festival there, Ford greets a visitor in the upstairs salon of his ultrachic Madison Avenue men's boutique, his jacketless physique even more svelte than usual, thanks to 12 pounds shed when he stopped drinking for no particular reason six months ago. Yet he proclaims that loss's full impact is temporarily tempered. "Flannel," he offers in his blandly sensual baritone, pointing to his shirt, "adds five pounds." That keen visual acuity, which registers and judges every nuance, every pound, plus or minus; every smooth, Botox-immobilized brow, as well as every shoulder line, heel height, room decor and background haze, may reasonably go a long way in creating a visually expressive film. And so it did. A Single Man is a pleasure to behold. Gorgeously rendered interiors capture the characters' personalities and torment—George's glass house is appointed with anal precision; Charley's living room challenges her daily to keep up with its midcentury glam (the film is set in the early Sixties). A mournful beauty permeates even the dreadful scene depicting Jim's fatal car crash.
Yet most surprising about the film is its subtlety and poignant, introspective emotional tenor. "There is a good deal of my soul, if one has a soul, in that film," Ford says. "I've never shown that side of myself."
In adapting the book, Ford cowrote the screenplay with David Scearce. The film presents a day in the life of college professor George, played brilliantly by Colin Firth, who struggles to hold his life to­gether after the sudden death months before of his lover of 16 years, Jim (Matthew Goode). Julianne Moore portrays George's friend Charley, a gorgeously turned out, hard-drinking matron on the precipice of decline, who longs to rekindle the brief romance the two shared many years before. The film premiered in September at the Venice Film Festival, where it garnered a 10-minute standing ovation, the best actor prize for Firth (now the subject of major Oscar buzz) and lavish praise for its neophyte director. "Tom Ford gets it spectacularly right," wrote Screen International. "An impressive helming debut," offered Variety. And from the Times Online: "A thing of heart-stopping beauty…. Tom Ford is the real deal."
Scenes from A Single Man, from top: Firth and Matthew Goode; Goode; Jon Kortajarena; Firth and Lee Pace.
Ford claims to have been unaware of his before-the-fact naysayers. And though he admits to nervousness prior to his first day on the set, particularly about saying "Cut!" ("You have to sound commanding"), he otherwise felt typically confident. "I loved every minute, every phase," he boasts of the directorial process, noting, "I'm best when I'm in complete control." Yet he understands why major actors might have had reservations about enlisting. Long comfortable with new directors, Moore was unfazed by Ford's rookie status—neither, however, was she influenced by their previously existing friendship. "The funny thing was, I'd run into Tom and Richard [Buckley, Ford's longtime partner] at the Met ball, of all things," Moore recalls. "I was like, 'Hey, Tom, how's it going with your movie? Are you getting it going?' Because he had always talked about making movies. And he said, 'Oh, funny you should mention it.'" Soon after, he sent Moore the script along with a note saying he had written Charley's part for her. They got together and talked, and she signed on.
"The script is what I typically respond to, and this was really quite beautifully actualized," she says. "I've had a lot of luck with first-time directors when their material is strong and their vision is strong, and that's something that Tom has in abundance."
Ford approached Firth in a similarly personal, if more direct, manner. The two had met briefly at a party thrown by Madonna and ­reconnected at the London premiere of Mamma Mia!, where they were introduced by Tom Hanks and Rita Wilson. They had a lengthy conversation after which Ford, with the role of George already cast, vented to Buckley, "Goddamn it, goddamn it, goddamn it. I need Colin Firth." In the things-happen-for-a-reason category, the actor who had signed on dropped out (he was the second George to flee), and Ford immediately e-mailed Firth at an address supplied by "the Hankses," which spiked the actor's curiosity. "Nobody who represents me knew he had written to me," Firth says, noting that the e-mail was "compelling. It was articulate. It was considered." And he was impressed with the material, which he deemed significant and "not just something that was a study in chic or irony or cynicism or any of those things that we associate with fashion." After Ford flew from L.A. to London to make his case in person, Firth was convinced. "If I had any doubts about this fashion designer's vanity project, they were pretty much gone then…. I thought, This just can't possibly be a banal choice."
Scenes from A Single Man, from top: Julianne Moore and Colin Firth; Firth; Paulette Lamori; Firth; Firth and Moore.
His and Moore's instincts proved spot-on. Ford's direction, according to Firth, communicated economically with ample room left for Firth to "flourish in what I do best," and elicited stellar performances. The Weinstein Company bought the U.S. and German distribution rights. "I've made seven movies with Colin Firth, and I think this is his finest moment onscreen," says Harvey Weinstein. "Tom has such a great eye, but the beauty of this movie is every performance is so calibrated and so nuanced. I thought Tom would get there, but I didn't know he would get there so soon."
Like others involved in the project, Weinstein notes the film's universality: "Everyone has had the kind of day that George has, an incredible adventure, and at the end of it finding peace." Says Firth, "Anyone who's ever felt alienated or anyone who's ever felt they've got to make an effort to face the day or anyone who's ever lost anybody will find something in this guy, I think." And from Ford: "That's the thing about my film—it's the isolation we all feel and the universal need to connect with others."
Translation: This is not a gay movie. While one may assume the sophisticate Ford to be above so mundane a pronouncement, the marketer Ford seizes that crucial moment of consumer connection, and if he has to spell it out, so be it. "I like chocolate cake. Do I define my life by the fact that I like chocolate cake?" he queries. "For me, that's what sexuality is. I didn't think of making a movie with gay characters." Yet he wants to make clear to those who don't dine at the chocolate-cake table that there's plenty of red velvet, too. For the article's photo shoot, W had hoped to photograph the director surrounded by his leading cast members. With all but Moore assembled in London a day or two before the festival there, suggestion B was a picture of Ford with the featured male actors. He declined, saying it would send the wrong message, and subsequently agreed to the photo with only Firth. "I want to make sure that people don't think this is a gay film, because it is a universal film," he says. "We all go through the same things in life—romance, grief, isolation, trying to come to an understanding of what life is about. I wouldn't want someone not to see it, thinking, Oh, that's a gay love story. That's not the core of the film."
As George's tale unfolds in flashbacks, he plots out his suicide, including his burial look: suit, shirt, shoes and tie, along with the written instructions for a Windsor knot. His interest in postmortem sartorial panache goes beyond even Ford's own obsession with exacting style. "George, who is very much my own character grafted onto the character, obsessively puts himself together because that is the way he holds himself together," the director explains. "His inner world and his outer world are connected, and the only thing holding them together is the polishing of his shoes, the scrubbing of his fingernails, the perfect white shirt. If he let go of that, he would collapse. There is an enormous part of myself that is like that."
Though Ford admits to a constant awareness "of my death and my mortality" that started in his childhood, he will pass on selecting his own funereal regalia. "I would like to be cremated immediately," he says. "I don't even want a funeral. I don't want anyone. I just want to disappear." He adds that in the past five years he has "become a very different person," though he hesitates to dwell on that thought, lest he turn "too sappy."
Pressed ever so slightly, however, Ford runs with it. "I am a very spiritual person now," he says. "I've always been guided by a kind of inner voice and intuition. What I didn't really realize was that I was feeling a connection to things that were maybe more subconscious.
"Contemporary culture has blinded us from trusting our intuitions," he continues. "Dogs live only in the present. They don't dwell on the future and think about their past. They're very intuitive, and they pick up on things, feelings, vibes, looks; they listen, they sense—things that we don't any longer do as a culture. In our culture we're taught that if you're unhappy, it's because you're going to be much happier when you get a new house, when you get a new apartment, when you get those new shoes, when you get this new girlfriend, when you get a new job, when you get that—there's always something to strive for. We're never happy. It's never enough. There's always something else. It's unending; there is no satisfaction at the end of all this. And I think if you're fortunate enough to have unlimited resources to actually have all of these things, you're able to see that."
But rather than feeling thus doomed to the empty, ever unfulfilled pursuit of more, Ford embraces the realization. "I'm not sad anymore because I realized I do have a lot that isn't part of that and isn't transient. I guess now I believe there is more than that."
Additional scenes from the film, from top: Ginnifer Goodwin; Goode and Firth; Nicholas Holt; Goode and Firth; Moore.
Such articulation is newly forged territory for Ford, whose persona to all "but the five people who know me best" has long been about confident reserve and consummate control. Perhaps because of his WASP Presbyterian upbringing, he disdains behavior suggestive of woe-is-me indulgence. So, inner monologues aside, Ford remains in possession of his ultracool armor of distance, at least beyond that inner circle. "I have a very dark side, a side that has struggled a lot with depression, and I've never been one who showed that to the outside world. I think when you say to someone, 'Good morning. How are you?' they should say, 'Great, terrific,' because everyone struggles in life. The Yves Saint Laurent thing used to drive me nuts—his depressions, his alcoholism, his whatever. Most people have a lot of problems. You can define yourself by them, or you can realize that everyone is going through what you're going through and you make the best of it and you get on with your life and you don't necessarily inflict that, because others probably have that too. They're just not inflicting it on you."
In fact, such silent turmoil informed Ford's run at Gucci well before his conflict with the PPR brass prodded him to walk away. Even in good times—and they were rolling back then—the stress of a major house on its designer is immense. There's the pressure first to become successful and, success attained, to stay successful, to walk the creative-commercial tightrope and, in the case of someone like Ford, who reaches the pinnacle, to constantly best oneself, staying ever relevant and eternally hot while keeping the numbers soaring upward. And that's minus any soul-searching. Two years before leaving Gucci, Ford experienced "a pretty intense midlife crisis," which happened to coincide with his 40th birthday. "I started to sink emotionally, spiritually. I became a little bit lost. Leaving Gucci, it intensified because I had been able to cling to my job and to my work and to my identity as a successful fashion designer, and all of a sudden that was gone. It forced me to really think, Well, what am I, who am I, what am I about? It took me a bit of time to figure that out. I think this happens to most people in their life if they're insightful enough to indulge it and to get through to the other side."
The experience left Ford open to accept his spiritual tendencies. Another lightbulb went on as well: The life of leisure—no, thanks. Before forging into other projects, including the establishment of his film production company, Ford had about three months of retirement, which he describes as "Hell. Horrible. Hated it. I learned I will never retire. I will work like Philip Johnson until the day I drop dead. I was miserable. It really disturbed me that I no longer had a voice in contemporary culture. I didn't have any way to express myself."
During those three months, he bought golf clubs and played once, but since he couldn't compete with the memory of his terrifically athletic 15-year-old driving, putting self, he never hit the links again. To fill his time Ford started acquiring major residences, selling his and Buckley's smaller London house to buy and renovate a grand 1756 Georgian town house, engaging Tadao Ando to design a sprawling New Mexico ranch compound and starting work on a new, large and as yet unfinished house in Sante Fe, diversions he would now like to unload. "I'm saddled with too much stuff in my life, and the time it takes to manage it—I'm a slave to it," he says. "We have a six-floor house in London. I'd love to have a flat where Richard and I could live in a more intimate way. I started with nothing. Richard and I used to live on St. Marks Place [in New York], above Café Orlin, and in a lot of ways we were just as happy, if not happier. We cooked dinner together and we lived in a tighter environment, and I would like—and we have made real efforts—to live that way again."
Which is not to say this die-hard realist thinks he can reinvent the romantic, upwardly mobile poverty of his youth. "But we can live in a very glamorous giant one-bedroom flat where we both have our own bathrooms and dressing rooms and where we actually make our own dinner in the kitchen and don't need six floors and an elevator and don't have to page each other to find each other in the house. We page each other. 'Richard, where are you? Pick up. I'm on….' There are two of us and two dogs on six floors. It's silly."
On the other hand, Ford considers his West Coast house, a Neutra gem in Bel-Air, perfect, "essentially a big one-bedroom house, quite a luxurious one-bedroom house. I hope I don't come off sounding too rich and spoiled," he says.
That house and some London address, whether the current six-floor silliness or a suitably chic downsizer, are essential to Ford's immediate future. He plans to make a film every three or four years. And already back in fashion since the launch of his signature tony men's collection, in 2007, he is in the process of moving to bigger studio space in London in advance of his re-entry into the women's arena, most likely for fall 2011. Fashion, he believes, has floundered since he left, "and I don't mean that that has anything to do with my leaving. I could feel it starting to flounder before I left, which helped me feel good about getting out at the time." He bemoans the lack of a look, or handful of looks, definitive of this decade.
Yet neither such absence nor his current distance has diminished his opinion of the discipline; rather, he remains convinced of the palliative powers of the medium. "Fashion," he offers, "is one way in which we hold ourselves together." On a lighter note, Ford muses, "Just because I've become spiritual doesn't mean I can't love crocodile."