Tom Ford to Gucci?
In case you missed them, here are the top style stories of the week.
---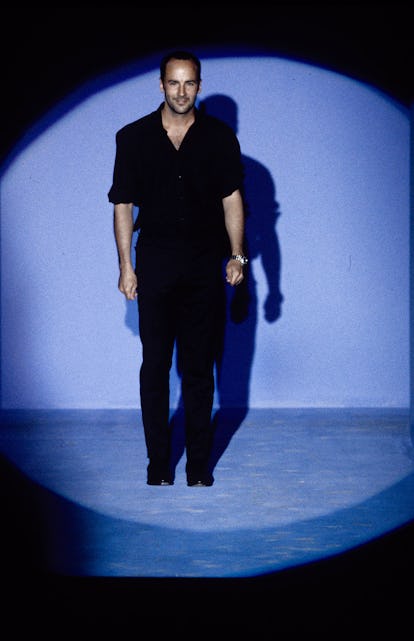 Amoruso, Sophia The Nasty Gal founder, and professional Girl Boss, will no longer serve as the company's CEO.
Baldwin, Hailey Hit the runway for the Moschino Fall 2015 men's show. Casting director must have forgotten that the hot new generation of Baldwins is female.
Beyoncé Revealed that she may be pregnant with Blue's little sibling, Red.
Clooney, George Re-wore his wedding tux to the Golden Globes. Amal no doubt approved of his austerity.
Cumberbatch, Benedict Admits that he loves wearing makeup, especially concealer. Maybelline, you listening?
Delevingne, Cara Stars in the DKNY men's wear campaign. Guys, they're girls!
Dior Will present its cruise collection in LA this year, to the disappointment of Brooklyn.
Ford, Tom May return to Gucci, following Frida Giannini's departure. Full circle.
Hadid, Gigi The It model was named the new face of Maybelline. Sorry, cumberbitches.
Harington, Kit The Game of Thrones actor—and his signature flowing locks—is now starring in Jimmy Choo ads.
Jagger, Mick Donates a L'Wren Scott scholarship to Central Saint Martins in honor of his recently deceased girlfriend.
Leto, Jared Donned a glorious lumbersexual man bun to the Critics Choice Awards, to the delight of all Leto lovers.
Lululemon Put a price tag on patience. No, it's not sheer.
Maison Margiela Quietly cropped Martin, not so quietly added a Galliano.
Rihanna May be dating Leonardo DiCaprio. Because none of the Victoria's Secret angels were available.
Simoens, Maxime The French fashion designer split with LVMH. Is still creating chic pieces for his eponymous label.
Wet Seal Filed for Bankruptcy. Tweens shed quiet tears.