Tom Ford Is Flattered
In case you missed them, here are the top style stories from the week leading up to July 12th
---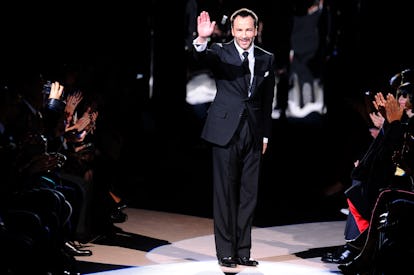 Beyoncé Wears only body glitter and jewelry on the cover of Flaunt magazine—because she can.
Bryant, Janie The Mad Men costume designer lands her own reality TV show; good news for anyone still watching Mad Men.
Bynes, Amanda Wore a blue wig to court; continues to insist that she is sane.
Downton Abbey Coming out with a cosmetics line in October, at British chain Marks & Spencer, for all those who desire to smell like Edwardian England.
Ford, Tom Is flattered that Jay-Z named a song after him. Well, duh.
Gaga, Lady Walked around Midtown in a bra. What else is new?
Gomez, Selena Designs sequined sports bras for Adidas; reminds the world of her age.
Hudson, Kate Also designing a collection of workout gear; no sequins in sight.
Moore, Julianne Goes blonde; shocks the tabloids.
Nelson, Willie Stars secondary to his magestic braids in the new John Varvatos ad campaign.
Net-a-Porter The luxury retailer will now offer same-day delivery to the Hamptons; what took them so long?
Nas Designs a streetwear collection; was jealous of Kanye X A.P.C.
Paltrow, Gwyneth Collaborates with Soludos on a line of affordable, cute espadrilles; was also jealous, apparently, of Kanye x A.P.C.
Polge, Jacques The legendary Chanel fragrance creator plans to retire; have no fear, his son Olivier will take his place. No. 5 forever.
Project Runway An advertisement for the upcoming season was banned in Los Angeles for featuring nude models; in other news, Project Runway is still on TV?
Roitfeld, Carine Styled a shoot for V magazine inspired by—wait for it—teenage Carine Roitfeld. That's all.
Scott, L'Wren Announces a collaboration with Banana Republic; is a reality TV show next?
Uniqlo Plans to open 10 new stores in the US; continues to plot world domination.
Wang, Vera Hits the red carpet in an oversized accessory: Hey Vera, do you want some dress with that belt?
Wintour, Anna Endorses Hillary Clinton for president in 2016; chances of another Vogue cover for the former secretary of state skyrocket.