Tom Ford Doesn't Feel That Sexy
In case you missed them, here are the top style news stories of the week.
---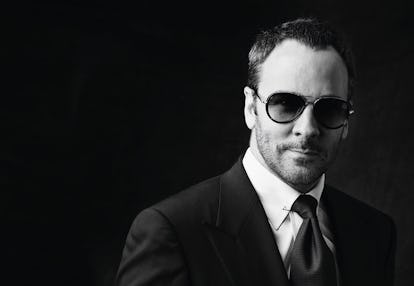 Acne Studios Cast the brand's creative director's 11-year-old son in the fall campaign. Gives a whole new meaning to Pretty Young Things.
Burberry Launching a customizable scarf bar. Because you didn't have enough options as it is.
Conrad, Lauren Admits to being basic. Thanks for that.
Depp, Johnny Stars in new Dior ad. Secures Amber Heard's front row seat at the brand's upcoming fashion show.
Dressbarn The 53-year-old brand is making a comeback, thanks to Patrick Demarchelier. Yes, really.
Ford, Tom Feels less sexy than usual. Aw.
Givenchy Inviting 1,200 normals to the brand's Fall 2015 fashion show. So where's my ticket?
Hadid, Gigi and Bella May become the first Victoria's Secret Angel sisters. Duh.
Ilincic, Roksanda The fashion designer is celebrating her label's 10th birthday with a special collection of 10 dresses. Any other number would have just felt wrong.
Jagger, Georgia May Became the latest model-slash-designer with a new Mulberry collaboration.
Koda, Harold The curator of the Metropolitan Museum of Art's Costume Institute announced plans to retire. That will be one hell of a going away ball.
Massenet, Natalie The Net-a-Porter founder is leaving her brand before its Yoox merger. Better change her Instagram name from @Nataporter now.
Rihanna May be launching a beauty line. Fingers crossed it also includes hair products.
Schuman, Scott The street style photographer is writing a book about travel. Because there's so much more to street style than fashion week.
The Row Is showing in Paris this season, instead of New York. Missed the Givenchy memo.
Ton, Tommy The king of street style is launching his own site, where he plans to cover fashion week street style. Will not be joining Schuman abroad.
Victoria & Albert The London museum plans to open an exhibition dedicated to underwear. Victoria's Secret celebrates the fortuitous alignment.