Tom Ford's Newest Discovery Ellie Bamber Is the Next Redhead Movie Star
The 19-year-old British actress on her fast ascent and how she maintains that gorgeous color.
---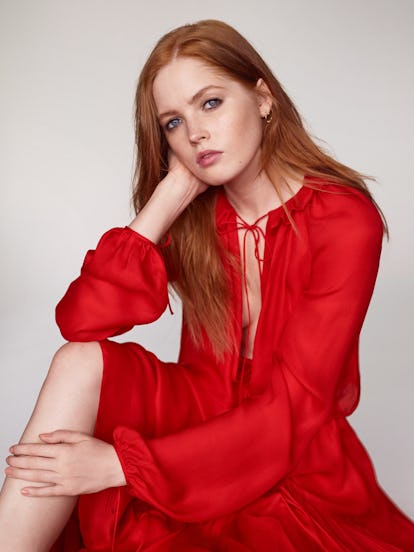 Photographs by Thomas Whiteside, Styled by Akari Endo-Gaut; Hair by Joey George for Oribe at The Wall Group; Makeup by Yumi Mori for Chanel at The Wall Group; digital technician: Caitlin Frackelton; photography assistants: Jose Alvarado jr., Marty Brown, Martina Travia; fashion assistant: Sara Van PEe; makeup assistant: Debie Kim.
Tom Ford's glossy psychological thriller Nocturnal Animals, in theaters now, features a trifecta of stunning redheads: Amy Adams, Isla Fisher, and, not least, 19-year-old newcomer Ellie Bamber, who plays India Hastings, the daughter of Fisher and Jake Gyllenhaal. Ford's second film, coming seven years after his Oscar-nominated A Single Man, is a marital thriller set in Hollywood and Texas. Bamber, who grew up an hour south of London, had to master an American Southern drawl. "I watched a lot of 'Friday Night Lights to get the accent in shape,'" she says in her British lilt.
Bamber came of age on the London stage, at the Players' Theatre company, where, at 12 years old, she was the youngest member, followed by roles in the West End in Sir Trevor Nunn's Aspects of Love and a lead in High Society, the last production under Kevin Spacey's artistic direction at the Old Vic Theater.
But she's been interested in the craft for as long as she can remember. "When I was quite young, as cringe as it sounds, I was always putting on shows for my family and friends," she recalls.
She's appeared in a few film and TV roles but it's Ford's movie that's taken her across the festival circuit from Cannes to Venice to Toronto. "He has this amazing aesthetic vision that I've never seen before, and how it translates on film is just beautiful," says Bamber. "Like the contrasts with my skin and hair color…"
A little about that phenomenal hair: She gets it colored by Nicola Clarke at John Freida in London, where she recently moved into her first flat. But for touch ups, she'll visit her childhood home in Guildford, an hour southwest of the city. Her grandmother used to be a hairdresser. "She lives a mile down the road," says Bamber, "so she touches up my roots."
Well done, grandma. Perhaps it's the color, too, that has also attracted the likes of Chanel and Giles Deacon, who have started dressing her for events like the Met Gala and fashion week — that is, when she's not wearing Tom Ford. "I love Tom's dresses because they're really sophisticated and elegant but they also a little bit of a sexy thing going on," she says. "He knows how to make a woman look great, basically."
Up next for the burgeoning star is a lead role in the indie film Extracurricular Activities, a dark comedy about "a boy who decides to become a hit man," says Bamber. "Without saying too much, I sort of become his accomplice."
It was also announced that she'd join Keira Knightley, Morgan Freeman, and Misty Copeland in Disney's The Nutcracker and the Four Realms, due out in 2018. She's certainly ready to tackle that blockbuster after going through the Tom Ford filmmaking experience.
"He has this air of grace, but Tom's also from Texas," Bamber says. "So sometimes he'd just shout out, 'You're doing it wrong!'"