Tom Hanks & Julia Roberts: American Idols
Julia Roberts and Tom Hanks on adult education, starting out in Hollywood, the power of optimism, and their new dramedy, Larry Crowne, the recession-era story of one man's reinvention.
---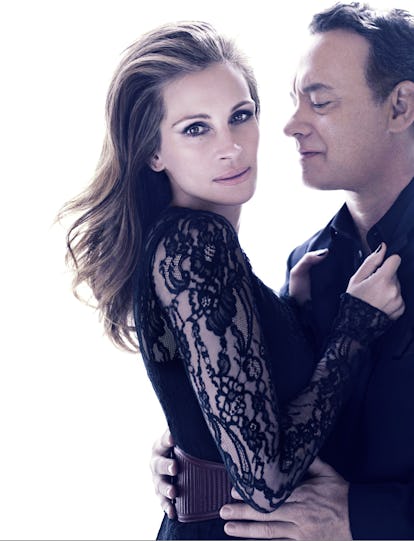 Photo by Mario Sorrenti, styled by L'wren Scott. W Magazine, June 2011.
Larry Crowne, which you cowrote and directed, is about a man, played by you, who loses his job at a Walmart-like store. Instead of wallowing in self-pity or descending into poverty and despair, Crowne decides to go back to college. It is a profoundly optimistic movie—an ode to opportunities in the worst of times. Was that your intent? Tom Hanks: Yes. The movie is about combating cynicism. People are naturally optimistic, but you have to choose to walk away from cynicism. You have to say, I am going to combat cynicism today. I had this idea about a unique guy who loses his job and then, at the end of the movie, realizes that it was the best thing that ever happened to him. He thought he was going to die, but it turned out great!
Is that a commentary on America? In a way. People are afraid of change. People say, I can't do this or that. Why? Because I'd have to change something. Well, yes: You should change. The idea of change makes them nervous, but I think change is good. Always.
At some point in your career, you changed from playing the romantic guy in Splash to the serious Philadelphia guy. How did that happen? I told my agents that I wasn't going to play pussies anymore. I was tired of playing, "Oh, boo-hoo—I was in love, but oh, boo-hoo-hoo." There comes an age when you can't do that anymore. I wanted to play men instead of boys. In your mid-30s, it's time to start playing guys of compromise. And as you get older, men of bitter compromise [Laughs].
In this film, you're a man of happy compromise. What was the genesis of Larry Crowne? I wanted to make a movie about junior college, and I wanted to be in it, but I didn't want to play the teacher. When I went to junior college, I was in classes with middle-aged housewives, guys right out of the navy, and all kinds of other people. I found that intriguing.
Were you a drama major? God, no. I didn't think acting was a job. I did take a class called Drama in Performance. We read plays and went and saw them performed. That was the transformational experience for me: There was no chick, no girlfriend you were trying to impress. The whole world went black, and you were one with the play.
Was theater more powerful for you than movies? What was the first movie you remember seeing? Theater seemed more like a job; theater contained possibilities. Movies were abstract to me. In junior high, I saw 2001: A Space Odyssey three or four times in one week. During one showing, someone giggled behind me, and I turned around and said, "Be quiet—this is like going to church." I was possessed by that movie, but I couldn't imagine acting in it.
What was your first acting role? I played George in Our Town at Chabot College in Hayward, California. I was working weekends as a bellman at the Oakland Airport Hilton.
Did you go on auditions while you were a bellhop? Bellman. Bellhop and bellboy are derogatory terms. Call them "sir." Terms of respect go a long way in that job.
I'm sorry. Were you nervous at the start of your career? Always. I get nervous now. But I always remember three things: Show up on time, know what you're going to say, and have an idea about the character. And when I direct, that's what I expect from my actors. You'd be amazed how hard it is to do those three things.
Did you write the part of your teacher for Julia Roberts? Yes. I had some teachers who looked like Julia. I would see them and think, I love you. So there was never anyone but Julia. Still, even after she said yes, I was the boss. That meant I got to say, "You don't wear this dress, you wear that dress." And Julia's Julia—she can be intimidating [Laughs].
Had you met before you worked together? We had said howdy-do at those famous-people-club meetings: "Hi! I'm famous, you're famous, and there's a camera on us now!" And then we did Charlie Wilson's War together a few years ago.
I really liked that movie. Why do you think it didn't find a big audience? Expensive movies full of moral ambiguity are interesting, but they aren't economically sound anymore. Although, eventually, everyone sees everything. They might see Charlie Wilson's War on their phone, but they will see it. It doesn't bother me: Making movies is still a delightful living.
Movies can have an impact in the oddest ways—in Splash, your character called the mermaid, played by Daryl Hannah, Madison. After that movie, Madison became one of the most popular names for girls. It's a powerful medium: Movies hold sway over many people's lives.
Lynn Hirschberg: In Larry Crowne, you play a professor at a junior college who teaches public speaking. Did you go to college? Julia Roberts: No. This was my first college experience. And the first time I had to speak in front of a classroom, I was apoplectic. All these faces looking up at me, thinking, What is she going to teach us? I needed to find my composure. It was very hard—it was terrible, in fact.
If you went to college, what classes do you think you would take? What did Tom say?
He said he'd take history classes. Oh, come on—does he need to learn more history? If you cut Tom Hanks open, you would find history books. Enough with the history [Laughs]. I guess I'd take a class in homeopathy or psychology—something that I would use in my life. I did actually start taking sewing classes recently. I can wear what I've sewn, if I'm not in a strong wind. And I'm taking piano lessons with my kids. We can blame this new frontier on Tom Hanks. I sat next to a musician at a dinner party at Tom Hanks's house, and I started thinking about piano lessons. In your 40s, you're supposed to learn new things so your brain doesn't turn to mush. So I'm practicing scales.
Were you nervous about being directed by Tom Hanks? God, no. We knew each other socially. When I was in Rome, shooting Eat Pray Love, Tom sent me the script and said, "Tell me what you think." I couldn't stop smiling when I read it: It's topical, but very positive. It contains this moment in history in a very interesting way. The movie says, You can lose your job and your way and still rescue yourself. Larry Crowne creates a self-excavated utopia, and I love that idea, that message. And Tom is so good at making fun of himself. In the beginning of the film, he's wearing pleated khakis. No one should wear pleated khakis onscreen.
Your character is something of a mess. She drinks a little too much. I spend a lot of the movie woozy. Why did Tom Hanks think of me when he thought of a drunken schoolteacher? What does that mean? He has me chugging margaritas. It's hard to chug a margarita! [Laughs] I asked why it couldn't be straight liquor, and he said it was funnier if it was a drink made in a blender.
Both you and Hanks are known for romantic comedies, and yet in recent years you've both stayed away from that genre. I think it's called growing up. Light and funny has a more compelling quality when you're younger. But I haven't abandoned the genre: I love falling down; I love Lucille Ball. It's just that a lot of those stories revolve around problems that I can't convincingly portray at this age.
Do you ever think of directing? No. I can direct breakfast, lunch, and dinner. I take pride in my kitchen, but I'm not going to direct a movie.
You were responsible for spotlighting Javier Bardem's performance in Biutiful. You threw him a bash, invited Academy members, and helped to get him nominated for best actor. Yes, I was the loudmouth on that. It was such a crazy travesty that the movie wasn't getting attention. And it's fun to throw your weight around. That's one of the perks of what we do.
You became powerful and famous early on—after Pretty Woman, you were a huge international star. You were only 21. Was that overwhelming? No, because the business was different then. It was a less loud, in-your-face sort of business. It would be awful to be a young actress today. Back in the good old days, before e-mail, you could decide how you wanted to be, how you wanted to define yourself.
Did you keep the red gown from Pretty Woman? No, even though it was made for me, they didn't let me keep anything from the movie. But I did get to keep the wedding dresses from Runaway Bride. They're all boxed up in my garage. I've never opened them. It'll be fun one day when Hazel [Roberts's daughter] is taller. She can play dress-up with her friends.
Julia Roberts & Tom Hanks: American Idols in W Magazine
Roberts wears Versace's silk dress. Hanks wears Tom Ford's silk suit and Ermenegildo Zegna's linen shirt.

Beauty Note: Skin glows in an understated way with Lancôme Star Bronzer Natural Matte.

Photographer: Mario Sorrenti Stylist: L'Wren Scott
Valentino's red silk lace gown with leather ruffles. Jimmy Choo pumps.

Photographer: Mario Sorrenti Stylist: L'Wren Scott
Burberry London's wool suit; Tom Ford's cotton shirt. Gucci tie.

Photographer: Mario Sorrenti Stylist: L'Wren Scott
What Katie Did's black and red silk corset; Giorgio Armani's black wool crepe skirt.

Beauty Note: Flawless skin is guaranteed with Lancôme Génifique Youth Activating Concentrate.

Tom Hanks styled by Negar Ali. Hair by Serge Normant; makeup by Genevieve Herr for Lancôme; grooming by Jetty Stutzman; manicures by Lisa Jachno for Cloutier Remix/Lancôme. Production by Stardust Visions; digital technician: Xanny Handfield; lighting technician: Lars Beaulieu. Photography assistants: Johnny Vicari and Eric Balaire. Fashion assistants: Brittany Penebre and Peju Famojure. Special thanks to the Chow family.

Photographer: Mario Sorrenti Stylist: L'Wren Scott
W's June 2011 cover

Photograph by Mario Sorrenti. Roberts styled by L'Wren Scott. Hanks styled by Negar Ali. Hair by Serge Normant; makeup by Genevieve Herr for Lancôme; grooming by Jetty Stutzman; manicures by Lisa Jachno for Cloutier Remix/Lancôme. Production by Stardust Visions. Fashion: On Roberts: Dolce & Gabbana's silk dress. Burberry belt. On Hanks: Tom Ford's silk suit; Dolce & Gabbana's cotton shirt. Beauty: Lancôme Teint Miracle Lit-From-Within Makeup in Bisque 5C; Desert Rose Blush; Color Design Sensation Effects Eye Shadow Smooth Hold in It List; Le Crayon Khôl EyeLiner in Black Ebony; Définicils Precious Cells mascara in Black; L'Absolu Nu Replenishing & Enhancing Lipcolor in Cream Lace.

Photographer: Mario Sorrenti Stylist: L'Wren Scott