Tom Hanks, America's Dad, Will Play America's Favorite Neighbor in an Upcoming Mister Rogers Biopic
You Are My Friend will follow Tom Hanks as Fred Rogers, and his friendship with journalist Tom Junod.
---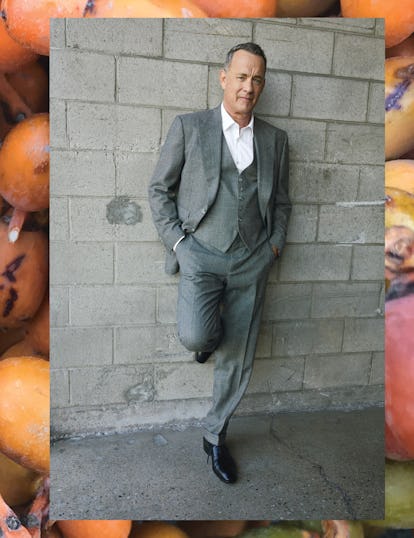 Photographs by Juergen Teller; Styled by Edward Enninful
Well, we finally did it—the most perfect casting decision has been made in the entire history of casting. Tom Hanks, otherwise known as America's Dad, will play Mister Rogers in an upcoming biopic about Rogers' friendship with journalist Tom Junod titled You Are My Friend. After starring in The Post as journalist Ben Bradlee, Hanks will find himself bringing another legendary figure to life, when Tom Junod, a jaded journalist with doubts on the goodnatured children's television program Mister Rogers' Neighborhood, is assigned to profile Fred Rogers. An authentic and genuine friendship is formed, and Junod learns a thing or two about kindness and acceptance from the teachings of Mister Rogers.
Director Marielle Heller is currently attached to the project, and will bring the former Black List script from Micah Fitzerman-Blue and Noah Harpster to life. "The script knocked me out with its message of kindness and its exploration of the human spirit," the Diary of a Teenage Girl director told Variety. "As a mother, I am so inspired by the teachings of Fred Rogers and as a human I am in awe of his life's work. I can't wait to bring his story to the public and be a part of such a thoughtful, smart group of people who are all coming together to make this film, which truly feels to me like an antidote to our very fractured culture," she continued.
Production for You Are My Friend has yet to begin, but just try to see if you can do the impossible for one minute—try to picture Tom Hanks singing "I'm Proud of You" or "Won't You Be My Neighbor?" without shedding a single tear. You probably can't because it's too pure! When America's Dad takes over the screen, there will undoubtedly be not one dry eye in the theater for our friendly neighbor Mister Rogers, who passed away in 2003 at the age of 74.
Related: Tom Hanks on the Heavy Burden of Playing The Post's Ben Bradlee