Here Are the First Photos of Tom Hardy as Al Capone in Fonzo
One very Capone, one not so much.
---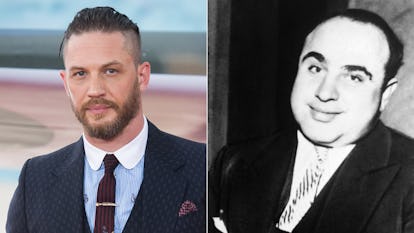 Keystone-France/Gamma-Rapho/Getty Images
Tom Hardy, who has basically played every type of gangster or gangster-adjacent character imaginable (including, at one point, a pair of twin gangsters), is at last playing the literal original gangster: Al Capone. Two years ago, news came out that the actor would be taking on the titular role in Fonzo, a biopic titled after one of the famous mob boss' nicknames. Now, we're getting a first glimpse of Hardy in character, and boy is it creepy. On Sunday, the actor took to his Instagram with a series of behind-the-scene posts of himself as Al Capone, complete with costume and makeup.
In one, he and Taboo co-star Stephen Graham—who played Al Capone in Boardwalk Empire—pull funny faces with huge smoke clouds coming out of their mouths (possibly from some Prohibition-era-style cigars). "Stevie Graham and Tommy NOLA oh yeah 2018," he posts, possibly suggesting the involvement of Graham, since they're on location in New Orleans. In another, Hardy slumps in a chair inside a dressing room while dressed in what appears to be a prison uniform and holding one of Capone's signature fedoras. (His bracelets and Bremont watch, though, are a little less period-accurate.) "Chasing Fonzo…," he writes in the caption, continuing the string of cryptic emoji. If you had any doubts about his ability to pull off the role, though, the last post should put those to rest. The most Capone-esque photo of them all is a menacing close-up of Hardy with his face and neck covered in the mobster's famous scars.
Fonzo doesn't yet have a release date, and details are scarce about the forthcoming biopic, which is directed by Josh Trank, director of Fantastic Four and Chronicle. Still, IMDB provides a brief preview of the synopsis: "The 47-year old Al Capone, after 10 years in prison, starts suffering from dementia, and comes to be haunted by his violent past." Looks like Hardy is spot-on, then. It remains to be seen whether he'll have to cover up his Leo DiCaprio tattoo.
Related: Exclusive: A Behind-the-Scenes First Look at Kristen Stewart and Laura Dern in JT Leroy