Tom Hiddleston Defended His Relationship With Taylor Swift to a Reporter
During the Kong: Skull Island press tour, Tom Hiddleston expressed frustration at still being forced to answer questions about a relationship that lasted three months.
---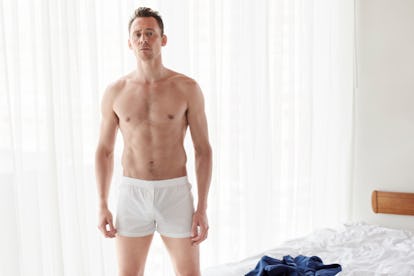 Tom Hiddleston's press tour for his new film Kong: Skull Island, just so happens to be his first since his highly publicized breakup with Taylor Swift over the summer. Given that and the fact that Hiddleston recently broke his silence on the breakup in an interview with GQ, a few media outlets have taken to asking the actor about his former relationship, the UK's Telegraph among them, to shaky ends.
Presumably during the London premiere of Kong last week, Telegraph reporter John Hiscock asked the actor whether he had any regrets when it came to his relationship with Swift in terms of "the publicity and gossip the romance engendered." Hiddleston's response was gentlemanly, but did not fail to reveal that his patience is being worn down when it comes to this particular subject. "What should I regret, in your mind? I would rather not talk about this if that's all right," he told the reporter, before going on to say: "I'm just thinking about this. Everyone is entitled to a private life… I love what I do and I dedicate myself with absolute commitment to making great art and great entertainment and in my mind I don't conflict the two. My work is in the public sphere, and I have a private life. And those two things are separate."
Hiddleston has certainly been put through the ringer when it comes to a three-months-long romance—by the paparazzi, the media, as well as Hiddleston's and Swift's fans. In the revealing GQ interview with Taffy Brodesser-Akner, Hiddleston reflected on the stress of being under a microscope, saying, "I have to be so psychologically strong about not letting other people's interpretations about my life affect my life. A relationship exists between two people. We will always know what it was. The narratives that are out there altogether have been extrapolated from pictures that were taken without consent or permission, with no context."
For Hiddleston's sake, let's hope these interviews finally put the matter to rest.
Related: No Wonder Taylor Swift is Smitten with Tom Hiddleston
Gigi Hadid Talks About Her Squad: