Updated: Rock Legend Tom Petty Dies at 66 in Los Angeles
The rock icon suffered cardiac arrest at the tail end of his 40th anniversary tour.
---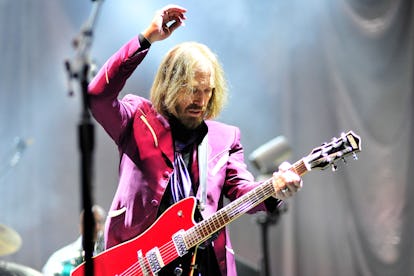 Jerod Harris
Update: 11:40 p.m.: Tom Petty "died peacefully surrounded by family, his bandmates, and friends," his management said in a statement to People Monday night.
Tom Petty, the legendary musician behind "Free Fallin," "American Girl," "Don't Do Me Like That," and "I Won't Back Down," was found unconscious and in full cardiac arrest on Sunday evening, before being rushed from his Malibu home to UCLA Santa Monica Hospital, TMZ reported. He is said to be on life support, though earlier reports prematurely announced his death at 66.
When Petty arrived at the hospital, he reportedly had no brain activity and was placed on life support, according to TMZ; though the outlet reports he was still clinging to life, he is not expected to live through the day. The sad news is all the more unexpected considering Petty just wrapped up his 40th anniversary tour with his band the Heartbreakers, which concluded with a show at the Hollywood Bowl last Monday, September 25. Ominously, Petty told Rolling Stone last year around the time that the tour with the Heartbreakers was announced that this would be his last one.
"I'm thinking it may be the last trip around the country," Petty said. "It's very likely we'll keep playing, but will we take on 50 shows in one tour? I don't think so. I'd be lying if I didn't say I was thinking this might be the last big one. We're all on the backside of our sixties. I have a granddaughter now I'd like to see as much as I can. I don't want to spend my life on the road. This tour will take me away for four months. With a little kid, that's a lot of time."
Petty, who is married to Dana York also has two daughters, Adria and Kimberly Violette with his ex-wife Jane Beyo, as well as a grandchild, is one of the icons of the modern rock era, not only a key figure of rock music but a bridge between the classic rock of the 1960s and the arena rock of the late '70s and '80s. The Americana and heartland-style artist was also early to embrace the music video era, perhaps most famously with 1985's Alice in Wonderland and Mad Hatter-inspired video for "Don't Come Around Here No More" from Tom Petty and the Heartbreaker's Southern Accents album.
Eight years later, Petty and the Heartbreakers released another seminal music video for "Mary Jane's Last Dance," which starred Kim Basinger, and played an instrumental role in him later receiving MTV's Michael Jackson Video Vanguard Award in 1994. Petty's list of accolades also extends to the Grammy Awards as the recipient of three awards and 18 nominations throughout his career — though he controversially did not receive one for Sam Smith's breakthrough "Stay With Me," despite receiving a co-credit on the winning song. (It was heavily influenced by his 1989 song "I Won't Back Down.") This year he was also the recipient of the Recording Academy's MusiCares Person of the Year, which recognized not only his career achievements but also his service throughout, specifically all that he's done for the homeless population in Los Angeles.
Petty was also a big advocate for artists' rights over the years, especially in the past decade as he filed a termination notice with his label so he could gain access to his own music rights in 2011 and, most recently, won royalties for Smith's "Stay With Me."
Take a look at footage from Petty's last show ever at the Hollywood Bowl below.
50 Years After the Monterey Pop Festival, Photographers Share Stories About the Coachella of Its Day
"These are all young concert goers waiting for the doors to open and the music to start. It was a mixed crowd—not like the tie-dyed hippies at love-ins, but more college-type crowd. This was the meeting of the San Francisco music people and the Los Angeles music people. All the bands in SoCal had never seen the S.F. jam bands and vice versa—they'd only heard about each other. It was a good meeting; everyone got along great and we all expanded our musical horizons." — Henry Diltz

Photo by Henry Diltz, courtesy Morrison Hotel Gallery.
"Janis was known in San Francisco—she lived nearby in the Haight. But no one except for the people from San Francisco knew anything about her. I knew she would be a huge hit, and I was right. Big Brother performed twice, and everyone was stunned. Mama Cass just sat in the audience with her mouth open in astonishment." — Elaine Mayes

Photo by Elaine Mayes, courtesy Morrison Hotel Gallery.
"Backstage, which was actually underneath the stage, Jimi Hendrix was sitting and eating fried chicken and waiting. His set wouldn't start for a few hours. Behind him are John Entwistle, the bass player for The Who and Noel Redding, the bass player for the Jimi Hendrix Experience. This was my first time meeting and working with Jimi. He was a quiet and shy guy, the total opposite his stage presence and his music. He played the guitar in a way that no one else can or will. He could make it talk. Being there, watching him play, we were witnessing something no one had ever seen before—a kind of music that was a brand new sound. I was amazed. He wasn't imitating anyone; he was a true original." — Henry Diltz

Photo by Henry Diltz, courtesy Morrison Hotel Gallery.
"Otis Redding was amazing. Most folkies and rock people had never heard of this Motown wonder. The audience stood up, and Otis told them to sit down because he could not perform unless the audience behaved. His blue suit seemed out of place, but no one cared." — Elaine Mayes

Photo by Elaine Mayes, courtesy Morrison Hotel Gallery.
"On Sunday, I saw a policemen stringing orchids on their antennae. They didn't arrest anyone during the festival because the crowd was so peaceful, and this gesture meant that they were in accord with the thousands of people attending. I heard later that there was no alcohol at the fairgrounds, which was no surprise to me because the hippie crowd didn't drink. Smoking pot was everywhere, and no one cared. LSD was around, too, but it was available mostly to the musicians and their close crowd." — Elaine Mayes

Photo by Elaine Mayes, courtesy Morrison Hotel Gallery.
"Nico was in the audience, next to Brian Jones. The musicians sat in the audience when they were not performing; everyone sat next to everyone else. If you got into the festival, then anything could happen in terms of musicians you could see and photograph. At first, I wanted to photograph backstage, but once the music started, I discovered that seeing the performers was what I really wanted to do. So, I stayed put in the Press Pit in front of the stage. Nico was no more than six feet away from me." — Elaine Mayes

Photo by Elaine Mayes, courtesy Morrison Hotel Gallery.
"The Who made their first major American debut appearance at The Monterey Pop music festival. We had all heard about The Who smashing their instruments at the end of their shows, but no one in the U.S. had ever seen it until this moment. We couldn't imagine what this would look like. I was standing in the wings when they finished their set, and suddenly all hell broke loose and pieces started flying. I watched in amazement through my camera lens as instruments were flying through air. It was like a kind of a musical orgasm. Pete Townsend, who has his back to us in this photograph, is pounding his guitar onto the stage floor. Then, he attacked his amplifiers with it. In the next moment, after this frame, Keith Moon kicked his drum kit all over the stage. The guy on the left is the sound engineer trying to rescue the expensive microphones." — Henry Diltz

Photo by Henry Diltz, courtesy Morrison Hotel Gallery.