Pat McGrath on Gigi Hadid and Tommy Hilfiger's Models: "They're All Perfect"
"It's not like we're struggling to make them beautiful," the makeup artist said backstage at Hilfiger's New York Fashion Week carnival at the South Street Seaport.
---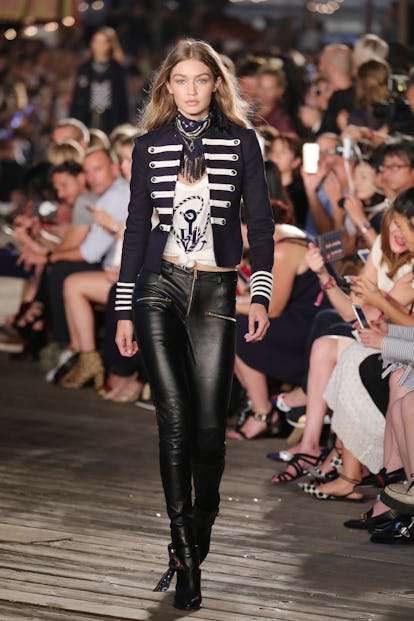 FilmMagic,
It was hot backstage at Tommy Hilfiger's carnival during New York Fashion Week. Like really hot. Models were fanning themselves and using blowdryers set to cool. But the show must go on, despite some concerns about its impact on frizzy hair.
"It's so hot, it's so humid," hairstylist Eugene Souleiman said backstage before the show, in a Facebook Live video with W. In order to avoid frizz, he had to employ special techniques. "We really want that beautiful, natural corkscrew wave, so we're tonging the hair to do that," he said.
The finished look was classic Tommy Hilfiger, all American beauty. "Hair will be tucked over the ears and down," Souleiman explained.
Legendary makeup artist Pat McGrath kept it simple, as well. "It's very natural, very simple, very tomboyish but groomed," she told W's Beauty Director Jane Larkworthy. "They're all perfect, all of these young women. It's not like we're struggling to make them beautiful. It's all about grooming. A little bit of foundation, a little bit of mascara. No lip. They're young girls."
Find out more here: