WHAT BECOMES A MODEL MUST?
Toni Garrn Shares Her Beauty Secrets and Natural Remedies
The German stunner shared with her best natural remedies, her favorite dance class, and more: "I love a really natural face oil…it kind of heals everything."
---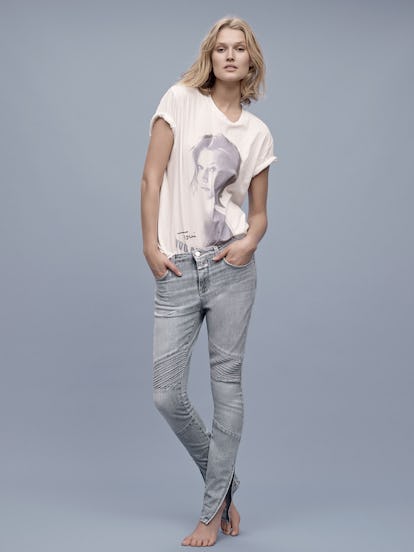 Top model and a philanthropist, Toni Garrn, is all about female empowerment and clean beauty. And as the face of Kérastase's new Aura Botanica, the natural beauty knows a thing or two about upkeep. "I've never felt such a natural connection to a brand before," she says. "The places they source it from is where I go when I'm off to support my foundation." With ingredients like Samoan coconut oil and Moroccan argan oil, the eco-conscious collection nourishes hair, while still delivering the same luxury finish. "I think hair is one of the most beautiful things a woman has, it gives you confidence." Here, the German stunner opens up about the importance of having a natural routine for hair, body and skin and she shared with her best natural remedies, her favorite dance class, and more.
Your look in three words: Natural, casual, elegant.
Tell me what's in your medicine cabinet: I love a really natural face oil, so whenever I have anything or a dry spot, I put it on at night and wake up with the most perfect skin; it kind of heals everything. And, also, the most pure is simple virgin coconut oil.
A good hair day starts with…: I try not to cut my hair so much because I love it long, so I put Kérastase Aura Botanica Concentré Essentiel on the ends when they are dry.
Makeup Miracle: Nars Tinted Moisturizer.
Nails must be: Charcoal gray or dark taupe- and definitely matte!
Sheet mask or mud mask: I don't use any—because beauty is such a big part of my job. I don't try many at home, I'm very simple.
Bronze or blush: Bronzer-anything, from Nars to Burberry.
Beauty from the inside out: Definitely water. I do think green tea is a really good healer as well. It's hard to drink, but I've done a week of green tea straight and I felt amazing. I love coffee and matcha, but I think green tea is a good healer from the inside. Also ginger shots, they are great for your energy, health and immune-system.
Exercise obsession: I love to sweat, so I'll do any workout class. I do love Barry's Boot Camp and have recently been getting into spinning, but it really depends on the music. I love to go 305 Fitness dance class because there's actually a DJ in the room, so they have amazing music and you can really dance your ass off.
Drink of choice: I love my own spinach green smoothie that I make, I add a bunch of bananas and almond with protein and chia seeds.
Product that you borrow from the boys: Spray Deodorant.
Product that you picked up from the pros: Pat McGrath introduced me to the highlight stick when I was 15 and now everyone knows how to highlight and contour. Also, the eyelash curler, I can't live without one.
A woman should smell like: Original by Anja Rubik.
The Best Hair Oils to Achieve the Blonde Effect
Emma Stone Proves Her Vocal Chops with "I Will Survive"
Emma Stone Proves Her Vocal Chops with "I Will Survive"