The Tony Awards Nominations: 7 Things to Know
The Tony nominations were announced this morning, and it turns out they like Bette Midler, they really like her.
---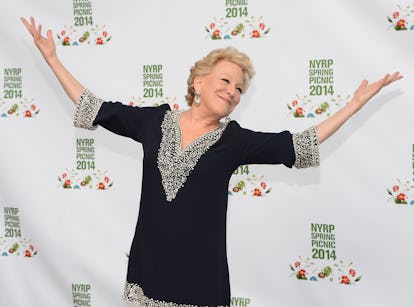 Theo Wargo
The 71st annual Tony Awards nominations were announced this morning, and as always the real winners were the select group of theater geeks who have actually seen enough of these productions so far to actually have a strong, informed opinion on what any of this means. Then there's the rest of us, whose takeaway might come down to, "Yeah, I heard it's impossible to get tickets for Better Midler in _Hell_o, Dolly!"
Of course, the Tonys are still an awards show. There are enough stars here to capture the public attention, and awards mean big business for these expensive productions. You can view a full list of nominees here, but here's seven quick take-aways from the announcements.
They like Bette Midler, they really like Bette Midler.
Midler returned to a musical theater role on Broadway for the first time in 50 years, and the new staging of Hello, Dolly! has just as much to do with her return as it does the play's. Of course, not only is Midler nominated as an actress, but the production notched a total of 10 nominations, the most of any revival.
Of course, Midler isn't yet a shoo-in.
The Best Actress in a Musical category also features Broadway legends Christine Ebersole and Patti LuPone, who appear opposite each other in War Paint. And they face off against ingenues 21-year-old Eva Noblezada of Miss Saigon and newcomer Denée Benton of Natasha, Pierre, & The Great Comet of 1812.
The Great Comet soared to the most nominations.
Natasha, Pierre, & The Great Comet of 1812 is the most-nominated production with 12, capping off a wild and somewhat unlikely journey to Broadway. The "electropop opera" with immersive theater elements, based on portion of Leo Tolstoy's War and Peace, began life in 2012 off-Broadway in a theater with less than 100 seats. It's now a smash marked by the Broadway debut of nominee Josh Groban (a man whose fanbase surely overlaps with "moms who might take the whole family to New York to see a Broadway show").
The La La Land songwriters could be on their way to an EGOT.
After picking up an Oscar for Best Original Song for La La Land's "City of Stars" the songwriting duo of Benj Pasek and Justin Paul find themselves nominated here for Best Original Score for Dear Evan Hansen. If they're not a favorite, then they're definitely a contender. And that means Pasek and Paul will almost certainly find themselves nominated at next year's Grammys for either Best Musical Theater Album and Best Song Written for Visual Media, if not likely both. Their clear path to EGOT-ing is just a television theme song away.
Groundhog Day is the Tonys' favorite adaptation.
Every year, there's handwringing by theater purists who like to complain their medium is being overtaken by adaptations of pre-existing non-theater entertainment franchises. This year their were four such productions in contention: Amelie, Anastasia, Groundhog Day and Charlie and the Chocolate Factory. Though, only Groundhog Day managed to score a nomination for Best Musical (one of its seven total). Anastasia walked away with two minor nominations, and Amelie and Charlie were completely snubbed.
Best Play is a battle of powerhouse playwrights making their Broadway debuts.
The Tonys, of course, only represent the best of Broadway, and don't recognize the whole of American theater—or even the entire New York theater scene, for that matter. Which is why the Best Original Play nominations are populated by four established, award-winning American playwrights all making their Broadway debuts: Lucas Hnath for A Doll's House, Part 2, Lynn Nottage for Sweat, J.T. Rogers for Oslo, and Paula Vogel for Indecent.
Here's your roundup of actual celebs who were nominated, and who we haven't yet mentioned.
For Leading Actress in a Play: Cate Blanchett (The Present), Sally Field (The Glass Menagerie), Laure Linney (The Little Foxes), and Laurie Metcalf (A Doll's House, Part 2).
For Leading Actor in a Play: Kevin Kline (Present Laughter) and Chris Cooper (A Doll's House, Part 2).
For Leading Actor in a Musical: David Hyde Pierce (Hello, Dolly!).
For Featured Actor in a Play: Danny DeVito (The Price), and Nathan Lane (The Front Page).
For Featured Actress in a Play: Cynthia Nixon (The Little Foxes).
For Featured Actor in a Musical: Andrew Rannells (Falsettos).
Not Nominated but Hosting: Kevin Spacey.
See What's Tending in W Video: