Art and Commerce
At mega-collector Tony Salamé's newly opened Aïshti Foundation, in Beirut, blue-chip works and designer dresses hang in the same building. Christopher Bagley takes inventory.
---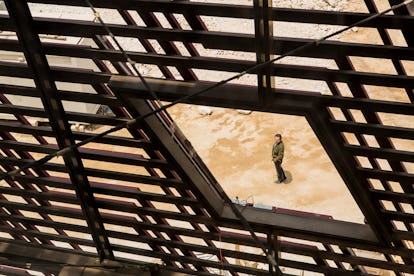 Photographer: Jeremy Liebman
Anybody who knows Tony Salamé, the Lebanese retail magnate, will tell you that he's a committed shopper. Salamé is the man who persuaded dozens of luxury fashion brands to open boutiques in war-torn Beirut, and he has long been an obsessive collector of rare and expensive objects, including rugs, watches, antique Chinese porcelain, and, more recently, major contemporary artworks. But even Salamé's longtime friends—along with his newer friends, in the elite circles of the art world—have been surprised by the speed and intensity of several recent buying sprees, such as his three-day splurge during Art Basel this past June.
During the art fair's VIP preview, a few seconds after the doors opened, Salamé warmed up by dropping more than $150,000 on a brand-new Daniel Buren sculpture that happened to catch his eye as he rushed past the booth of the Paris dealer Kamel Mennour. Minutes later he was snatching up a Kathryn Andrews stainless steel readymade, followed by an ­Albert Oehlen collage and a Tauba Auerbach sculpture that he had previously reserved, plus a 2015 Auerbach painting to go with it. By the time he left town, Salamé's haul consisted of 22 works, including two monumental pieces that he'd secured before the fair had even opened: a set of 24 canvases by Sam Falls and a half-million-dollar John Armleder pour painting almost the size of a racquetball court.
Salamé had first seen the Armleder last year, during the artist's show at Wade Guyton's studio in Brooklyn. "It made a great impression on me," he says. "But I thought, What crazy person will buy this enormous painting? And I ended up buying it myself! Once you start, it becomes an addiction—to get the next painting, the next sculpture, the whole room of them."
For all the talk about globalization in the worlds of art and fashion, many people still view the Middle East as the land of big money, and Europe as the land of refined taste. Indeed, it can often seem that for every Paris couture atelier or Berlin art studio, there is a stream of royals from Saudi Arabia and other Gulf states who can afford to pay $300,000 for a Chanel wedding dress or to build gleaming new cultural centers with imported architects and imported art. But for decades, Beirut—the most vibrantly cosmopolitan city in the Arab world—has been a place where European style freely mingles with Middle Eastern cash, and Salamé has built his career on that combination. One of his early innovations was to brand the traditional Arab men's shemagh scarf by striking licensing deals with Versace, Valentino, and Gianfranco Ferré, and exporting the scarves to countries where sheikhs can go through dozens of them a day.
This fall, Salamé will make his boldest move yet, unveiling a new 350,000-square-foot headquarters for his Aïshti Foundation, designed by the British-Ghanaian starchitect David Adjaye in the seaside neighborhood of Jal el Dib. The four-story building will include 172,000 square feet of retail space, so, depending on which way you enter it, you can either view works from Salamé's art collection or shop for the latest looks from Céline, Gucci, and Bottega Veneta.
Salamé is not the first fashion mogul to open a private museum: The enterprise has become a rite of passage among industry heavyweights like Bernard Arnault, François Pinault, and ­Miuccia Prada. But while others are careful to avoid any overt links between the masterpieces on the walls and the merchandise that helps pay for them, Salamé embraces the connection. The art and fashion will be in separate spaces (with a peekaboo window between them), and the top floor will house a 32,000-square-foot branch of London's Urban Retreat spa. On the rooftop, there will be a nightclub offering views of the Beirut skyline.
Salamé says that the complex is his way of making the latest international artworks accessible to a wide swath of Lebanese, without the aloofness that characterizes other private foundations. "What's unique is the lifestyle element, which is very important for a city like Beirut," Salamé, 48, says as he walks through the construction site wearing a Saint Laurent army jacket. "You will be able to spend the whole day here: Have a coffee, meet friends in one of five or six restaurants. The best thing you can do is see the art, but you can also have your hair done."
As recently as five years ago, few in the art world had heard of Salamé, whose collection now comprises about 2,500 pieces, including scores of prized works from such of-the-moment artists as Mark Bradford, Christopher Wool, Guyton, and Auerbach. But during a July launch event for the foundation at the Grand Palais in Paris the turnout of top curators and dealers made it clear that Salamé has become a full-fledged member of the club. Before sitting down to dinner on the columned terrace, Salamé introduced his team: Massimiliano Gioni, the artistic director of the New Museum, in New York, and the director of the 2013 Venice Biennale; Adjaye, whose projects range from the forthcoming National Museum of African American History and Culture, in Washington, D.C., to spaces for fashion-art insiders like Juergen Teller; and the advisor-curator Jeffrey Deitch, a former gallerist and director of the Museum of Contemporary Art, in Los Angeles.
Today, as Salamé walks around the Beirut construction site, he displays several of the traits that have helped him to disarm the art establishment. Easygoing and unaffected, he chats informally with his foremen and at one point even offers to carry the tripod for W's photographer. More pertinent, perhaps, is his obvious penchant for thinking big, and spending big. In a city where few businesspeople dare to make long-term bets due to chronic political and economic instability, Salamé is spending more than $100 million on the building. About 100 trucks at a time have been hauling in rocks to reinforce the seawall and support the undulating landscaped terraces on the Mediterranean.
On the rafters inside, paper signs reading MARC JACOBS, AZZEDINE ALAIA, STELLA MCCARTNEY, and ALEXANDER MCQUEEN mark the territory for Aïshti's 60 in-store boutiques. Salamé has given each label free reign to design its own space, right down to the lighting, even when it requires customized electrical setups. "Which is crazy on such a scale," Salamé notes. "And if people wanted cement floors, we said okay. Try pouring cement on the floor in Harrods and they will kill you!"
Salamé, like many well-traveled Lebanese, is familiar with the world's retail meccas. Raised in a middle-class Christian family just outside Beirut, he has Italian and Lebanese citizenships and is casually multilingual—he switches from French to English to Arabic without seeming to notice. He launched his first fashion venture while attending law school in Beirut, in 1989, buying high-end jeans during vacations in Italy and reselling them to his friends back home. "Because of the civil war, there was not much retail here, but people still wanted all the brands," he says. Salamé opened his first store, in Jal el Dib, in 1989; six years later, with the war over and Lebanon's economy roaring back, he built Aïshti into the country's leading luxury empire, with a flagship department store in Beirut's historic center and affiliated mono-brand boutiques (Cartier, Dior, Dolce & Gabbana) filling up the restored buildings in the surrounding blocks.
When Salamé and I visit the downtown store, we stop for lunch at the top-floor restaurant, People, where he greets two bejeweled socialites before stopping to shake hands with a table of Syrian bankers in bespoke suits. Salamé's approach to collecting, say close observers, owes a lot to his successful career as a retailer; he's spent decades honing his ability to make purchases quickly and confidently. According to Deitch, who has been advising Salamé for more than nine years, "Other collectors might go to a gallery and like the work of an artist who hasn't had a museum show yet or much press, but they'll wait for endorsements before buying anything. Tony can easily say not only 'I'd like to buy a piece' but also 'Let's take the whole group.' " While he has acquired plenty of works through blue-chip dealers such as ­Gagosian and David Zwirner, Salamé has built key relationships with edgier young galleries including New York's Reena Spaulings Fine Art, 47 Canal, and Ramiken Crucible, where his deep purchases can have a major impact. "The big galleries, they don't really need you," Salamé says.
The big museums, on the other hand, do need patrons like Salamé, and he has assiduously courted curators via targeted donations to New York's Museum of Modern Art (for the recent "The Forever Now" painting survey), the Whitney Museum of American Art (for "Wade Guyton OS"), the New Museum (for "Here and Elsewhere"), as well as to the ­Venice Biennale. Those donations, needless to say, pay off later for Salamé in multiple ways. Gioni, the man behind "Here and Elsewhere," who is curating the Aïshti Foundation's inaugural exhibition, says that Salamé's talent for building relationships and buying in depth has "helped him get access to so many remarkable works. He can also get some great deals, because he's a fantastic negotiator."
Salamé seems unconcerned about what purists might think of his plan to mix retail and art, emphasizing that the best artworks can elevate everything around them. Gioni, for his part, believes the concept makes a lot of sense for Beirut, a historically hedonistic city that has also experienced periods of extreme deprivation.
"Nobody has tried this before in a serious way," notes Adjaye, who spent part of his childhood in Beirut. His design relies on dramatically contrasting interior spaces to differentiate the art and retail areas.
A visit to one of three of Salamé's Beirut art warehouses makes it clear that he'll never have trouble filling the walls. The stash of about 1,500 crated pieces includes some of the Arte Povera works that he began collecting a decade ago, but it's dominated by the more recent acquisitions—works by artists like Urs Fischer, Alex Israel, and Dan Colen among them. As he directs his employees to uncrate a supersize 2013 painting by Laura Owens, Salamé tells me he secured it by making the 17-hour flight to Los Angeles for her 2013 show at 356 S. Mission Road, a space she runs with the gallerist Gavin Brown. Like most of the works at the warehouse, Salamé hasn't seen it since he bought it.
Security is a perennial concern in Beirut, and Salamé has had to work hard to convince artists that the city is safe for their artworks, much like he initially had to convince skeptical fashion brands that Beirut was a good bet for retail. Still, Salamé admits to being more anxious than usual these days, as Syria's refugee crisis and regional security fears have kept away many of the big spenders from the Gulf. "We've never seen this level of massive destruction, and people cutting throats on TV," he laments. But he retains faith in his city's seen-it-all resilience. "At the end of the day, nobody is a majority here. We are several minorities coexisting—the Sunnis, the Shias, the Christians—and I hope this model will survive." Salamé describes himself as an optimist, albeit one with chronic insomnia. Smiling, he says, "I am nervous from two to four every morning."
For the debut exhibition, "New Skin," opening October 25, Gioni has chosen works that emphasize Salamé's natural leanings toward abstraction, while also establishing dialogues between current international stars and Lebanese artists such as Etel Adnan and Walid Raad. Gioni's wife, Cecilia Alemani, who curates the public art for New York's High Line park, will do the same in the foundation's outdoor garden. "At various moments in history, there are exceptional collectors who emerge," Gioni says. "They are able to build a collection that is emblematic of a moment in time. Tony is one of those people."
When I arrive at Salamé's glass-walled family home in the mountains above Beirut one morning for a late breakfast, ­Salamé's wife, Elham, a vivacious beauty who is Aïshti's head buyer, wears a diaphanous Antik Batik dress over a bikini as we sit by the infinity pool, next to a spread of gluten-free Lebanese pastries. Around us are Takashi Murakami's Jesus sculpture, numerous Marc Quinn and Josh Smith pieces, and, on the front lawn, an Elmgreen & Dragset phone booth whose handset emits recorded messages in Italian.
Beirut is renowned for its hospitality, and Salamé has a reputation for being the first person to send a driver, throw a dinner, or invite visitors to stay at his home. The artist Doug Aitken, who was a guest at the mountain house several years ago, says the social aspect is a key part of Salamé's approach to collecting and to his life. "Tony sees people in artworks," Aitken observes. "For him, it's about the conversation, the dialogue, the human contact." That extends to Salamé's pursuit of famously prickly talents, like Richard Prince, whom he's visited at the artist's homes in Manhattan and upstate New York. "Obviously, artists can be difficult," Salamé acknowledges. "Sometimes they don't want to show you an artwork. You take the helicopter all the way upstate, and they're not in the mood!" Still, last winter Salamé bought several works from Prince's controversial Instagram series to display in downtown-Beirut boutique windows at the time of the foundation's opening. (He also recruited Zaha Hadid to design Aïshti's new headquarters, slated to open in 2018.)
While Salamé is showing me around his living room, the youngest of his four children, 2-year-old Matteo, breaks away from his nanny and makes a beeline for a shimmering ­Guyton U sculpture, whose surface is mirrored stainless steel. Seeing his son climbing on top of the artwork, Salamé strolls over to pull him off. "I always tell him, 'No—the artworks aren't a playground,' " Salamé says. But it's clear that Salamé is not a fan of roped-off areas, whether at home or at his foundation. "You know, when you live with art, you have to assume that a child might touch a painting or play with a sculpture," he says. "That makes it more exciting. Maybe it makes it better."
Tony Salamé, on the site of his Aïshti Foundation, in Beirut.

Photographer: Jeremy Liebman
The city skyline is in the background.

Photographer: Jeremy Liebman
The Aïshti Foundation close to completion.
Salamé (far right), in one of his warehouses, with Laura Owens's Untitled, 2013.
Another view of the warehouse.

Photographer: Jeremy Liebman
Also in the warehouse, Xavier Veilhan's Shark, 2008, awaits unwrapping.

Photographer: Jeremy Liebman
The building under construction and renderings of the completed design. Courtesy of Aishti Foundation.
The building under construction and renderings of the completed design. Courtesy of Aishti Foundation.
The building under construction and renderings of the completed design. Courtesy of Aishti Foundation.
The building under construction and renderings of the completed design. Courtesy of Aishti Foundation.
Massimiliano Gioni, Salamé, David Adjaye, and Jeffrey Deitch, in Salamé's Paris apartment, in front of, from left, David Salle's Penobscot, 2011, and Nate Lowman's Sugar Mama, 2012.

Photographer: Jeremy Liebman
In the living area of Salamé's Faqra mountain house, with his wife, Elham, and their son Matteo; they are surrounded by, from left, on the wall, Alighiero Boetti's Ammazzare il Tempo, 1978; on the floor, Wade Guyton's U Sculpture (v. 10), 2012, and Takashi Murakami's Jesus, 2009–2011, is at Salamé's right.

Photographer: Jeremy Liebman
Among other pieces in the living room are Tim Noble and Sue Webster's Forever, 1996, a sculpture by Urs Fischer, Ix, 2006–08; hanging high on the wall is Marc Quinn's Iris (We Share Our Chemistry With the Stars) ES200R, 2011, and a Zaha Hadid–designed couch is in the foreground.

Photographer: Jeremy Liebman
Another view of the same living room. paris group portrait sittings editor: mari david; photography assistant: Flavio Starita.

Photographer: Jeremy Liebman
Paris group portrait sittings editor: Mari David; photography assistant: Flavio Starita.