Premiere: Listen to Tori Amos's Spiritual and Political Reckoning in "Reindeer King" (Exclusive)
Hear the opening track of the legendary singer-songwriter's upcoming new album, Native Invader.
---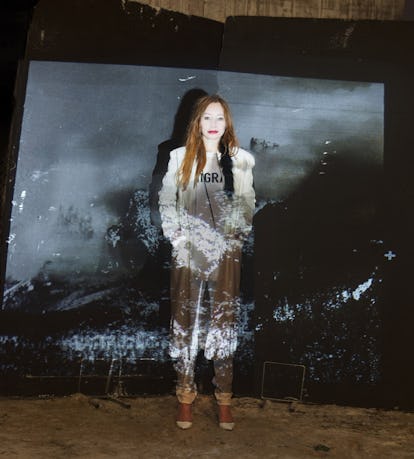 Paulia Otylie Surys
Last summer, on the advice of her physician sister Marie, Tori Amos set out for North Carolina's Smoky Mountains. Her mother Mary Ellen's family hailed from the area, and Amos hoped to absorb the music of the region to inform her next record. But in November, Donald Trump was elected the 45th president of the United States, and in January, Mary Ellen suffered a debilitating stroke—and the 54-year-old musician found herself writing an entirely different record, one she has described as "a record of pain, blood, and bone."
"It wasn't going to be a record of division," she wrote in a statement accompanying the release. But political and personal circumstances dictated otherwise: "I listened and watched the conflicts that were traumatizing the nation." The result was Native Invader, Amos's politically-charged 15th studio album out September 8. It opens with the seven-minute opus, "Reindeer King," which premieres with an accompanying lyric video exclusively here on W.
If Native Invader is, as Amos describes it, "a record of division and conflict," "Reindeer King" is a metaphysical introduction to those ideas. It opens with a pounding swirl of piano (and, in the video, images of a frosted landscape, quartz crystals, and prowling wolves) before Amos's voice comes through: "Crystal core, your mind has been divided from your soul," she sings. "Crystal core, you are the still point of the turning world, the divide, fearing death, desiring life." The titular Reindeer King, a mythic figure, bridges this divide, urging Amos's narrator again and again, "Gotta get you back to you."
But as much as "Reindeer King" establishes the introspective tone of the record, it also finds inspiration in a larger perspective. Amos observed images coming in from NASA's Cassini probe, which began darting between Saturn's rings earlier this year and has sent home images of the rings and moons of Jupiter and Saturn since it began broadcasting more than a decade ago. These, synthesized with images of a frozen landscape, produced "Reindeer King": "For years, people had told me about the magical atmosphere that happens when bodies of water freeze over and hundreds of people ice skate for miles and miles and miles," she wrote via email, pointing to the track's romantic final verse.
"You know that I would skate, skate all the way, just to hold your hand, to take away your pain," she sings. "You know that I would skate from Scandinavia all the way to the moons of Jupiter with you … I've just come from the Reindeer King."
James Corden never thought he'd have 35 people at his birthday party: