Tory Burch Debuts New Holiday Campaign with Jessica Hart
You might need some holiday spirit right now. The model and designer have you covered.
---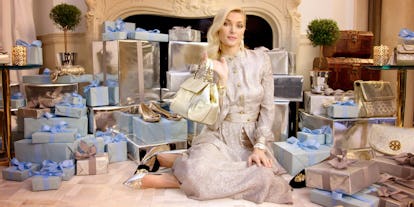 If there's one thing model Jessica Hart and designer Tory Burch agree on, it's that the holidays are all about having fun, and that holiday dressing is all about mixing and matching — with more than a little sparkle.
Whether it's the most luxurious staycation or a voyage across the Atlantic to Cannes, Burch knows how to do holiday travel right. She brought that know-how to her latest holiday and resort collections, which blend glitzy, New Year's Eve-ready skirts with vacation-perfect swimwear. The collection is quintessential Tory: easy and classy, reserved with an edge, and it's showcased at its best in a new video, "Tory Story," starring model Jessica Hart and directed by W's own contributing fashion editor Giovanna Battaglia Engelbert.
The video, which premieres exclusively on W, below, opens with Hart, clad in a gold metallic long-sleeved dress, surrounded by towers of immaculately wrapped presents. (Her cornucopia of vacation-ready styles, undoubtedly inspired by the director: "I always feel sad about leaving behind my clothes because at the end, they all deserve a holiday," Engelbert said.) As she begins to play with her new holiday treats, she breaks into song and dance, lip-syncing to the Kent Jones track "Don't Mind." She moves to her bedroom, where she tries on clothes for an upcoming holiday trip, matching floor-length skirts covered in shimmering paillettes with retro-inspired bikini tops, scarves, and head wraps.
"I'm usually a little awkward when it comes to video stuff — and dancing," Hart told W. "Would be hilarious to see the bloopers." Engelbert added that the choreography was inspired in part by young dance and choreography stars she's encountered on social media.
The collection, fitting with the playful island vibes of the video and the palm fronds with which Hart and her friends fan themselves, was inspired by Round Hill, Jamaica and regulars like Lauryn Hill and Mick Jagger, Bob Marley and Babe Paley. Burch's collections frequently reference the '70s — her Tory Sport line comprises pieces based on vintage sportswear designs — and here, she combined her penchant for retro looks with her own memories of visiting Jamaica.
"I have vivid memories of the colors — the incredible blues of the island sky and sea, the palm greens with vibrant red," she said. This year, she's heading off to another island destination: The West Indies. (Hart, for her part, hasn't planned as far ahead as the holidays just yet, but she's pondering a staycation in New York, "embracing the winter.")
So whether your destination this winter is beach or slopeside (Burch and Hart won't fault you either way — they're both sand and snow people), Burch's latest collection probably has you covered. You really can't go wrong with royal blue paillettes.