Tove Lo Has No Interest In Acting Like a Pop Star, and That's a Very Good Thing
On her sophomore album Lady Wood, the 28-year-old Swedish singer continues to put herself out there — sex, drugs, and all.
---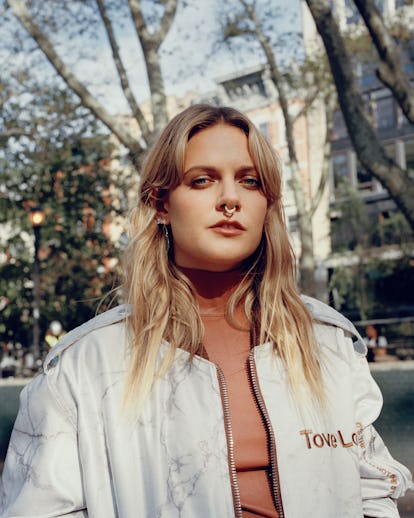 Ryan Pfluger. Produced by Biel Parklee.
The Swedish singer-songwriter Tove Lo first released her song "Habits (Stay High)" in early 2013, but it wasn't until 2014 — after she signed with Island Records and Max Martin's songwriting collective Wolf Cousins — that the track really gained momentum. Eventually, of course, it became the highest-charting song on the Billboard Hot 100 by a Swedish musician since Ace of Bass's "The Sign" two decades prior. Tove Lo is of a different generation entirely, having grown up listening to Ace of Bass and Robyn. Now she and her Swedish contemporaries regularly dominate the charts.
"Habits" and the subsequent debut album Queen of the Clouds, catapulted Tove Lo, now 28, into the spotlight, but also placed her under the microscope. She wasn't entirely prepared for either. Her lyrics are filled with references to sex and drugs and her impulsive tendencies; "Habits (Stay High)," as its name implies, discusses using substances as a form of escapism following a breakup. "Spend my days locked in a haze / Trying to forget you babe, I fall back down / Gotta stay high all my life to forget I'm missing you," she sings. (Then, in "Not on Drugs," the reference is metaphorical: "I'm not on drugs, I'm just in love / You're high enough for me.") She didn't approach Queen of the Clouds intending to make a statement about sex-positivity or her drug use, but these were the lines that critics scrutinized, both in the press and in the public at large.
"I never thought of myself as a political person," she said, sitting in the lobby of the Ludlow Hotel in downtown New York. "I've had to make a stand for things that I thought was just normal things." She's a self-identified feminist, openly bisexual, candid about sex and drug use, identifiers she once took for granted but are now very much part of her public persona. So she's approaching the long-awaited follow-up album, Lady Wood, out October 28, with a newfound appreciation of how her image is received. "I like confronting people about it," she said. "Where do you draw the line between nudity and liberation and feeling free and being in control of your body, to just objectifying?"
This impulse to brace against convention is reflected in Lady Wood. The past two years of touring, writing for other artists like Ellie Goulding as well as for herself, and guest-starring on tracks with Alesso, Broods, and Flume, took a physical toll. In January 2015, Tove Lo underwent surgery for vocal cord cysts. After she recovered, she pushed her voice to places she hadn't been able to reach previously, resulting in the nimble vocal show she puts on in Lady Wood — the album is all about pushing herself to uncomfortable places both physical and emotional, she said, "chasing that thing that scares me and gets me excited and turned on at the same time." (The new album isn't short on collaborators, either, including Wiz Khalifa and Joe Janiak.)
While, like many pop artists, Tove Lo's music dwells on tropes like hookups and breakups, it's only to undermine them in the same breath. In the lead single off Lady Wood, the buoyant banger "Cool Girl," she murmurs, "Now you can't tell if I'm really ironic." Like the "cool girl" in Gillian Flynn's book Gone Girl, she's a woman who doesn't betray emotion, who plays it cool.
"You have the upper hand if you show the least amount of emotion. You're in charge if you're the most chill," she said. "Why is that? Why do we see emotional as a negative thing?"
So then she flips the script again. In the video, her character really has very little chill; Tove Lo gyrates and grinds on the roof of a car, and then, mid-dance, stops to stick her fingers in her mouth and pull her face into a clownish contortion. She vacillates between overtly sexy and slightly kooky, really, as if to tell the viewer, "None of this is for you." Her previous videos, like those for "Moments" and "Habits (Stay High)," trade in a similar dynamic. "I'm not going to pretend to be this perfect, unattainable person," she said.
The video, directed by Tove Lo's creative director Tim Erem and co-starring Lina Esco, is the first in a series based on the singer's own impulsive, sometimes self-destructive tendencies. "You can't have those extreme highs without getting the extreme lows," Tove explained. "And I think it's when I've had too many of those that I kind of go back to the other side, pull myself together, get shit done."
When we spoke, she seemed to be in the midst of one of those pull-herself-together moments. On a brief hiatus during a tour opening for Maroon 5 — frontman Adam Levine was spending some time with his wife, model Behati Prinsloo, and their newborn daughter Dusty Rose — Tove Lo had recently given up coffee in favor of green tea. The second time we met, she was fresh off a full night's sleep, finally over the coffee-withdrawal hump, and wearing a reversible bomber — marble-patterned on one side, copper on the other — with her name embroidered on the front and her logo across the back. Her whole crew has a similar uniform, albeit in black. On tour, her team's look was the envy of the Maroon 5 crew, she said.
The jacket is part of an expanded range of merch she's developing; she's also working on a line of jewelry with her friend Emelie Leontine. (She wears one of Leontine's rings every day, including on the cover of Lady Wood.) She's back on the road now, and will be when Lady Wood drops Friday. On "WTF Love Is," the album's closing track, Tove ends the song with loud gulp and a cry of, "Fuck! I need another." For Tove Lo, there will always be another high to chase.