Tove Lo Loves Leather Jackets, Vintage Flares
The Swedish songstress shares her style philosophy.
---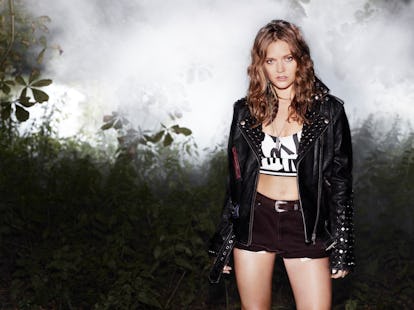 Tove Lo dominated the airwaves this summer with her hits "Stay High" and "Talking Body," and the Swedish songstress definitely looks the part in her signature moto jackets, smoky black liner, and perfectly imperfect wavy hair. With leather weather just around the corner and her Queen of the Clouds tour in full swing, we asked the stylish musician to break down her signature look.
Define your style in three words: Free, bold, bare.
Daily uniform: Dr Martens with oil steel toe, glitters socks, vintage dark Levi's jeans, crop tops, silver rings from my friend's jewelry brand Love Leontine, safety pin earrings, and leather jacket from J.Lindeberg.
Greatest hits: Faux-fur dark blue oversize jacket from by Malene Birger, black bodysuit with silver studs from Norma Kamali, long patterned see-through dress from J.Lindeberg, and a black leather top from Lamija.
Preferred footwear: Barefoot, Eytys, or Docs.
Finishing touches: Silver nose ring, a lot of mascara, dark lip, choker and a ton of rings from Love Leontine.
Nighttime look: I'm pretty relaxed for nighttime as well. I like to dance so platform shoes I can dance in, a lot of skin… I would do the little black dress with docs and a vintage leather jacket. Messy hair let out.
Best recent discoveries: The awesome food and thrift shops in San Francisco Mission district. We found an all vegan Mexican restaurant next to all these awesome vintage stores.
Lusting after: The silver winter coat from J.Lindeberg!
Style pet peeve: Don't really have one… Maybe cargo shorts, haha!
Favorite haunts: I love Output, Baby's All Right, and all the random warehouse raves you find in NYC! Any good underground party.
Style icons: A mix between Courtney Love, Janis Joplin and my circle of girlfriends who all have such amazing style!
Fall must-haves: Thigh-high mocha boots, metallic winter coat, knitted dress from Tanja's Crochet, oh, and flared vintage jeans!
What's always in your bag: My phone, headphones, Elizabeth Arden lip cream, my passport, a pen, and concealer.