Artist Toyin Ojih Odutola Is Reimagining the History of Nigerian Slaves as Royals
"This whole saga answers the question: What would it look like to have wealth embodied by historically oppressed figures?"
---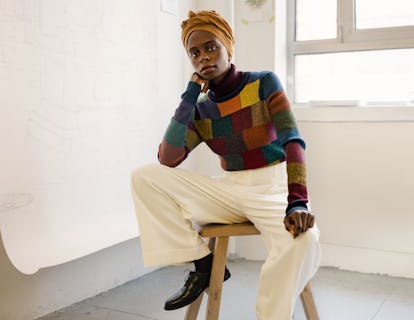 Photograph by Ryan Lowry Styled by Nora Milch; Photography Assistant: Tim O'Connell; Fashion Assistant: Bilal.
Three years ago, the Nigerian-born artist Toyin Ojih Odutola had just flown to South Africa from New York, where she now lives, when she turned on her phone. So many ­messages flooded her screen, she thought someone had died. Thankfully, the news was that one of her portraits had appeared in Cookie's (Taraji P. Henson) apartment in that night's Season 2 premiere of Empire. Ojih ­Odutola had forgotten all about giving permission for its use months earlier.
"Friends were saying, 'Bitch! Empire! WTF?' " she recalls. "It was amazing because many more people got to see my work. And my family was excited because they love that show." Since then, the artist, 32, has been on something of a streak, with an acclaimed show at the Museum of the African Diaspora, in San Francisco, followed by her first solo museum exhibition in New York, at the ­Whitney Museum of American Art, this past winter.
In both, large-scale figurative works tell the fictive story of two aristocratic Nigerian families, regally depicted against luxurious domestic backdrops—her take on traditional European portraiture. "This whole saga," she says, "answers the question: What would it look like to have wealth embodied by historically oppressed figures?"
Having straddled cultures as an immigrant, first in Berkeley, where her father taught at the University of California, and then in Huntsville, Alabama, Ojih Odutola is nimble at remaking her life. That hard-won skill, she notes, has proved essential to her as an artist "who imagines things that don't exist in the world and figures out how to translate them." For her latest solo outing, "When Legends Die," at Jack ­Shainman Gallery, which opened Thursday, ­September 6, Ojih Odutola is exploring the theme of lineage in what she says will be the final chapter of this particular family chronicle. "To be Prince Harry is to always know where you come from," she explains. "So much of the representation of historically oppressed people has been this loss of history that is the transatlantic slave trade. I want to depict a family that never experienced that."