Tracee Ellis Ross Is Just Like You, Obsessed with Solange and Chance the Rapper
The actress balances out her TV and Solange obsessions with self-help books and meditation, as she shares in her culture diet.
---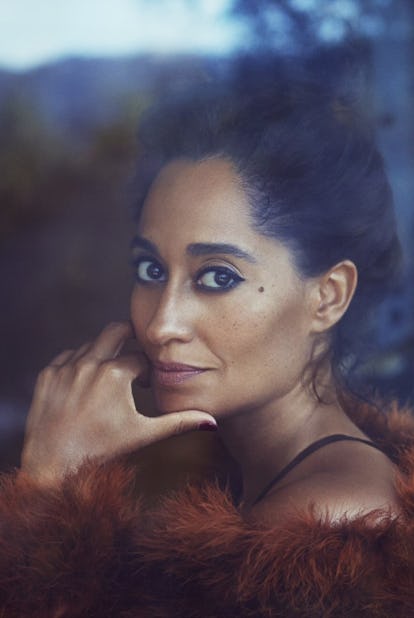 Simin Erbel
As an Emmy nomination – and a full-page congratulatory ad from her mother, Diana Ross – can readily evidence, starring in "black-ish," the sitcom now in its third series on ABC, is no small feat. Still, Tracee Ellis Ross is somehow still finding time to keep up with her various Frank Ocean, Solange, and Chance the Rapper obsessions (and even campaign for Hillary.) Find out what else she's been up to lately with her culture diet, here.
First thing you read in the morning: Text messages. And then I meditate.
Books on your bedside table right now: Rebecca Traister's All the Single Ladies – the book I just finished; Michelle Alexander's The New Jim Crow – the book I am reading; and Mark Nepo's The Book of Awakening and Pema Chödrön's Comfortable With Uncertainty – the books always by my bed.
The TV shows keeping you up at night: I watch a ton of TV. This is not even my full list: Better Things, Last Week Tonight with John Oliver, "Atlanta," Insecure, Designated Survivor, The Rachel Maddow Show, and Narcos.
Last thing you saw at the theater: Hamilton.
Last piece of art you bought, or ogled: "Chisholm's Reverb" by Rodney McMillian. I went to his solo show [at Susanne Vielmetter Los Angeles]. I'm a huge fan of his work.
Last museum exhibition that you loved: I went to the "Cindy Sherman: Imitation of Life" exhibition at the Broad.
Release you're most eagerly anticipating: Not sure what I'm anticipating, but obsessed with Solange Knowles' A Seat at the Table, Frank Ocean's Blonde, and Chance the Rapper's Coloring Book.
Last song you had on repeat: "Too Good" by Drake.
Last concert you saw live: Sia at the Hollywood Bowl.
Best recent discovery: The strawberry rose geranium bars at Moon Juice.
How you get your news: The New York Times app.
Favorite social media accounts to follow: On Instagram: W mag, Solange Knowles, Vogue Runway, Teen Vogue, Moda Operandi, Duro Olowu, Thelma Golden, and Sarah Sophie Flicker. And on Snapchat, Michelle Obama, Kevin Hart, and Rashida Jones.
Last thing you do before you go to bed: Set numerous alarms on my phone because I usually have to wake up at ungodly hours.