Tracee Ellis Ross Stole Diana Ross's Shirt From 1981 for the 2017 American Music Awards
She found it in the garage.
---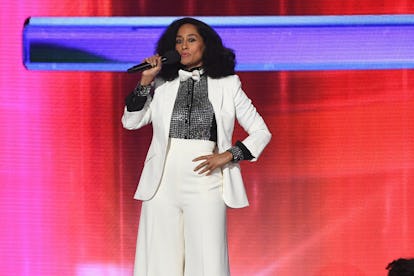 Kevin Winter/GEtty Images
Diana Ross was honored at the 2017 American Music Awards for her iconic singing career, but her daughter (and AMAs host) Tracee Ellis Ross also paid tribute to her star mother's legendary fashion sense—by stealing one of her famous ensembles and wearing it onstage.
The look that Ellis Ross stole dates back to 1981, and features a black sequined blouse with a white neck tie and coordinating white suit that Ross wore during a performance with Michael Jackson (who sported the same exact outfit). "OK, does this look familiar to anybody?" Ellis Ross asked the audience when she took the AMAs stage in her mom's clothes. "Diana Ross and Michael Jackson, twinsie outfits. This was the original shirt."
Ellis Ross added more explanation on her Instagram account, detailing that she didn't even raid her mom's epic closet for the outfit. "This is mom's actual shirt I just wore at the AMAs!" she wrote on Instagram. "I found it in her garage."
The practice of stealing her mom's clothes isn't anything new for Ellis Ross, though: She's been sneaking into Ross's archives since she was a teenager, she previously revealed to W. "It sort of was more like stealing," Ellis Ross shared. "I'm not going to lie. She would leave the house, and I went in her room and looked out the window and saw her car go down the driveway, and I marched myself right into her bathroom and started taking clothes. What I liked to do is put them in my closet and live with them as if they were mine."
And the practice never stopped: "I go to my mom's house—my mom has the most extraordinary taste, top to bottom, whether it's the dishes or the clothes, from T-shirts to gowns to hats to coats. I call it shopping, and to this day whenever I go over to my mom's, I sometimes look at my brother, Evan, and I'm like, 'Should we go shopping?'" she said.
Related: [Tracee Ellis Ross Had the 18th Birthday to End All Birthdays]