Tracey Emin's Stone Age
At 52, with a new show at Lehmann Maupin, the former enfant terrible artist has never felt better. She's also recently married – to a rock. Literally. It's not as crazy as it sounds.
---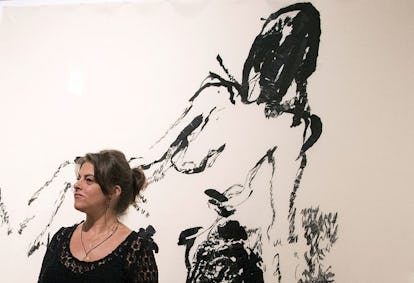 Now that her third exhibition this year opened last week at New York's Lehmann Maupin gallery, Tracey Emin feels that she has earned a yearlong sabbatical, which she chose to announce, in the tradition of artists who wish to make an overt statement that doubles as an inside joke, by taking out an ad in Artforum: a photo of herself along with her four representatives, their contact information, and the message "If you need anything call one of these people" in the scrawl now so recognizable from her signature neons.
"I'm tired," Emin said. "I've been doing either two or three shows a year for the last 10 years." The artist was at her gallery, not far from the two dozen or so paintings, embroideries, and bronze sculptures of herself that make up her new show, "Stone Love." In a way, her break is a honeymoon, too: In March, Emin announced she'd secretly married a stone last year in the French countryside, unintentionally causing a slight media sensation. The wedding was part art stunt, part romantic gesture: Emin is superstitious, and upon discovering she'd slipped a ring onto her wedding finger, decided to simply get married to something she loved. That was when her eye settled upon on a mossy rock outside her studio.
Her show at Art Basel Hong Kong was about that marriage, but don't mistake her follow-through for obsession – despite the title of the New York exhibition. "It wasn't like, 'It's my stone year,'" she said with a laugh. The title actually references a David Bowie song, "Soul Love," whose lyrics begin thusly: "stone love, she kneels before the grave." It's the chorus, though, that resonates most for Emin: "All I have is my love of love/And love is not loving," she sang to me. "Which is really like my life," she added, laughing. "Because I love so much and I'm really passionate, and it's just nowhere to go apart from my art and my work."
At 52, the artist's long moved on from her Young British Artist days, and clearly learned from her enfant terrible experiences. "I think when you're feeling something, you have to let it out, otherwise you're going to become really, really, really, mentally f—ked up, and I'm not going to get mentally f—ked up. I'd rather have my work look a bit mentally f—ked up," Emin said reflectively. Back in 1999, Lehmann Maupin was actually the same gallery that showed her first exhibit in New York, back at their old Soho space. "I was about 35 or whatever, and I looked about 26. I was wild," she remembered.
Her days of staying up partying all night before installing a show, or finishing her works right before they had to be shipped, though, are long gone. "When you're my age, you physically can't do what you do when you're 30. It's not possible. You can't stay up for three days in a row; you can't not eat anything for four days; you can't drink a bottle of brandy and then go to your opening," she said. Of course, those times still live on in works like "My Bed," her seminal 1998 piece that documented several days of a post-breakup fog where she subsisted on only alcohol in her bedroom.
Now, it seems, Emin is overflowing with earned wisdom. "Don't think you're going to be wearing high shoes all night, because you're not – you're going to have to take a pair of shoes to take in halfway through the night, otherwise you're going to have to go home," she offered freely. "It's about preservation."
Emin may have changed, but her style's largely the same: drawings have always been the basis for her work, though she didn't always show them. "I'm a figurative painter, and back in the '90s or when I was at art school, it was really frowned upon. People thought that I was unintelligent, for want of a better word, like I had a low IQ because I drew pictures," she said. "But now I think people are really craving for emotions, or feeling within their art, again. They want to know that the touch was there, and they don't want cynicism."
The exception is in her sculptures, which she forms by hand with clay into more abstract forms of her body. At one point, she referred to them as stones, before correcting herself; she meant "entities." "The stone is a metaphor for what is possible to love; you can love a stone, you can love anything, as long as you can love," she said. After all, Emin's always dealt with love in her work, even when she didn't have someone to love. "The truth is I'm single and have been for seven years, which is a long time. I'm not out there looking, that's for sure, and that's what the whole stone thing is – I'm okay at home doing my own thing, thanks."
Even though I'd been specifically told to stick to the past five years during our interview, Emin brought up her tumultuous past herself – if only to keep the record straight. "As an artist, I want to protect and look after everything while I can," she said. Over a decade on, misinterpretations of her infamous works like "Everyone I Have Ever Slept With 1963-1995," a tent embroidered with a suggestive list of names, still strike a chord: "The most annoying thing about the tent being burnt [in a warehouse fire] is thousands of people saw it; but of course millions of people didn't, and so it's misinterpreted. The tent wasn't about sex. It was about the whole idea of intimacy on whatever level it is," she said. Here, a publicist checked in on her to make sure that she wasn't going too far down the rabbit hole again.
But Emin seemed overwhelmingly upbeat. Dressed casually in a Nike vest and bright blue Sauconys, she told me how pleased she was with this show for being so "light," and later eagerly showed me her wedding photos – peaceful shots of her in a white shroud in the French countryside next to her mossy beau. She's clearly anticipating her sabbatical, too: "I'm going to make work all the time. I'm not going to answer the phone, no interviews, no charity work, no meetings, no catalogs, nothing. Just me and my studio, working, and maybe reading," she said.
There might be some writing, too – Emin published a memoir in 2005 and has been working on another book for years, though she's hit a wall lately. Called "The Vanishing Lake," it's based on a body of runoff water in France that's usually only around from November to March, but has, in recent years, appeared year-round. "My muse, my lake, is not doing what I want it to," she said. "The idea is that I'm vanishing as a woman, I'm drying up, but it hasn't happened. Which is a good thing, right? It's supposed to be like me alone on this windswept hill, with all this angst – you know, like those really romantic 19th-century novels. But obviously, I'm actually feeling quite good."
Watch W's most popular videos here:
Photos: Tracey Emin's Stone Age
"Stone Love," 2016.
Courtesy the artist and Lehmann Maupin, New York and Hong Kong.
Tracey Emin with one of her works at her 2015 Leopold Museum exhibit, Vienna. Photo by Joe Klamar/AFP/Getty Images.
"You were here like the ground underneath my feet," 2016. Acrylic on canvas.
Photo © Prudence Cumming, 2016. © Tracey Emin. All rights reserved, DACS 2016. Courtesy of Lehmann Maupin.
"It's different when you are in love," 2016.
© Tracey Emin. All rights reserved, DACS 2016. Courtesy of Lehmann Maupin.
"Kneeling for you," 2015, Gouache on paper.
© Tracey Emin. All rights reserved, DACS 2016. Courtesy of Lehmann Maupin.
"Resting," 2015. Gouache on paper.
Photo © George Darrell. © Tracey Emin. All rights reserved, DACS 2016. Courtesy of Lehmann Maupin.
"Stone Love" installation view at Lehmann Maupin. Photo by EPW Studio/Maris Hutchinson.
"Untitled (TBC)," 2016. Acrylic on canvas.
Photo © Prudence Cumming, 2016. © Tracey Emin. All rights reserved, DACS 2016. Courtesy of Lehmann Maupin.
"Stone Love" installation view at Lehmann Maupin. Photo by EPW Studio/Maris Hutchinson.
"Another way to Think of You," 2015. Embroidered calico.
Photo © George Darrell. © Tracey Emin. All rights reserved, DACS 2016. Courtesy of Lehmann Maupin.