Ulla Johnson's Lima, Peru
Looking for a summer escape? Think bigger than the Hamptons. Designer Ulla Johnson shares her guide to Lima, Peru.
---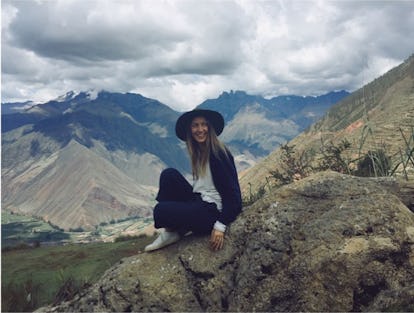 New York designer Ulla Johnson works with artisans in Peru and India for her line of crocheted dresses, blouses and sweaters. The summer-friendly clothes look both handcrafted and polished, thanks to the meticulous sourcing of materials and dyes. Ikat prints, fringe and embroidery feature prominently in her collections, which are sold at Barneys New York. She travels to Peru twice a year for research, and on a recent trip took note of her favorite spots in Lima.
Hotel B I always always stay at Hotel B. The rooms are lovely, there is incredible local art everywhere, and the service is excellent. Plus it's right on the water and there is an incredible cliff side jog I do every morning when I am in town.
Las Pallas This spot is a total treasure trove of beautiful artisanal Peruvian products sourced from all over the country (both the highland and jungle). I always find something incredible and inspiring as well as great gifts for my friends and kiddies.
Museo Larco They have an incredible collection of pre-Columbian art, weavings, pottery, and gold jewelry. The installations are gorgeous and the building and grounds are so pretty. The garden cafe is a great place to grab lunch.
Amaz One of my favorite restaurants in Miraflores. They specialize in jungle food–all incredible vegetables and fruits brought from far afield and prepared in traditional ways. Also excellent seafood and meats.
Astrid & Gaston They are the superstars of Peruvian fine dining. This restaurant is incredible as are their others, including La Barra.
La Picanteria This is an amazing family style restaurant in Surquillo that specializes in fresh fish. You can pick your catch and they prepare it for you a million delicious ways on the spot. Great for a larger group!
El Caballo Peruano de Paso Twice a year there is this amazing horse show where one can go to see all the traditional riding wear: ponchos, hats, bridles, silverwork and leather braiding. A truly singular experience.
Mercado Surquillo I always love going to local food markets to get a real sense of the food and material culture wherever I travel. The ones in Lima are especially colorful and interesting as the biodiversity in Peru is unparalleled.
Watch W's most popular videos here: