I'll Fly Away
For the seasoned traveler, fashion has never fit so well into a carry-on.
---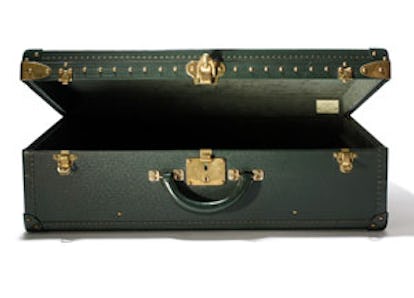 Select versatile garments in simple styles." Seek out "compact, easily maintained fabrics," and take advantage of "the new breed of wrinkle-resistant, quick-dry materials."
Yves Saint Laurent's cotton and cashmere jersey dress.
Packing tips for the savvy traveler circa 1960? Au contraire. That simplistic advice hails from The Packing Book: Secrets of the Carry-on Traveler by Judith Gilford, the fourth edition of which was published in 2006. Yet Gilford's advice may not be as anachronistic and obvious as it sounds. In fashion today, it seems that everyone is hopping on the comfort-first, packability-minded bandwagon.
To travel at ease, women accustomed to designer clothes have often traded down while flying and returned to their usual wardrobes upon arrival, either breaking out the steamer or succumbing to a four-star hotel's extortionate laundry services. Such measures were necessary because although clothes designed for in-transit comfort and carefree packing have long been available at outlets like Chico's and TravelSmith, there have been few, if any, options at the designer level. In fact, the concept of playing to something as mundane as packability was thought to be a pedestrian concern worthy of mockery. Certainly when that early arbiter of the businesswoman's wardrobe, St. John designer Marie Gray, put forth her "sueded French terry" sweatsuit 13 years ago, it was seen as yet another example of the label's camp populism.
Terry sweats aside, it seems that Gray was ahead of the fashion curve by airborne miles: These days a number of designers suddenly care desperately not only about how you look—and more important, how you feel—on the plane, but also that once you arrive, you are able to maintain appearances without excessive dewrinkling activity.
Leading the pack: Yves Saint Laurent's Stefano Pilati and Lanvin's Alber Elbaz. "I realized the YSL wardrobe was lacking viable options for a modern woman's travel needs," says Pilati. His Edition 24 collection, introduced last year, consists of 24 looks designed specifically for the high-flying traveler, with nary a sweatsuit in sight. "Whether it's a washed cotton safari jacket or silk tunic, the garment must be at once uncomplicated, accessible and luxurious," Pilati notes. "It should also be adaptable, taking a woman from a boardroom to a cocktail party."
Of course, it's improbable that one would choose to venture from jet to fete in the same outfit, even if it were Saint Laurent. Nevertheless, nostalgia for the days when boarding a plane—even if herded into economy—was synonymous with a certain casual glamour is another motivation for creating such clothes. Last year Elbaz, distressed by the precipitous downward slide in style among fellow fliers, was inspired to create a capsule collection of knit travel clothes for Lanvin. (Perhaps Gray's long-ago promotion of the sweatsuit isn't so far-fetched, since Elbaz threw a few sleek jogging numbers into his lineup.) "I remember when people used to travel and look amazing; now there are times when I see people who are going onto an airplane, and they look like they are going to a football game," he says with a sigh. "I try to think about what kind of clothes you can wear on different continents, with different weather, at different times of the day. I always have a lightness in mind. There is really a need now to create clothes that are beautiful, but that are still very, very comfortable."
When it comes to chic travel attire, the most important element seems to be fabric, as in stretchy, steamable and soft. "Jersey is, of course, a dream for me," says Diane von Furstenberg. While Pilati and Elbaz have combined the travel-appropriate and packable qualities into the same pieces, there's often an obvious difference between the two, with von Furstenberg's sexy wrap dresses falling decidedly into the latter category. "[Jersey] takes up no room and does not wrinkle," she remarks. "The key is to visualize all the days of your trip and create the proper outfits."
And to be open-minded. Despite its antichic reputation, some designers are embracing polyester as the perfect fabric for the girl on the go. (It doesn't hurt that more than half of the garments in Elbaz's spectacular spring collection for Lanvin were made of polyester.) The material was also the inspiration behind Udo Edling's fall collection, featuring polyester crepe pants and jackets—a look he boldly calls an updated take on the classic Saint Laurent tuxedo—and washable polyester-blend dresses, some of which come with their own matching pouches, the better for throwing into the bottom of a suitcase. Edling tailors his suits traditionally but lines them with Coolmax fibers, a wicking component found in activewear. "The lightweight fabrics can still be used to make a piece look classic, and it won't need to be pressed," Edling says. An added benefit? "If you get tossed into a pool on your vacation, these types of clothes will dry well too."
Though it wouldn't fare as well underwater, cashmere is another travel-ready option, both for long flights and small suitcases. Barbara Warren, creative director of White + Warren, says the hoodies and pants—the company's own version of the sweatsuit—are doing a brisk business, and she can barely keep its new cashmere ballet flats in stock. "[My business partner and I] do a lot of traveling overseas, and you're in these hotels, padding around in slippers that aren't your own," she says, noting that White + Warren's current best-seller is the First Class Travel Wrap, a wispy blanket that makes those airplane blankies feel like swaths of sandpaper. Of the dual plane- and suitcase-ready styles, she adds, "Women need an alternative to tracksuits and uncomfortable shoes. Cashmere is lightweight, so it makes packing easier too."
Meanwhile, Angel Chang, a New York designer who incorporates technology into her sportswear (for example, dresses made with heat-sensitive dyes that change color), discovered that combining fabrics—a polyester-viscose blend or a very light cashmere-wool combination—is the trick to creating comfy travel pieces that don't scrimp on style. "There's no reason performance-apparel qualities can't go into luxury clothes," Chang says. She designed her fall collection around the idea of travel, be it a three-day business trip or weekend excursion, after accompanying her boyfriend, who works in the art world, to biennials across Europe—where, for event after event, she found herself donning the same dress. "It was really hard to find pieces that weren't wrinkly and that you could mix and match," she recalls. It's a conundrum that Elbaz, like his counterparts, is determined to solve. "If you travel, if you eat in a restaurant, if you have 14 hours of work in an office, it's all equal issues about what to wear for those situations," the designer says. "And finally, we are making clothes for the woman who does it all."