Traveling to India? Designer Adam Lippes Offers a City by City Guide on the Best Hotels and Markets to Hit
The designer Adam Lippes is something of an expert on India, and he's got a city by city guide on the best hotels, nightspots, and markets to hit while traveling throughout the country.
---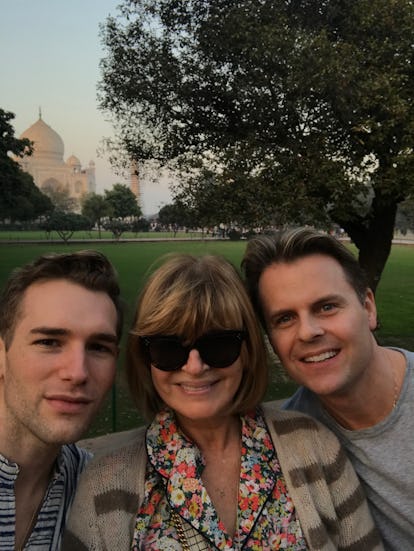 Photo by Adam Lippes
Just back from holiday, American designer Adam Lippes recalled his second trip to India, where he traveled to for inspiration and exploration ahead of New York Fashion Week. With some experience under his belt, Lippes took it upon himself to plan the itinerary for his friends and act as the tour guide. "As I'd been before with a proper guide, I wanted to explore the same areas this time myself," he said, adding that he made time to discover new fabrics, embroideries, shops, restaurants and hotels while trotting through New Dehli, Varanasi, Agra, Jaipur, Jodphur and Udaipur. With his beloved public markets in mind, Lippes' upcoming women's collection should be a reflection of his travels through the country. "I really don't do themed or travel inspired collections," he said. "But when I was there I created a floral print with a fabric weaver and became inspired, shape wise, by way the guys wear scarves."
How often do you to travel to India? It is my second time to India, and definitely not my last. It is so hard to describe, but it's almost like when you return to New York, everything seems black and white.
What hotels do you stay with while in India? The hotels in India are some of the best of the world, from the buildings themselves to the food and service. In New Delhi, we stayed at the Imperial, this massive Art Deco jewel built in 1931 by Sir Reginald Blomfield, one of Sir Edwin Lutyen's associates, the architect responsible for much of the English architectural legacy in New Delhi. Following Delhi, we traveled to Varanasi, which is considered one of the holiest cities in India. We stayed at a Brijrama Palace, a restored residence directly on the Ganges dating from 1812. In Agra, the only hotel to stay at is the Oberoi Amravillas. While the Oberoi's aren't old, they tend to be the most luxurious. Our room had the most sublime terrace overlooking to Taj Mahal. Heaven. I've stayed at a few different hotels in Jaipur, but my favorite in Samode Haveli. It is a traditional Indian mansion set in a huge garden with apartments arranged around a series of courtyards. It was built 175 years ago as a residence of the rulers of Samode, and is still occupied by their descendants. In the morning, their kids are always playing football in the garden with some of locals. It is super authentic and beautiful. I have five favorite hotels in the world, and the one in Jodphur, the Umaid Bhawan, is one of those. Built as we were in the midst of fighting World War II, this Art Deco Palace is, to this day, one of the world's largest private homes. The Maharaja of Jodphur lives in one half of it, and the rest is the hotel. I could see myself spending weeks here. In Udaipur, of course, the most magical hotel is the Lake Palace. Built in 1746 as the 'pleasure palace' of Maharana Jagat Singh II, there is nothing like it in the world.
Favorite restaurants and nightlife spots in India? The absolute number one in all of India is Palladio, designed by the incredible Marie-Anne Oudejans. It is a bar, lounge, restaurant and one of the chicest I've ever seen. In Mumbai, we ate at one of the few "new Indian cuisine" restaurants, Masque. Incredible. The menus change daily depending on what the chef finds in the market. It was the first moment of having raw vegetables as they grow all of them at their own farm.
Where's your favorite place to shop in India? The markets are great for discovery. For cashmere and fine embroideries, Andraab or Kasmir and Loom. For jewels, Gem Palace of course.
Can we expect to see any Indian influences in your upcoming collection? Actually, yes. I really don't do themed or travel inspired collections, but when I was there I created a floral print with a fabric weaver and became inspired, shape wise, by way the guys wear scarves. Favorite off-season destination? My home in the Berkshires. What was the most adventurous thing you've done while traveling? It was a while ago but definitely bungee jumping at a nightclub in Bali. Had that gone wrong…
Best souvenir you have every picked up on a trip? A Brazilian! What is the best piece of travel advice you have ever received? Don't ever check luggage.
Trespassing in the World's Most Remote Landscapes with Sebastião Salgado, Far-Flung Photographer
"Nenets, Yamal Peninsula, Siberia, Russia," 2011.

© Sebastião Salgado / Amazonas images
"Southern right whale, Valdés Peninsula, Argentina," 2004.

© Sebastião SALGADO / Amazonas images
"Traditional tuna fishing ritual in La Mattanza, Trapani, Sicily, Italy," 1991.

© Sebastião Salgado / Amazonas images
"Church Gate Station, Bombay, India," 1995.

© Sebastião Salgado / Amazonas images
"Young Kamayurá girl, Upper Xingu, Mato Grosso, Brazil," 2005.

© Sebastião SALGADO / Amazonas images
"Jade Maiwan Avenue, Kabul, Afghanistan," 1996.

© Sebastião Salgado / Amazonas images
"Serra Pelada opencast gold mine, Pará, Brazil," 1986.

© Sebastião Salgado / Amazonas images
"Greater Burhan Oil Field, Kuwait," 1991.

© Sebastião Salgado / Amazonas images
Emma Stone Proves Her Vocal Chops with "I Will Survive"
Emma Stone Proves Her Vocal Chops with "I Will Survive"