Travis Scott Is Your New Rap Superhero
With his new album featuring a phalanx of A-list guest stars, the rapper is creating his own hip-hop universe. He even has the action figure and comic book to prove it.
---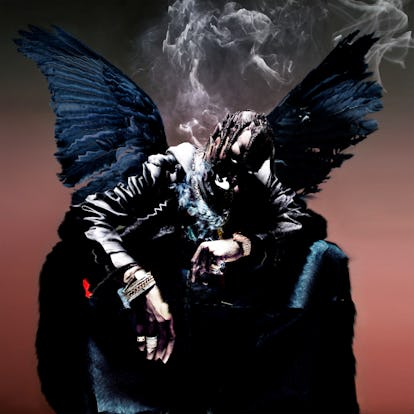 Nick Knight
Compared to the release of his breakthrough debut album, 2015's "Rodeo," Travis Scott's "Birds in the Trap Sing McKnight," which dropped on Friday, was relatively uneventful. Unlike "Rodeo," it wasn't leaked prematurely, but it does bring with it plenty to talk about. The album features an Avengers-like lineup of guest stars: Kendrick Lamar, André 3000, 21 Savage, The Weeknd, and Kid Cudi are all here. Not to mention a stunning album cover shot by Nick Knight. Here, the rising star, who you may have spotted in Alexander Wang's Fall 2016 campaign, shares his further plans for hip-hop domination.
Congratulations on the release of your album. How do you feel now that it's finally out? I feel like it's a lot of weight off my back. And I'm like excited as shit, like I'm out of breath right now. I really haven't slept in like four days, like literally. I'm delusional right now but it's amazing though man, it's the best feeling. I'm glad I even made it to this second album. I'm glad that the fans are still supporting.
How did you come up with the title? I always felt like I wanted the album to be like a play. And when I say a play, I mean the title of the story. I feel like "Birds in the Trap" seem united, it's just metaphor for ones in their box that are stuck and can't get their creative idea out. It took me like five month to get my action figure out and eight months to get the Hype Williams video out, you know what I'm saying? And it shouldn't have taken that long. I wanted to put my action figure out with the USB on my last album.
Last year's "Rodeo" right? Right. So it was frustrating. I just so mad how "Rodeo" came out. And "Antidote" [the second single off "Rodeo"] ended up being the biggest song that I made out of just that anger. I feel like "Birds in the Trap" is just all of that. I wanted to lay it on the line. I have a short film coming out soon for the album, too. It's amazing.
What made you feel caged or boxed in? Just getting my ideas out and being where I want to be. Even with radio, too. I feel like more artists like me should be on the radio. Everything is like so controlled by, like, super popular music, you know what I'm saying. Like, c'mon.
So it's no secret you're a huge Kid Cudi fan. How did it feel to finally work with him on this album, as well as with Andre 3000? Man, it's the best feeling of all time. I look up to both of them. But you know Cudi, I've always been a big fan. He's like my big brother in my mind. He got me through a lot of shit when I was coming up as a kid and to finally sit down with him and build music with him in my world was amazing. Being in the family tree of his music, I always wanted to be an ill version of Kid Cudi in my generation. I want to do what Kid Cudi did for kids for my generation. I'm just so glad that big brother and little brother could link up and do it.
And you were also in the studio with Andre 3000? Yeah. He came to the studio and I played him the album. The idea was to do something else for the album, but he surprised me with this vibe. It was like, "Whoa." He's a legend.
Do you have future fashion plans aside from your collaboration with Stone Island? I kind of want to just focus on the album. I do have a few ill collabs coming out this year. I've been working on so much revolving around this album. This is just the first step of what I'm doing.
What was it like to have Nick Knight shoot the cover of the album? Aww, man! That was rare, man! It was last minute and so crazy. I needed a cover and his son Calum is a super good friend of mine. I've admired Nick Knight's photos and visuals so I emailed him in the middle of the night. I was like, "Yo man, can you please shoot my cover?" I had a show in Cannes the next day! But I had to go back to the States for my Apple Music project, so I was like, "We only have one day to do this." Somehow we linked up — literally the next morning I took a jet to London and we knocked it out. And I loved it because the vibes was pure energy. It was a super put-together thing. It was just friend-to-friend. If you're riding around in New York, you may see a couple of billboards popping shortly.
Earlier you were talking about the action figure for the first album. Do you have any product launches for this album? Yeah, I'm working on a comic book.
Wow. Do you know who the illustrator will be? I've already started it, but I want to keep it a secret. It's going to be so dope.
I know you've been touring for quite some time. What do you have in store for touring this new album? Dude! What I have planned for this tour is so crazy. Oh my Jesus. Have you been to a show?
Yes, I have. The crowd was intense. Yeah, I'm dialing in. The crowds are getting bigger and the fans are growing. Now I have more space to do what I want on stage in regards to production so I'm partnering with somebody for my stage and it's crazy. [Laughs] I can't say who.
Watch W's most popular videos here: