Travis Scott Steps Out on His Own
The musician talks about his new album, his celebrity friends, and his fall shopping list.
---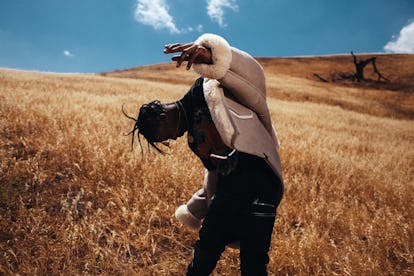 Travis Scott may be best known as a producer for mononymous stars like Rihanna, Drake, and Kanye, but this week he's making a name for himself with his debut solo album Rodeo. The 23-year-old Houston native roped in major talents like Mike Dean and Future for the project—and celebrated its launch with Kendall Jenner and Hailey Baldwin. Here, Scott fills us in on all the details.
What was your inspiration for this album? My main inspiration was my life story. I'm a kid from Houston, Texas who left to find myself, to find my creative mission. This album is that journey—it's me figuring out who I am. I also feel like it's a blueprint to help kids figure out what they want to do. It's going to help stimulate creativity and spark your brain.
How did you choose the collaborators for this album? They're all people that I know and that I'm inspired by. It's all personal relationships.
What has the response been so far? I'm excited, I'm lit, I'm sad, I'm anxious, but it feels good to actually have an album out and in stores. I'm just anxious to perform. I deleted Twitter from my phone as soon as the album dropped, but I hopped on it for a day and I've seen a lot of good reviews from fans and a lot of positive feedback. I try to wait until I have a live show to really to catch a review. That's what I really base it on.
Whose fashion sense do you admire? Kurt Cobain is definitely my idol. Also, Kid Cudi, and Shia LaBeouf.
What's on your fall shopping list? There are a few bomber jackets that I want. There's some shit that I want from Stone Island too; I'm super picky with brands. I just want stuff that fits my personality.
You recently performed in Houston—what was it like performing in your hometown? It was the best feeling of all time. The show was sold out. I barely heard myself on the radio in Houston, so it was reassuring. We know there are people listening and that's all that matters.
Photos: Travis Scott Steps Out on His Own
Travis Scott. Photo by NABIL.
Travis Scott and Justin Bieber. Photo by bfanyc.com.
Travis Scott. Photo by bfanyc.com.
Travis Scott. Photo by bfanyc.com.