Trend: Walk the Line
The art beat goes on with this season's prints and patterns.
---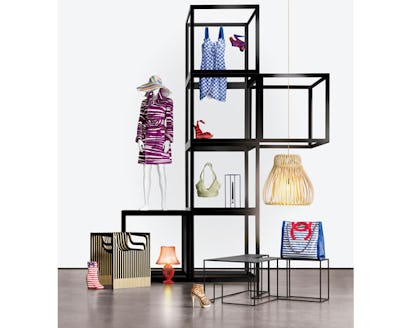 Fashion and decor make for easy bedfellows. And while the interior world has long been influenced by Sol LeWitt, it appears that many of the resort collections are taking after the artist's simple geometrics too. Stripes turned wayward and angled at Alexander McQueen, and grid patterns at Giorgio Armani offered visual intrigue in two-tone colors. Jonathan Saunders even managed to make a graph-paper inspiration sexy with a highlighter-accented bralette.
Clockwise from top: Giorgio Armani's silk chiffon dress, at Giorgio Armani, New York, Los Angeles and Las Vegas; Alexander McQueen's calfskin shoe, zappos.com; Tomoko Mizu's lamp; Chanel's lambskin, cotton canvas and metal bag, at Bloomingdale's, Chicago and New York; Ron Gilad's table; Pierre Hardy's leather bootie with wooden heel, pierrehardy.com; Ziglam and Brook for Deadgood's lamp; Julian Mayor's chair; Chanel's lambskin, cotton canvas and metal boot, at Saks Fifth Avenue, New York, Beverly Hills, and Bal Harbour, Florida; Oscar de la Renta's stretch cotton trenchcoat, at Oscar de la Renta and select Neiman Marcus stores; Lola's cotton hat, lolahats.com; Donna Karan New York's silk wedge, donnakaran.com; Jonathan Saunders's silk jacquard bralette, at Bergdorf Goodman, New York; Ron Gilad's candelabra.
Fashion assistant: Brian O'Connor. Mizu lamp, propertyfurniture.com; Gilad table, wright20.com; Gilad candelabra, Deadgood lamp, thefutureperfect.com; Mayor chair, 21st21st.com