Trend: Tales of the Unexpected
This season, if you think you've got it, think again.
---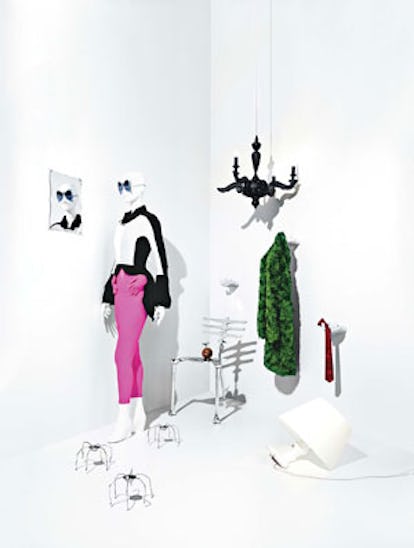 Things aren't always what they seem. That's a well-known motto in the design world, where tea strainers can double as menacing arachnids and what appears to be broken may not be. This fall, fashion, too, delights in tricking the eye in ways both overt and subtle. So if the prospect of stepping out with pink surrealist hands grasping your hips proves too daunting, you can still opt for visual hijinks, from knitted "feathers" and real fur masquerading as faux to—oh, surprise us.
Clockwise from below: Michael Aram's stainless steel tea strainers; Ralph Pucci International's fiber-glass mannequin; Comme des Garçons' polyester top and pants; Oliver Goldsmith's plastic and acetate sunglasses; Areaware's acrylic mirror, by Jeannie Choe and Steven Tomlinson; Moooi's burned wood and epoxy chandelier, by Maarten Baas; Areaware's resin hand hooks, by Harry Allen; Prada's mohair coat; Gytha Mander's wooden tie; Viable London's lacquered wooden lamp with stiffened cotton shade, by Charles Trevelyan; Michael Aram's aluminum and steel chair; Adam und Harborth's wooden music orb.
Fashion Assistants: Jennifer Flynn and Brian O'Connor. Chair and tea strainers, michaelaram.com; mannequin, ralphpucci.net; mirror and hooks, areaware.com; chandelier at Matter, New York; lamp, flukeflukefluke.com; orb, momastore.org.