Note to Fashion Crowd: Stop Wearing Thrasher Merch in 2017
Thoughtless appropriation of any kind, really, is out in the new year.
---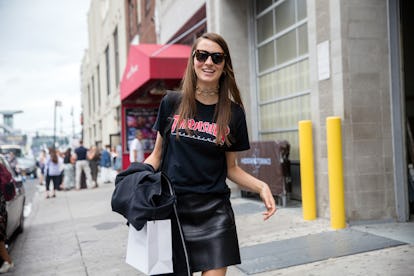 Getty Images
Recently, a friend told me that despite being a regular subscriber to Thrasher— the "Bible" of skate magazines — he couldn't bring himself to purchase one of their signature flaming logo t-shirts. This was not for lack of funds — they're a cool $30 — or lack of want. No, it was because over the past couple years "fashion people" like myself have ruined Thrasher tees for him. He wasn't blaming me. In fact, he offered to teach me how to skateboard again. (I recently found my amateur deck buried in my mother's basement with a dweeby 'I heart waterfalls' sticker on the back.)
My friend, like many people who have a love and passion for anything, was open to sharing. But when authentic totems of one group become "trendy" status symbols for another, more powerful one, the original object loses its meaning. Some might call it appropriation, but we can all agree that, today, a Thrasher shirt today no longer represents a singular devotion to skate culture.
London Men's Fashion Week Spring 2016

Photographer: Adam Katz Sinding
London Men's Fashion Week Spring 2016

Photographer: Adam Katz Sinding
London Men's Fashion Week Spring 2016

Photographer: Adam Katz Sinding
The current Thrasher editor-in-chief Jake Phelps put it more bluntly when he referred to fashion's relationship with skate culture as being "corny as sh—t." In an interview with Hypebeast, he continued: "We don't send boxes to Justin Bieber or Rihanna or those f—king clowns. The pavement is where the real sh—t is. Blood and scabs, does it get realer than that?"
Some background on Thrasher: The magazine was founded in 1981 in San Francisco, and it echoed the unapologetic and rebellious attitude of California skaters at the time. In addition to the print publication and website, which features a catalogue of skate videos, Thrasher annually names a "Skater of the Year," beginning in 1990 with Tony Hawk. Throughout the years, slogans like "Born to Skate / Skate or Die" and "Skate and Destroy" have been printed on tees and the magazine's font can even be found on Bob Marley's 1974 album Natty Dread. But no design has hit the mainstream as hard as the flaming logo. Everyone from Rihanna to Ryan Gosling has since been spotted in the magazine's merch.
It was this year's merch craze combined with an increased emphasis on individuality and anti-establishment politics that ultimately culminated in Thrasher's newfound popularity with the fashion industry and celebrities alike. Tensions between skateboarders and fashion editors finally boiled over when Vogue decided to publish a "skate week" on their website this summer. Quartersnacks, a website and clothing line dedicated to "NYC skateboarding and all the people, spots, and bad decisions that help make it wonderful," responded with their own listicle titled: "The Shit We Learned from Vogue's Skate Week". Item number five read: "Even if the god Rihanna herself showed up to a hot horny summer date wearing a dress and white high top DCs, it'd be cause to make up an excuse to go home and cry."
Others tried to remain optimistic. In a Fashionista article titled "How Skaters Really Feel About the Appropriation of Their Culture," an employee at the Williamsburg skate shop KCDC said, "I think it's flattering to skateboarding that it's reaching other areas and other lifestyles, but it sucks if they don't do it properly or get the right people involved."
Skateboarding is a billion-dollar industry, so it makes sense why fashion wants a piece of the pie. Plus, skaters and fashion folk have been well-matched bedfellows in business since the beginning. The late, great Dylan Rieder, for example, was in a DKNY advertisement with Cara Delevigne, despite having once said: "What does fashionable even mean?"
It is possible, however, to remain local and loyal to skate culture without "selling out." Look at the likes of Bianca Chandon, a unisex label founded by the professional skateboarder Alex Olson in 2014 that is now sold at Dover Street Market along with other skate brands like Dime and Alltimers. Palace Skateboards, a London-based brand founded by Lev Tanju, turned the tables by appropriating Versace and Chanel logos on their own shirts. And in January, Dior Homme's Kris Van Assche included miniature half-pipes and skate ramps in his show. It's a playful back and forth, until it isn't. When High-fashion brands like Vetements adapt the Thrasher flames, they charge ten times the price to the likes of Kanye West.
"I'm trying to celebrate an older style of dressing before it goes away for good," Olson told W this year. But how do we celebrate skate style without simultaneously causing its extinction? We already have proof that skate culture doesn't need to be niche to succeed. But those who birthed it and keep to its original ethos should also be directly lifted up by its sudden surge in popularity both monetarily and culturally.
"Street wear is a coup d'état of the fashion industry from below," said Ariana Gil of the radical feminist collective, Brujas, which launched its street wear label 1971 at a skate park at Art Basel Miami Beach recently. "It's young urban peoples' way of creating something to identify other people who grew up like them and who affiliate certain politics and life experiences. High fashion suddenly becoming interested in street wear is fine, but you will never be able to understand what makes street wear valid if you don't understand the politics it originates from."
This is not a call for the death of Thrasher, rather a plea for a more conscious, considered appreciation of its origins. Supporting skate culture is great; cluelessly co-opting it is not. Thrasher is a for-profit publication, but it also helps fund and fuel a community. If fashion wants to stay involved in 2017, it can find ways to do the same.
"Skating was such a definitive thing in so many people's childhoods," Quartersnacks founder Konstantin Satchek told W. "It would be cool if more people added to the culture."
A few months ago, Quartersnacks dropped a "fashion tee" and it sold out almost immediately, like most items on the site. On the shirt, two cartoonish, busty women in oversized shades kick up their heels and ride away on a skateboard, happily. Perhaps this was skate culture's olive branch to fashion. Or maybe the joke's still on us.
Virgil Abloh and Venus X DJ at a Skate Park In Miami For a Good Cause
Bradley Soileau, Virgal Abloh

Madison McGaw/BFA.com
Aleksandra Vitosevic, Erica Smolin, Samantha Brown, Hannah Sider

Madison McGaw/BFA.com
See W's most popular videos: