Trevor Noah Is Already Gearing Up For the Next Election
The "Daily Show" host and author of a new memoir, Born a Crime, shares his culture diet.
---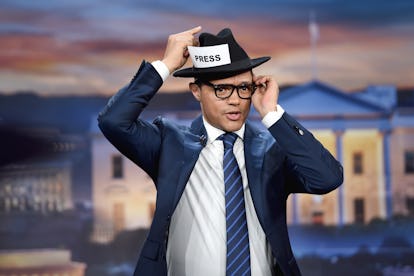 Jason Kempin/Getty Images for Comedy Central
Born under apartheid in South Africa, Trevor Noah grew up the illegal son of a Swiss-German father and a black mother, a story now at the center of his new memoir, Born a Crime. Out this Tuesday, it's the latest showing of Noah's knack for dark, cutting commentary that his gig as the host of "The Daily Show" has made more than clear in the last year — and especially with his gleeful takedowns of Donald Trump in the last week. Between all that, he shared his culture diet, here.
First thing you read in the morning: The news.
Books on your bedside table right now: The New Jim Crow by Michelle Alexander; Ghettoside: A True Story of Murder in America by Jill Leovy; and But What If We're Wrong?: Thinking About the Present by Chuck Klosterman.
The TV shows keeping you up at night: "Atlanta" and "Black Mirror."
Last movie you saw in theaters: The Magnificent Seven.
Last thing you saw at the theater: The Color Purple.
Last museum exhibition that you loved: The Ai Weiwei show at the Andy Warhol Museum in Pittsburgh.
Release you're most eagerly anticipating: Star Wars: Episode VIII.
Favorite podcasts: "Freakonomics" and "Our National Conversation About Conversations About Race."
Favorite authors: Khaya Dlanga, Nelson Mandela, Roald Dahl, and J. K. Rowling.
Last song you had on repeat: "Keep You in Mind" by Guordan Banks.
How you get your news: I consume everything available.
Thoughts on the election: Glad it's over… so we can start preparing for the next one.
Last thing you do before you go to bed: Meditate.