Nature Studies
The New York Academy of Art honored Laurie Simmons and Carroll Dunham at its annual gala.
---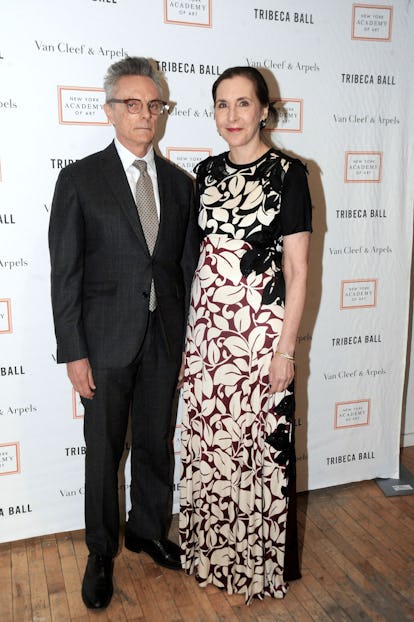 Once a year, The New York Academy of Art opens its doors and invites art collectors, dealers, patrons and enthusiasts to explore the studios of young artists and to have, well, a ball. The theme of this year's Tribeca Ball, sponsored by Van Cleef and Arpels, was "Nature Inspires." Amidst an enchanted forest, complete with enormous cutout trees and models posing as nymphs, a crowd including multihyphenate Padma Lakshmi, designer Misha Nonoo, and chef Daniel Boulud (the mastermind behind the evening's chilled pea soup and guinea fowl dinner) celebrated the evening's guests of honor: artists Laurie Simmons and Carroll Dunham, who were both presented with honorary doctorates by The Academy's Director David Kratz. It was easy to see from where their daughter, Girls director Lena Dunham, gets her deadpan tone when Simmons joked about teaching art for years at several universities, even Ivy League, without "actually having one of these."
The spotlight, she insisted, really shouldn't be on her, but on the Academy's students. "I really believe in art and I really believe in young artists. I want every one of them to know that if you're down about something, give yourself a couple days then get back up. Even at my stage, things can knock me off my feet, but give it a little bit of time and I get back up again." And after such a distinguished art career, what is her proudest achievement? "At this point it's my daughters, I'm so proud of them! But there is so much more art I haven't made yet, so much work I haven't done – I just hope I have time to do it all."
Carroll Dunham and Laurie Simmons.
The atmosphere at the ball.
Alain Bernard, Eileen Guggenheim, Bob Colacello, and David Kratz.
Julie Henderson and Eugenia Miranda.
The atmosphere at the ball.
Eileen Guggenheim and Alan Cumming.
Ken Fox and Nadya Nepomnyashaya.
The atmosphere at the ball.
Will Cotton and Rose Dergan.
Van Cleef & Arpels jewelry at the ball.