Save the Last Dance
Artist Trisha Brown re-activates the Judd Foundation.
---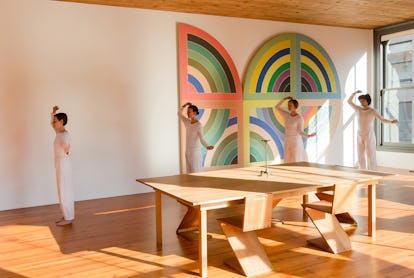 Growing up in the 70s, Rainer Judd, the daughter of the late artist Donald Judd, recalls large communal dinners at the family home in Manhattan's Soho. Last weekend, she brought back that communal spirit in the landmarked space that was also her father's studio and is the current site of the Judd Foundation, with a series of performances choreographed by the performance artist Trisha Brown. "In Plain Site, 101 Spring Street, New York" kicked off on the building's ground floor with "Accumulation (Early Works, 1974)," which featured a single dancer grooving to the Grateful Dead's "Uncle John's Band." She moved slowly, grinning and occasionally wagging her thumbs, hitchhiking to nowhere while, outside on the street, pedestrians peered curiously through the large windows. On the second floor, two male performers dressed in fashionable sweats mirrored each other's moves, to soothing piano and sax. And up on the top floor, a dancer draped in sheer white fabric, gyrated alone in Judd's former bedroom before a massive Dan Flavin sculpture. The evening sun streamed in through the windows; she moved as if having a silent dialogue with the art in the room.
Photos: Save the Last Dance
"Figure Eight" by Tara Lorenzen, Cecily Campbell, Olsi Gjeci, and Leah Ives.
Image © Judd Foundation. Art © Frank Stella artwork/(ARS). Photo by Liz Ligon. Licensed by VAGA.
"Rogues" by Marc Crousillat and Stuart Shugg.
Image © Judd Foundation. © David Novros artwork/(ARS). Photo by Liz Ligon. Licensed by VAGA.
"M.O." by Diane Madden.
Image and Art © Judd Foundation. Dan Flavin artwork © 2015 Stephen Flavin/Artists Rights Society (ARS). Image courtesy of David Zwirner. Photo by Liz Ligon. Licensed by VAGA.