Fire And Ice
Slope-side or seaside, these hot and cold spas prove that pampering works in any weather. Jane Larkworthy takes their temperature.
---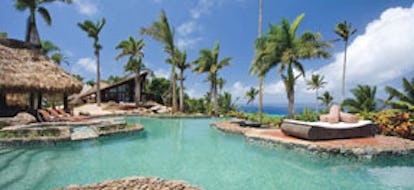 Laucala Island, Fiji
HOT
Laucala Island Spa Fiji
Follow the lotus flower–lined boardwalk to Laucala's four spa bungalows, which are tucked in among the 25 guest villas that dot this 3,000-acre private island. Treatments­—including all-natural facials, volcanic-ash body wraps, and Thai massage—are scented to order with your choice of four locally made essences: citrus, herbal spicy, floral, and woodsy. The spa kitchen, where such potions are cooked up, also offers lessons in soap- and lotionmaking (laucala.com).
The Spa at Viceroy Anguilla Anguilla, British West Indies
Opened this past summer—a year after the hotel's debut— this 8,000-square-foot temple of pampering comprises 11 treatment rooms, three luxury suites, and three outdoor cabanas, all built into the bluff overlooking Meads Bay. While enjoying the spectacular views, guests can indulge in such high-tech treatments as the Iconic Facial, which uses glacial springwater and medical-grade collagen to soothe sun-scorched skin (viceroyhotelsandresorts.com/anguilla).
The Spa Experience at Imanta Punta de Mita, Mexico
Take a stroll through Imanta's 250 acres of jungle, and you might just come upon a massage in progress. Spa guests can opt to receive treatments on the beach, atop an observation platform, or amid the trees—from which many of the ingredients are sourced. The detoxifying Beautiful Skin Rituals make use of edible homegrown goodies like coconuts, cucumbers, and avocados. A more decadent treat is the Cocoa Wrap, filled with local antioxidant-rich ingredients (imantaresorts.com).
Hualalai Spa Kailua-Kona, HAWAII
As part of a $40 million renovation of the Hualalai Resort, the spa has more than doubled in size. Therapists draw on ancient Hawaiian healing traditions, employing indigenous aromatic ingredients like dried hibiscus, lava salt, and Maui turbinado sugar. For those who can't bear the thought of stepping away from the ocean during their stay, there's the Mahuaola ("being healthy") Apothecary treatment, which is administered on the beach and incorporates seawater (hualalairesort.com).
The Ranch at Rock Creek, Philipsburg, Montana
COLD
The Remede Spa at St. Regis Deer Crest Deer Valley, Utah
Deer Crest provides guests with butlers to unpack their luggage and ski valets to buckle their boots, but the real pampering takes place at Remède. From the cavernous hot tubs to the post-treatment lounge looking out on a waterfall, everything about Remède whispers serenity. Those planning to put in overtime on double black diamonds may want to spring for the Healing Ritual, during which après-ski aches are scrubbed, wrapped, and massaged away (stregisdeercrest.com).
Spa Montage At Montage Deer Valley Deer Valley, Utah
Just down the road from Deer Crest, the majestic Montage Resort features a whopping 35,000-square-foot spa, with indoor/outdoor swimming pools, three hot tubs, and a salon. Attached-at-the-hip types should consider the Two Venture, a two-hour purification and relaxation ritual that takes the couples massage concept to the next level. Lovebirds bathe in warm copper tubs of mineral water, have their scalps rinsed with an herbal solution, undergo rigorous body brushing, and enjoy hot-oil body massages. To top it all off: foot rubs and tea on a pile of warm pillows (montagedeervalley.com).
The Ranch at Rock Creek Spa Philipsburg, Montana
After a day of horseback riding through the Montana wilderness, who could resist a treatment called Saddle Sore Soak? The spa at Rock Creek centers much of its menu around the Ranch's activities—cross-country skiing, snowshoeing, and riding. One highlight: Rock Creek Ritual, a body scrub, wrap, and massage using natural-based goodies like arctic berries, jojoba, coconut, apricot, and avocado (theranchatrockcreek.com).
Raison d'Etre Spa & Fitness Grand Hotel, Stockholm
At Raison d'Etre, it's not just the massages that are Swedish. Local teak, walnut, and ash line the walls and ceilings; the pool's slate floors were inspired by the black waters of the Stockholm archipelago; and the relaxation room is furnished with actual deck chairs that were used on Swedish American Line steamers in the Thirties and Forties. Now, of course, most transatlantic guests fly over, so the jet-lag-banishing Be Rested massage is on the menu. Weary travelers are slathered with calming chamomile butter and then kneaded into a blissful stupor (grandhotel.se).
Photos: courtesy of the locations