Troye Sivan, Nicole Kidman, Xavier Dolan and Flea are All Making a Movie Together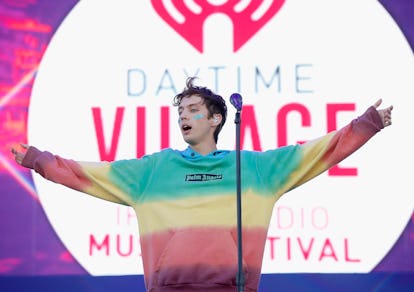 Isaac Brekken
Throw YouTuber-turned-pop star Troye Sivan, a resurgent Nicole Kidman, cult French-Canadian director Xavier Dolan, Red Hot Chili Peppers bassist Flea, Broadway doyenne Cherry Jones, Manchester By The Sea's breakout star Lucas Hedges and, to top it all off, Russell Crowe into a room together and what do you get? Surprisingly, the case for the upcoming film Boy Erased.
Just to underline the star-studded yet completely random nature of the cast, that's at least two Oscars, a few Tony awards, the 2014 Teen Choice Award for best web collaboration, the Cannes Film Festival's Queer Palm, and a Grammy for Best Hard Rock Performance represented.
Rounding out the cast is recent Golden Globe nominee Joel Edgerton, who also wrote the script and will direct.
What could possible entice all these disparate talents to join forces? Well, the source material is Garrard Conley's "Boy Erased: A Memoir of Identity, Faith, and Family." The memoir recount Conley's experience of being outed to his conservative family as a college freshman in Arkansas. His father, a Baptist pastor, forces him to undergo gay conversion therapy with the "goal" of turning him straight or to be permanently cut off from his family. Conley, initially, chose the former.
Hedges, fresh off his Oscar nomination for Manchester, will play a fictionalized version of Conley. Meanwhile, Crowe and Kidman (incidentally, two longtime friends from Australia who have never shared the screen together before) will play his parents. We don't mean this as shade towards Crowe, but, sure, it's easy to see him play a coldhearted conservative father, but watching Kidman play a mother who makes her son pray the gay away might be an emotional roller coaster for some fans.
The roles of the other actors have not yet been clarified, though it may not be a stretch to assume that 28-year-old Dolan and 22-year-old Sivan, who are both openly gay, may play other young gay men caught up in conversion therapy.
Sivan, if you're not familiar, turned his teenage hobby of YouTube vlogging into a burgeoning pop music career. His debut album, Blue Neighborhood, was a top ten hit. Though, he's not completely unfamiliar to acting. As a child, he had a part in Wolverine. Still, his first adult part in a big-time American film is another notable achievement for the millennial on the rise.
Meanwhile Dolan hasn't acted in a film since 2014. He's been busier behind the camera. His next film as a director (and his first in English), The Death and Life of John F. Donovan, will star Natalie Portman, Jessica Chastain and Kit Harrington and premieres next year.
It's Flea (AKA Michael Balzary) who is really standing out as the oddest cast addition, though he actually has quite the resume of acting in critically adored films. He's had parts in Baby Driver, Inside Out, The Big Lebowski, Gus Van Sant's Psycho, My Own Private Idaho, and Back to the Future II and III.
If you're looking for some sort of other connective tissue through the cast, it should also be noted that Kidman, Crowe, Flea, Sivan and Edgerton are all Australian.
In any event, the film seems particularly relevant at the moment. Conversion therapy is based on pseudoscience and has never actually turned anyone straight, much to Vice President Mike Pence's dismay. Almost all major mental health organizations regard the practice as unethical and, worse, possibly harmful. Nine states and several large municipalities have made it illegal to send minors to conversion therapy, but the practice remains perfectly legal through out most of the country.
Related: Lucas Hedges, 20-Year-Old Oscar Nominee, Had to Audition At Least Five Times for Manchester by the Sea
Actor Joel Edgerton, "Loving" Star, Really Botched His First Kiss: