Trump's Coronavirus Result Isn't a Plot Twist, It's Science
The virus dictates the rules. Not soap opera writers.
---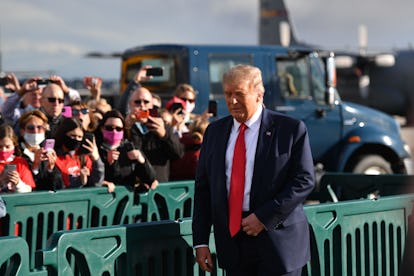 Photo by MANDEL NGAN/AFP via Getty Images
President Donald Trump's announcement that he and his wife Melania tested positive for the coronavirus late last night was greeted by many as just the latest wild cosmic plot twist in 2020. Twitter was full of jokes that whatever higher being (or perhaps the soap opera writing staff She's seemingly outsourced duties to this year) had one more stunt up their sleeves. Others, in a sign of just how far trust in public officials have fallen, surmised the news must be some sort of calculated stunt or strategy. Yet, as we all should know by now, the science of viruses are not beholden to either the cosmic laws of karma nor the whims of narrative plot structure.
The Trumps were tested after close aide Hope Hicks tested positive for the virus. She is often in direct contact with the president, and traveled with him to Tuesday's debate in Cleveland. RNC chair Ronna McDaniel has also tested positive. She was reportedly with the president last Friday. While Vice President Mike Pence and his wife Karen, along with Ivanka Trump and husband Jared Kushner have tested negative, it only takes one person in your orbit to transmit the disease.
While phoning into the Fox News right wing opinion program Hannity after the announcement of Hicks's diagnosis, but before his own, Trump himself, however, seemed to suggest that Hicks may have contracted the disease from a police officer or member of the military. "It is very, very hard when you are with people from the military, or from law enforcement, and they come over to you and they want to hug you and kiss you because we really have done a good job for them," Trump said. "You get close, and things happen."
Trump and his campaign have repeatedly held in-person events, and the president has only ever been seen wearing a mask in public a few times. He was seen without a mask playing golf this past Sunday.
The Trump campaign has tried to use the president's more cavalier attitude toward protecting himself, his staff and supporters from coronavirus as a point of contrast compared with Joe Biden's campaign. Trump has labeled his opponent "Hidin' Biden," because the former Vice President has forgone large public events. During Tuesday's particularly depressing debate he also made fun of both the size of Biden's face masks and the frequency with which his opponent wears them. Notably, Jill Biden kept her mask on in the audience during the entirety of the debate, while members of Trump's family took their masks off shortly after taking a seat.
Trump is also not the first world leader to be diagnosed with the virus. Brazilian President Jair Bolsonaro and British Prime Minister Boris Johnson, two of Trump's fellow travelers of the global right wing "populist" movement, also tested positive earlier in the year. Several members of Bolsonaro's family also contracted the virus, while Johnson's wife was treated for symptoms.
Three United States governors, two of which were skeptical about mask mandates, also tested positive. All three tested positive alongside their spouses.
In other words, while the situation is unprecedented in American history, the way Trump may have contracted the disease is not. Several other leaders who have continued on with business, employing less-than-optimal precautions, have also contracted the disease—most alongside their spouses.
Trump's individual experience with the progression of Covid-19 (and, undoubtedly, the president will receive the highest of medical care) should also not be taken as a referendum on the virus, nor yet another plot twist. Both Trump's age and weight put him at higher risk for adverse symptoms. Dr. Monica Gandhi, a professor at the University of California, San Francisco, told USA Today that Trump's hesitancy to wear a mask may put him at higher risk to contract a larger load of the virus. "The interplay between host and pathogen is complex and so we will have to wait and observe this carefully," she said.
In other words, no matter what the narrative surrounding an individual diagnosis may be, the realities of the virus don't care for dramatic political statements. It's science, not storytelling.