Trump Goes After Lady Gaga in Final Campaign Push
The issue voters really care about, of course.
---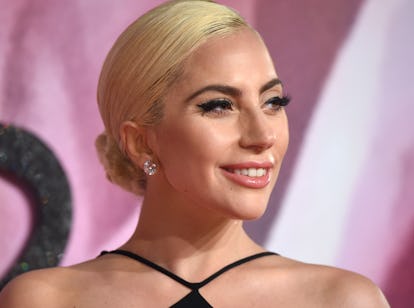 Anthony Harvey
President Donald Trump has logged into the Stan Wars. In the final moments of an historic campaign conducted amid a global pandemic, the incumbent President of the United States has increasingly used his closing argument to, of all things, incessantly go after the pop star Lady Gaga.
While Gaga last week released a message urging everyone—including those who don't agree with her politics—to vote, she's gone all out in recent days for Trump's opponent Joe Biden. She's spent the past few days in Pennsylvania, this year's most closely watched and possibly deciding swing state, and will perform later tonight at Biden's final rally in Pittsburgh.
On Sunday, the Trump campaign released a blistering if not decidedly over-the-top press release blasting the singer. "Nothing exposes Biden's disdain for the forgotten working men and women of PA like campaigning with anti-fracking activist Lady Gaga," read the release. "This desperate effort to drum up enthusiasm is actually a sharp stick in the eye for 600,000 Pennsylvanians who work in the fracking industry."
Due to several dynamics, fracking has become an increasingly hot-button issue in the final days of the election. Though, Gaga's record on the issue would hardly lead one to conclude that "anti-fracking activist" would be the phrase to describe her. Her activities on the matter: she was recruited by Yoko Ono to sign a letter asking Governor Andrew Cuomo to ban the practice only in the state of New York back in 2012.
Though, a tweet from a Trump campaign Twitter account made it seem as if Gaga herself will personally ban fracking in Pennsylvania (for the record, Biden has said he will not, indeed, ban fracking).
Gaga responded on Instagram stories, unsure of what fracking even is.
Today, at a rally in Biden's home town of Scranton, Trump continued to go after Gaga in more general terms.
"I could tell you stories about Lady Gaga…" Trump said without elaborating. Though, it appears from the clip Trump mostly took delight in pronouncing the artist's name.
Of course, highlighting entertainers and celebrities' preference for progressive politics and the Democratic party has long been a favorite tactic of Conservative culture warriors to paint their opponents as out-of-touch representatives of the elite. Even as Republicans tend to embrace any celebrity who supports their causes (see, well, former Celebrity Apprentice host Donald Trump), the tactic isn't all that surprising. Still, the Trump campaign certainly seems to be overusing it a bit lately. In the final months of the campaign, in the face of poor poll numbers, Trump has waged war against all manner of notables including 60 Minutes journalist Lesley Stahl, Dr. Anthony Fauci, LeBron James, and, now, Gaga.
Undoubtedly, playing the game of twisting cultural resentment played its part in elevating Trump to the office of President in the first place. But now that he's held the job for four years, it remains unseen whether the president attacking the singer of "Sour Candy" as part of his closing argument will have any effect on citizens' votes.
Related: Lady Gaga Helped Raise $35 Million for Pandemic Relief