"Pay Trump Bribes Here" on the Trump Hotel Is Not the First time Artists Have Projected Their Protest
A recent history of projection as protest art, from Robin Bell's Emoluments Clause on the Trump International hotel to Occupy Wall Street's "bat signal."
---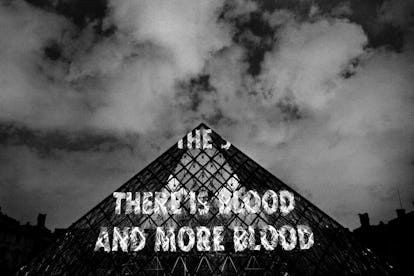 © 2011 Jenny Holzer, member Artists Rights Society (ARS), NY. Photo: Annie Tritt Collection, National Contemporary Art Fund, Paris
Not long after Americans learned that President Donald Trump leaked highly classified information to Russian officials, on Monday night, around 10 p.m., the Washington, D.C.-based artist Robin Bell decided to air his frustrations even more publicly than most. He headed to the capital's Trump International Hotel, which has become something of a cafeteria for foreign diplomats, and, using a projector, broadcast messages like "PAY TRUMP BRIBES HERE," with an arrow pointing at the entrance, directly onto the building's ostentatious façade. Hotel security quickly intervened, but not before Bell could squeeze in a few more phrases from the Emoluments Clause in the Constitution, some overlaid over images of Russian, Chinese, Turkish, and Saudi Arabian flags.
This wasn't the first time Bell has aimed his protest at the Trump International: Shortly after the election, he projected "EXPERTS AGREE: TRUMP IS A PIG" onto the same façade. Interestingly, his actions are, after all, mostly legal—unlike spray paint, a projected image is temporary, and doesn't fall under any "illegal posting of advertisements." And Bell is not the first artist to take advantage of the lax law. From Robert Mapplethorpe circumventing his own censorship to Jenny Holzer showcasing declassified Iraqi war documents, here's a brief history of artist-made political projections, here.
Krzysztof Wodiczko
Since 1980, the Polish, New York-based artist Krzysztof Wodiczko has mounted 80 public projections everywhere from Australia to Israel to Spain, shining an international light on issues like war and trauma. (Take, for example, the time in 1985 when he rented a hotel room across the street from the South African embassy in London and trained the image of a swastika on its façade from across Trafalgar Square, in protest of Margaret Thatcher's perceived support of apartheid via monetary support of the South African government.) Homelessness is another issue that's been at the core of Wodiczko's focus, one he's highlighted both with his Homeless Vehicle Project in the late '80s, a structure that traveled through New York with supplies, and The Homeless Projection, which was shown on the Civil War Memorial in Boston.
Robert Mapplethorpe
In 1989, in D.C., the Corcoran Gallery of Art's planned retrospective of Robert Mapplethorpe was cancelled just weeks before it was set to open, over fear that its 150 works would be too controversial and draw criticism for using federal funding to showcase nudity and—gasp—interracial relationships. Still, some of the photos ended up getting displayed anyway when 10 of the images, including Mapplethorpe in his signature leather jacket and an American flag, were projected onto the institution's façade in front of a crowd of an estimated 700 that gathered to protest the show's censorship.
Jenny Holzer
As even her more modern-day iterations like Marilyn Minter can tell you, Jenny Holzer set quite the example for today's protestors with her bold-faced, all-caps slogans, which she's displayed since the late '70s with both the help of high-up LED signs and ink scrawlings on skin. Her public projections, though, have often packed the most punch, and have been showcased everywhere from the Guggenheim to the shores of San Diego to the Louvre to Rockefeller Center, the latter of which she used in 2005 to broadcast declassified U.S. Army documents regarding the war in Iraq.
The Illuminator
An art collective that emerged from Occupy Wall Street, The Illuminator first staked its claim on New York's skyline in 2011 with a "bat signal" onto the towering Verizon Building near the Brooklyn Bridge that broadcast messages like "99%," "YOU ARE PART OF A GLOBAL UPRISING," and "WE ARE UNSTOPPABLE." From there, the group found itself a van to allow for more mobileprojections, including phrases like "KOCH = CLIMATE CHAOS" on the façade of the Met on a night that the institution was honoring David Koch.
No Red Tape
Emma Sulkowicz may have brought the most attention to sexual assault on campus with her mattress-carrying performance, but she wasn't alone in her protest: In 2015, Columbia University's anti-rape activism group No Red Tape projected phrases like "RAPE HAPPENS HERE" and "COLUMBIA HAS A RAPE PROBLEM" across the façade of the campus's library—coincidentally at the same time that prospective students were visiting, which did not go over well with the school's staff, some of whom physically blocked the messages with their bodies.
No Somos Delito
In 2015, after the Spanish government passed a series of draconian laws against protesting, including banning gathering in front of Parliament and punishing "unauthorized" photography of police with a 30,000 euro fine, the protest group No Somos Delito got around the new legislation by assembling thousands of holograms and sending the virtual protestors into the streets. (You can even become a hologram protestor yourself on their site, Holograms for Freedom.)
Occupy Museums, The Illuminator, and the Guerrilla Girls at the Whitney Museum
The Whitney Museum has of late seen its share of indoor protests, but it was the site of them before its new downtown building even opened. In 2015, The Illuminator struck again, this time with Occupy Museums and Occupy the Pipeline, to raise awareness that the museum was being constructed atop a Spectra Energy fracked gas pipeline, making for slogans like "Whitney, The Finest Collection of 20th-century American Art in the World, Now Featuring a Brand New Pipeline!" The institution, of course, carried on with its opening, but lately its façade has continued to serve as a projection screen: The month of its opening, it also hosted messages from the Guerrilla Girls, and just last week, it played host to some mysterious footage of the white nationalist Richard Spencer getting punched in the face.
Meet the Women Who Made History as the Organizers of the Women's March on Washington: