So What's In the JFK Files That Trump Is Releasing?
Who shot JFK? Still Lee Harvey Oswald. But there's more to the story.
---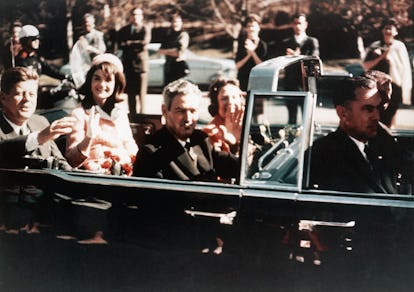 © CORBIS/Corbis via Getty Images
In between plugging his friends' books and mocking congresspeople this morning, Donald Trump tweeted about something actually interesting: long-classified documents pertaining to the assassination of President John F. Kennedy will be released to the public. Maybe. Kinda. "Subject to the receipt of further information, I will be allowing, as President, the long blocked and classified JFK FILES to be opened." he tweeted the morning of Saturday, October 21.
However, it's not quite that simple. The files (or "FILES") Trump is referring to are at the JFK library at the National Archives. In 1992, in response to Oliver Stone's conspiracy-laden film JFK, the first Bush administration made many pages of materials related to the assassination public in an attempt to disprove the conspiracy theorists, and Congress passed a law giving the National Archives 25 years to release the rest of the files. That deadline is on October 26, and Trump is the only person who can prevent that from happening, either by asking Congress to extend the deadline or allowing some of the files to stay classified. The files likely have to do not so much with what literally happened but with how much the CIA knew, and when, and what they did with that information. This past July, the Archives released a few hundred pages of documents, and their servers were incapacitated for days because so many people were trying to access the files.
There is concern that some of the more recent JFK files, compiled in the 90s, might compromise national security. Lindsay Walters, White House spokesperson, spoke to Politico yesterday and said that the files are being reviewed to guarantee there will be no risk.
What Trump meant by "subject to the receipt of further information" is not clear, but it may be that he is giving himself an out in case some or many of the files aren't released. Perhaps he is waiting for the information from the review Walters mentioned. Then again, when it comes to Trump and JFK, the president is not beyond outlandish conjecture. Roger Stone, who helped Trump launch his presidential campaign, wrote a book in which he claimed that Vice President Lyndon B. Johnson was involved in the plot to assassinate Kennedy. Trump himself made the claim during the campaign that senator Ted Cruz's father was an associate of JFK's killer, Lee Harvey Oswald.
Jackie Kennedy Through the Years: A Look Back at the Original White House Style Icon
A smiling Jacqueline Bouvier arrives at St. Mary's Church in Newport, R.I., on the arm of her stepfather, Hugh D. Auchincloss, for her wedding, 1953. Photo courtesy of Getty Images.

Getty Images
Jackie Kennedy on a visit to India in 1962. Her signature pearls and gloves accessorize an apricot dress with bow accent. Photo courtesy of Getty Images.

Getty Images
Jackie looks windswept on a December afternoon in 1969 in a casual black turtleneck. Photo courtesy of Getty Images.

Getty Images
Jackie Onassis pictured receiving a gift from Prince Sihanouk of Cambodia and his wife during a trip to Cambodia in 1967. She dons a teal one-shoulder dress with decorative trim. Photo courtesy of Getty Images.

Getty Images
Jackie Kennedy on a trip to Canada in 1961. The First Lady matches an iconic pillbox hat to her red wool suit. Photo courtesy of Getty Images.

Getty Images
Jackie Onassis attends the Metropolitan Opera at Lincoln Center in 1967 wearing a white 3/4 sleeve gown cinched at the waist by a chunky belt with stone inlays. Photo courtesy of Getty Images.

Getty Images
Jacqueline Kennedy Onassis in a formal pants suit on East 75th Street, New York, 1960. Photo courtesy of Getty Images.

Getty Images
Jackie Onassis on the way to the Metropolitan Opera House House Royal Ballet in 1974. Her printed maxi dress exudes 70's glamour. Photo courtesy of Getty Images.

Getty Images
President and Mrs. Kennedy in West Palm Beach, Florida, 1961. Photo courtesy of Getty Images.

Getty Images
Ms. Onassis arriving at La Cote Basque in 1970. In a stunning red moment, Jackie looks playful in a beautiful ruffled dress that's belted at the waist. Photo courtesy of Getty Images.

Getty Images
Jacqueline Kennedy wearing a checked blue and white high cloche with a matching blue ribbon around the crown as she arrives with the President to greet the Pakastan President, Ayub Khan, Andrews Air Force Base, Maryland, July 11, 1961. Photo courtesy of Getty Images.

Getty Images
First Lady Jacqueline Kennedy walks a pace behind her husband in a monochromatic white outfit, a look that quickly became synonymous with Mrs. Kennedy during her Camelot days in 1962. Photo courtesy of Getty Images.

Getty Images
Jackie Kennedy exits a plane at Laguardia Airport Field in a knee-length leopard coat in 1962. Photo courtesy of Getty Images.

Getty Images
Jackie is pictured wearing her riding outfit at the 17th Annual Horse Show in 1970. Photo courtesy of Getty Images.

Getty Images
Jackie Onassis is photographed in 1970 at The Alvin Theater in New York wearing a black and white cocktail dress belted at the waist with geometric inserts. Photo courtesy of Getty Images.

Getty Images
Jackie is photographed at Heathrow Airport sporting a casual printed blouse and iconic oversized glasses in 1976. Photo courtesy of Getty Images.

Getty Images
Jackie Onassis pictured wearing a green cocktail dress to a dinner at La Cote Basque Restaurant in 1974. Photo courtesy of Getty Images.

Getty Images
Jackie wears a vibrant yellow gown to the Metropolitan Opera House in 1973. Photo courtesy of Getty Images.

Getty Images
Jackie wears a navy suit with a red bowtie while out with her children in 1971. Photo courtesy of Getty Images.

Getty Images
Jackie looks effortless exiting the cinema in a simple khaki skirt and tucked blouse during the summer of 1981. Photo courtesy of Getty Images.

Getty Images
First Lady Jackie Kennedy attends the unveiling ceremonies at the National Gallery of Art in a strapless lavender evening gown and satin elbow length gloves in January of 1963. Photo courtesy of Getty Images.

Getty Images
Jacqueline Kennedy Onassis wears a ballgown with a long sleeved sequin top to a gala at the New York Public Library in November of 1986. Photo courtesy of Getty Images.

Getty Images
Before she was a Kennedy, she was Jacqueline Bouvier. Here, the future Mrs. Kennedy is pictured in a floppy hat and shorts on holiday at the Kennedy compound in 1953. Photo courtesy of Getty Images.

Getty Images
In 1989, Jackie Onassis is sighted wearing a yellow sequin skirt paired with a crisp white blazer and pearls in New York. Photo courtesy of Getty Images.

Getty Images
Jackie Onassis attends her daughter Caroline's wedding wearing a long sleeved mint colored cocktail dress and gloves in 1986. Photo courtesy of Getty Images.

Getty Images