Trumps, Tramps and Karl Lagerfeld's Cat: The Best Costumes at MoMA PS1's Halloween Bash
These club kids know what they're doing. Take a cue from New York's wildest and freakiest and go all out for your Halloween costume.
---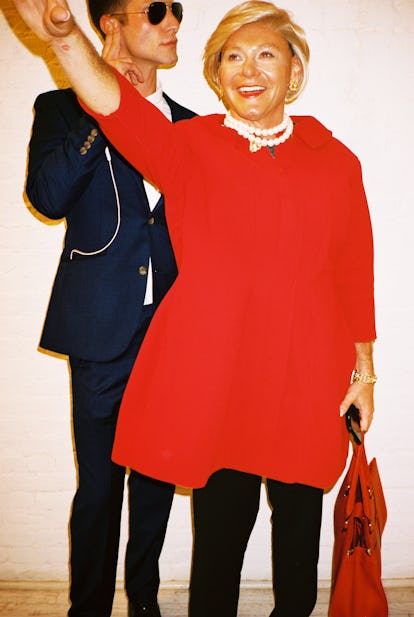 In a year when America's political realities are more frightening than any conjured fiction, how do you live up to a Halloween party themed "White House of Horror"? Well, if you're one of the New Yorkers who trekked to Susanne Bartsch's annual Halloween bash at MoMA PS1, you go for the jugular with costumes that aim only to shock and upstage everyone around you. On Saturday night, Bartsch transformed Klaus Biesenbach's museum into a raucous celebration and her club kids tried their hardest to match real-life political candidates to their outfits, some executing their looks with horror, others opting for a punchline. There were no less than three—three!—alien-like Donald Trumps and one Grindr advertising executive in a wig and pantsuit, who declared: "If Hillary's going out, she's going out in style!" Make of it what you will.
Jose Silva, "Ageless", Freelance Fashion Stylist "I didn't have anything to wear, so I went to Salvation Army and bought a blanket and I love Commes de Garçons, it always inspires me. I'm just inspiration, a celebration of Commas de Cartoons—the best."
Emily & Stephanie, 19, Students "I'm Karl and that's my cat. I love Karl and I think he's an inspiration and I just want to be him for a night and it feels great, being him, and everyone's looking at you because you're him—but not really him. It's fun!" -Emily "I am Choupette, the cat!" -Stephanie
Linda, 32, Product Designer "I am a Southern jelly fish. I come from Florida and I live by the sea and there are a lot of jellyfish there. And I wear this outfit every year. So, it's sort of my Halloween spirit animal."
Dali, 29, Performing Artist/Technician "I'm not sure. I, uh, oh man, I'm so bad at this."
Wilson, 42, Graphic Designer "I was shopping at home depot and I saw this bull mask decoration. And I said 'THAT'S MY COSTUME'…so I cut it up I put together things from my previous costume and now I'm a witchdoctor—from Home Depot."
Robert, 22, Filmmaker "I am the one and only Divine, the filthiest person alive, the Godzilla of drag. And now I get to be larger than life and be campy and eat s–t."
Andre, 21, Student "I was thinking I could be, like a McDonald's alien. Like, someone who takes your order but on a different planet. I made this dress on Thursday. The theme of the party is White House of Horror, so I was thinking maybe I could be an alien from another planet and the only thing I know about America is McDonald's. I'm not from here. I'm from Ukraine and one of the first thing I knew about America was McDonald's."
Sintra, 21, Fashion Designer "So, I really wanted to do a Holocaust look and imbue a Trump kinda look, but everybody I told about my outfit thought it was too risqué, too taboo. So, I decided to go with Guantanamo Bay instead because it's essentially the same thing but with a different race of people—and it's more relevant."
Drew, 22, MoMA PS1 Employee "It's a funny story, I matched with someone on Tinder, and I asked them what they were going to be for Halloween. They said this [points to outfit]. So now I'm this. I'm Carrie."
Luke, 28, Performance Artist "I'm Uncle Sam…It feels quite organic and I like the idea of Uncle Sam as a showgirl. I'm trying to make fun of the idea of Uncle Sam. You know, all the obvious stuff, Uncle Sam as this capitalist entity. I think the whole point of this evening is to poke fun at America itself."
Sam, 21, Student "What am I? I'm some sort of demon thing. It's sort of an elevation of what I usually do when I go out. But usually I take the horns away and I take the clothes away. Don't be so dirty [laughs]."
Art, 35, Advertising Executive at Grindr & John, 29, Production Designer "It's the first time we have a shot at a female candidate getting into the White House and it's unprecedented and I think it's about time. There's obviously satire—I feel like i'm wearing triple D's, or whatever these things are [grabs fake breasts]. I had to tone it down but I think it's important. Just because there are five Donald Trumps here, there needs to be a Hillary here. And if Hillary's gonna be here, Hillary needs to represent. And if Hillary's gonna go out, she's gonna go out in style. It didn't take me too long to get ready. Maybe four or five weeks." – Art
Jessica, 30, Stylist "I'm obsessed with Rupaul's Drag Race, so I thought it would be fun to be a play a drag, in drag, while being drag. So, drag cubed."
Jonathan, 30, Art Director "A lot of my friends had pink-eye this summer on Fire Island, so I decided to be the walking pink-eye for them."
Joel, 29, Video Producer "The fact that I travelled from Miami today and going to Cuba tomorrow so I can only wear black; I can only wear what I can fit in my bag for two weeks. I bought this McQueen jacket six months ago and haven't worn it and tonight is the special night."
Gazelle, Visual Artist "I'm Gazelle Tramp, and I'm going to make America Tight Again, which is an homage to Donald Trump and the fact that he was grabbing so many women's pussies and he's one of the candidates for president of the United States of America and I think that it is insane. But my outfit's meant to be fun. If you don't get offended by Donald Trump grabbing women's pussies, then I don't think you should be offended by this."
Ramsey, 28, Designer "My friends are making a campy, gay horror film called Killer Unicorns of Anusberg, so I don't know, I just wanted to emulate that."
Roger, Owner of MAO PR & Joshua, 23 "For us, Halloween is gay Christmas and I wanted to be otherworldly and I put more time and effort into this holiday than any other holiday. I think when you are in fashion and a lover of fashion and also gay, you love the idea of transforming and transforming into other things and your first experience of that when you are a kid is Halloween. I started [getting ready] November 1st last year, sequining." -Roger
Dirty Martini, "Age unlisted," Burlesque Diva, and Julie Atlas Muse, "Age also unlisted," Performance Artist "Earlier I did a Trump number and I felt like Trump needed to walk a mile in our shoes, our high heels specifically, naked. That's why I'm here, nude, wearing a white man's mask. Because it's high time somebody took responsibility for what's happening in this world!" -Dirty Martini "What the do you think? Is my outfit politically charged or not? Take a f–king look!" -Julie Atlas Muse
Angel, "As old as the moon," Artist "I just thought that being an overzealous person grasping to a certain moment in their life was so comical to me. As you can read, I'm Miss Florida Teen 1985."
Andrea, Joe, Jacqueline, Ally "It's a political play, he's obviously alien Trump and we're cats who are against Trump—we're pussies against Trump." – Andrea "And I'm just Monica Lewinsky, because she's just controversial" -Ally "I am an alien Trump, because it's the only thing that can explain his behavior—he's got to be an alien." – Joe