Meet Tschabalala Self, the 26-Year-Old Artist Empowering the Lives of Black Women
The Harlem-born painter, who is opening a new solo exhibition at Parasol Unit in London, sees urgency in the everyday.
---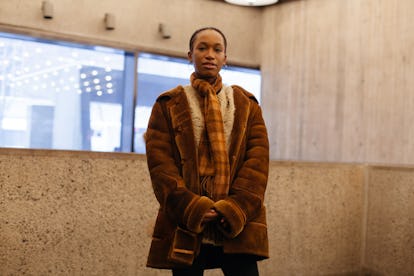 David Cortes
"Doesn't everything feel like it could really be alive?" said the artist Tschabalala Self on a recent afternoon as snow fell silently outside the Met Breuer in New York. We had just stepped out onto the museum's fourth floor and into the grandest gallery of Kerry James Marshall's 35-year retrospective, "Mastry." Nine closely hung, vigorously populated paintings stretched nearly 12 feet tall, a scale that suited Self's level gaze. "It's like, maybe this thing can look at you, too. Maybe it's judging you. Maybe it doesn't like you—and you don't like it either, you know?" she added.
It was Self's second visit to the exhibition, and her last before it closes later this month. She was headed to Detroit the next day to prep for an upcoming residency, and then to London for her first major solo exhibition, opening Tuesday at the Parasol Unit Foundation for Contemporary Art. She had come through a snowstorm from her family's home in Hamilton Heights, Harlem, where she stays when she's visiting from New Haven. She studied at the Yale School of Art, and continues to keep a home and studio there. ("Alexander Hamilton's house [the Grange] is, like, right across the street from my house.")
It's not hard to see why she made the trek. At just 26, the artist invites comparisons to the 61-year-old Kerry James Marshall, and not only because they both exclusively describe the lives of black figures in their paintings. Both are storytellers, situating their life-size, lifelike subjects in environments that are at times explicitly political—see Marshall's portrait of Nat Turner in the foreground of a white, severed head—or implicitly so, like Self's animation "My Black Ass," where a woman turns her head around to stare at the viewer, her legs splayed in defiance. But just as often, they are pointedly ordinary. In Marshall's couples series, of which Self is especially fond, men and women dance in a living room or simply head to bed. She understands better than most that Marshall's insistence on celebrating the quotidian is very much a political act in itself.
"The bodies that my work is talking about are constantly politicized, so it'd be impossible for the work not to be politicized," Self said. "It's an unavoidable reality, you know?"
She explained that her own figures, or "avatars," as she calls them, are often stand-ins for herself. But they're not self-portraits, in the same way Marshall's resist autobiography. "[His] are characters, too. They have lives, lovers, partners, experiences, and real histories, and that's something I really want to communicate with my figures," she said.
"A stereotype is a flat character with two dimensions," Self continued. "And I can confront those stereotypical images by making round, multidimensional characters with complicated desires, inner dialogues, and psychology. That's my contribution to confronting racism or sexism—by trying to show a real spectrum of human emotion."
Recently, Self has won comparisons not only to Marshall but to other historical heavyweights. "There was more interest in [Tschabalala's] work than in anyone else's in the exhibition, even Picasso and Picabia," said Jeffrey Deitch of "Desire," the group exhibition he organized at Art Basel Miami with Larry Gagosian and curated by Diana Widmaer Picasso. In a show that included the likes of Jeff Koons and Andy Warhol, Self was "without question the hit," Deitch declared, adding that she was the sort of artist who emerges only every so often.
Self seems to have arrived on the scene fully formed. (She was just named to Forbes's 30 Under 30 List, which has made her a celebrity at home in Harlem among her four older siblings.) Her instantly recognizable blend of paint, recycled materials, fabrics, and collage also seems to have refreshed the figure, which millions have been painting for centuries.
Throughout middle and high school, Self was struck by how the women in sexualized images plastered across New York newsstands were almost always black, while the white bodies on magazines like Playboy and Penthouse were kept tucked away, only available for a price. When she headed to Bard to study studio art as an undergraduate, she started manipulating magazine cut-outs and pop culture imagery, reworking stills from music videos like 2Pac's "I Get Around" so that the women—"video hoes," in the unsavory industry parlance—acquired overdue agency.
"But ultimately, that wasn't really productive at all," Self recalled. She stepped away from one of Marshall's couples paintings, in which a cover of Ebony poked out from the corner. "I realized that if I really wanted to make something new, something that spoke to me, I had to find it within my own visuals and my own imagery."
At New York's Thierry Goldberg gallery last year, Self opened a solo exhibition whose title, "Gut Feelings," sounded vulnerable. But using paint, shreds of discarded old work, and scraps of fabrics that once belonged to her mother, Self constructed women who exuded confidence and cool, and often in unapologetically sexual positions (one of these ended up in "Desire").
The Empowerment You Need This Week, Courtesy of Tschabalala Self
Tschabalala Self, "Thigh," 2016.

Photo by Dan Bradica
Tschabalala Self, "Untitled," 2016.

Photo by Dan Bradica
Tschabalala Self, "Swim," 2016.

Photo by Dan Bradica
Tschabalala Self, "Butterfly," 2016.

Dan Bradica
Tschabalala Self, "Untitled," 2016.

Photo by Dan Bradica
Tschabalala Self, "Chop," 2016.

Photo by Dan Bradica
Tschabalala Self, "Untitled," 2016.

Photo by Dan Bradica
Tschabalala Self, "Bellyphat," 2016.

Photo by Dan Bradica
"Gut Feelings" closed the weekend after it was announced Donald Trump won the election. This week, her solo exhibition at Parasol opens just in time for his inauguration. That Trump's impending presidency threatens the very subjects and ideas she depicts has not escaped Self's notice. "It's sad for it to be under this kind of context," Self said wearily. She is at once resigned to Trump-tinted interpretations of her work, and aware of its added significance.
"It's more important now than ever for women to talk about their experience, and their experience with their bodies, and to have ownership over their bodies," Self said.
"I don't think my work's going to change, but I want it to be an enhancing experience for as many people as possible," she went on. "The work is not about being black—it's about these people who just happen to be black."
See How Kendall Jenner, Performance Artist, Channels Icons Like Marina Abramovic and Yoko Ono