New Tulip Fever Trailer Stars Alicia Vikander, and Is Completely NSFW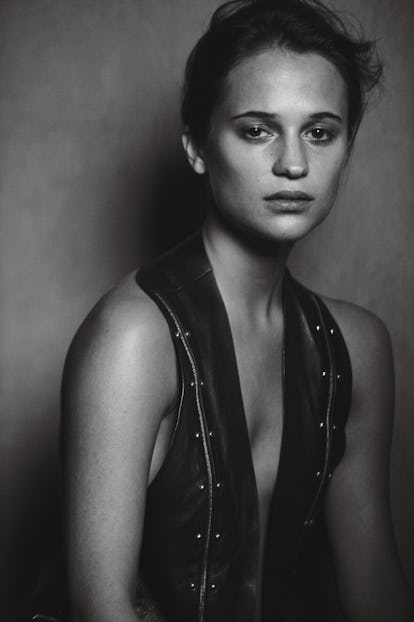 Red band trailers are common place for R-rated comedies and action flicks, but rare in the world of period romances. Tulip Fever is now one of the few to earn the label.
The Weinstein Company-distributed film released a standard trailer months ago that didn't get much attention. Then word broke last week that the Fox network had refused to run a new 30-second ad on the grounds that it was just "too sexy." Now, ahead of its release on Labor Day weekend, Weinstein Co. has shared the new NSFW trailer that is, quite simply, something you might expect to see on late night Cinemax.
The film's pedigree is impressive — it stars stars three Oscar winners (in this case Alicia Vikander, Christoph Waltz, and Judi Dench) and was directed by Justin Chadwick, the man behind The Other Boleyn Girl and Mandela: Long Walk to Freedom. Meanwhile the celebrated playwright Tom Stoppard, whose other film work included Shakespeare in Love and Terry Gilliam's Brazil, wrote the script. The film also stars Dane DeHaan, Zach Galifianakis, Glee's Matthew Morrison (in a role which was reportedly offered to Harry Styles), and, of course, Cara Delevingne.
Tulip Fever's release date has been shifted several times. The film was originally supposed to come out last summer before moving to this winter, and was recently scheduled for September 1st. In the midst of summer, there's not much chance for traditional promotion (most late night show, per example, are in re-runs for the rest of the month). So, a racy trailer is certainly one way to drum up attention.
Watch the trailer here:
Related: Alicia Vikander Has the Most Effortless Style
Alicia Vikander Auditions for Humphrey Bogart's Role in "Casablanca":
Alicia Vikander Can Do No Wrong on the Red Carpet
Alicia Vikander in Adeam on Late Night with Seth Meyers

Lloyd Bishop/NBC/NBCU Photo Bank via Getty Images
Alicia Vikander in Preen by Thornton Bregazzi in New York, New York, July 2016.

GC Images
Alicia Vikander in Rosetta Getty heading to a taping of The Tonight Show Starring Jimmy Fallon in New York, New York, July 2016.

GC Images
Alicia Vikander in Alex Eagle at a photocall for Jason Bourne in Berlin, Germany, July 2016.

Photo by Getty Images.
Alicia Vikander in Louis Vuitton at the premiere of Jason Bourne in Seoul, South Korea, July 2016.

WireImage
Alicia Vikander in Louis Vuitton at the premiere of Jason Bourne in London, England, July 2016.

FilmMagic
Alicia Vikander in Louis Vuitton at the premiere of Jason Bourne in Paris, France, July 2016.

WireImage
Alicia Vikander in Proenza Schouler at a photocall for Jason Bourne in Madrid, Spain, July 2016.

Europa Press via Getty Images
Alicia Vikander in Louis Vuitton at the premiere of Jason Bourne in Las Vegas, Nevada, July 2016.

FilmMagic
Alicia Vikander in Céline at the press conference for Jason Bourne in Seoul, South Korea, July 2016.

Getty Images
Alicia Vikander in Rodarte at the premiere of Jason Bourne in Sydney, Australia, July 2016. Photo by Getty Images.

Getty Images
Alicia Vikander in Louis Vuitton at the Louis Vuitton Cruise 2017 presentation in Rio de Janeiro, Brazil, June 2016.

Getty Images
Alicia Vikander, in Louis Vuitton, with Nicolas Ghesquière at the Met Gala in New York, New York, May 2016.

WireImage
Alicia Vikander in Louis Vuitton at a dinner for the brand in Paris, France, March 2016.

GC Images
Alicia Vikander at the 89th Annual Academy Awards at Hollywood & Highland Center on February 26, 2017 in Hollywood, California.

Kevin Mazur/Getty Images
Alicia Vikander attends the "Tomb Raider" Mexico City Premiere at Oasis Coyoacan on March 10, 2018 in Mexico City, Mexico. (Photo by Victor Chavez/Getty Images)

Victor Chavez
Alicia Vikander poses during the 'Tomb Raider' photo call at Pergamon Museum on March 2, 2018 in Berlin, Germany. (Photo by Matthias Nareyek/Getty Images)

Matthias Nareyek
Alicia Vikander attends the European premiere of 'Tomb Raider' at Vue West End on March 6, 2018 in London, England. (Photo by Mike Marsland/Mike Marsland/WireImage)

Mike Marsland
Alicia Vikander attends the Los Angeles Premiere of 'Tomb Raider' at TCL Chinese Theatre IMAX on March 12, 2018 in Hollywood, California. (Photo by Axelle/Bauer-Griffin/FilmMagic)

Axelle/Bauer-Griffin