Ten Reasons Why 2015 Was a Great Year for Turtlenecks
From Drake to Steve Jobs, let us count down the year in turtlenecks.
---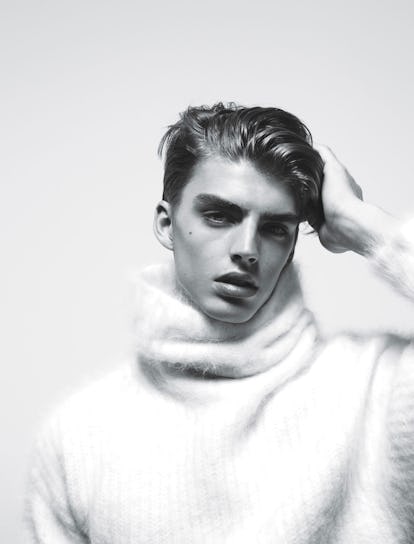 In some corners, 2015 can be summed up in one word that sounds like two: turtlenecks. Whether it was at the movies or in music videos, Twitter or Instagram, models or street style stars, turtlenecks had almost as good a year as Drake, who, by the way, is a strong proponent of the wardrobe staple once popular only with beatniks and Andy Warhol.
Why was that? Well, maybe it was good timing, the convergence of gender-ambiguous fashion – represented in the work of designers like Jonathan Anderson – and the advent of normcore. The other day, no less an authority than the New York Times asked, "Can the turtleneck ever be cool again?" Let us count the ways.
1. Drake in "Hotline Bling" Drake dancing around in an Acne Studios turtleneck sweater in his "Hotline Bling" video was the definition of masculinity this year. Finally, it was okay to be soft, in every sense of the word.
2. Daniel Craig in Spectre If you're still not convinced, even Mr. James Bond traded his signature suit for a turtleneck in the most recent episode in the spy series. This being Bond, he prefers his on the unconventional side, what might be described as a 'mock turtleneck' from N.Peal in "dark charcoal grey" cashmere.
3. Terrence Howard on Empire In the first episode of Empire, the show's ultimate patriarch Lucious Lyon wears not only a turtleneck, in white no less, but also a colorful scarf. Is he a dandy or a hip hop impresario? Why not both?
4. Nick Jonas When he wasn't dancing around shirtless at New York gay bars or various television appearances (Scream Queens, Kingdom), Nick Jonas tried to show his grown-up side with his wardrobe selection on the red carpet, like at the American Music Awards, where he dressed in a ivory turtleneck and complementary soft grey suit. Close enough, Nick.
5. Street Style Stars In the Cold Cold temperatures forced street style stars to bundle up during the fall collections, but turtlenecks allowed everyone to layer, layer, layer, and, still have some pizzazz.
6. OG Princess Leia in Star Wars: The Force Awakens 2015 was the year Star Wars came back into public consciousness and even before it hit theaters, the series found its way onto the runway. The force was with Yeezy Season 2, for instance. But who can forget Princess Leia (Carrie Fisher) in a white turtleneck dress? Just like the saga itself, it will never go out of style.
7. Kim Kardashian Makes Turtlenecks Sexy The Kardashian family fully embraced the turtleneck, but Kim being Kim hers still managed to show cleavage.
8. Steve Jobs. Still. The obsession with Steve Jobs continued with yet another biopic, this time starring Michael Fassbender, as well as a documentary by Alex Gibney, The Man in the Machine, all but guaranteeing the black turtleneck and jeans combo was a popular ensemble even when it wasn't Halloween. And other tech gurus still follow in his sartorial footsteps, like controversial Theranos founder Elizabeth Holmes.
9. Designers Find New Ways to Transform the Look On the runway, necks were given special attention. Designers like Junya Watanabe and Jonathan Anderson added frills, zippers, and volume to the classic turtleneck, making it almost unrecognizable. Almost.
10. Models Opt for Statement Turtlenecks Designers like Christophe Lemaire also started a new trend that models quickly latched on to: the floating turtleneck, which lands somewhere in-between a choker and a scarf. Brace yourselves, for this is what we might have to look forward to in 2016…