Jeff Goldblum Is Heeding the Warnings Depicted on Babylon Berlin
The Emmy-nominated actor talks about binge-watching Babylon Berlin in quarantine and taking a few lessons from the pre-WWII noir series.
---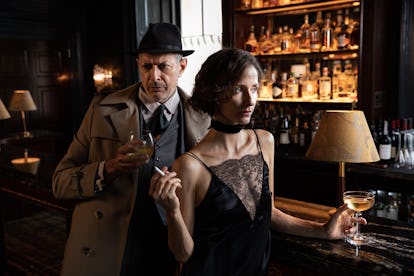 Jeff Goldblum and Emilie Goldblum photographed by John Wilson for W magazine, September 2020. Styling by Andrew Vottero. Grooming by David Cox. Jeff wears Thom Browne grey wool three-piece suit, Margaret Howell shirt and tie, and his own Celine trench and Fedora.
For W magazine's 2020 TV Portfolio, we chose 21 of the most sought-after and influential names in television and movies and asked them to discuss their favorite shows during quarantine. In self-shot portraits, these stars paid homage to the series that helped get them through a difficult period of isolation and loneliness. To see all the interviews and images, click here.
Jeff Goldblum's Disney+ series, The World According to Jeff Goldblum, has received a 2020 Emmy nomination for Outstanding Hosted Nonfiction Series or Special. While shooting Jurassic World: Dominion, Goldblum has been quarantined just outside of London with his wife, Emilie, and their two sons. In between putting the kids to bed and waking up early to shoot, he devoured Babylon Berlin, the Netflix thriller set in the Weimar Republic, before the beginning of World War II. It's part noir, part romance, and the actor and his wife have enjoyed every minute they've spent rapt by the onscreen narrative that, despite taking place nearly a century ago, relates to this current moment more than one might initially think.
Here, Goldblum talks about his love for Babylon Berlin, living across the pond, and why television has persisted as an art form that brings people joy, even in lockdown.
Where have you been quarantined?
I'm not far from London. We're shooting the Jurassic World: Dominion movie, and we've been here for a while with my whole family—Emilie and the two little boys. We'll be here until right around Halloween.
Have you been enjoying the time you've spent in London to film Jurassic World: Dominion?
I have enjoyed it so much. I mean, it's of course leavened with my heart going out to all the people who are suffering and dying. What a horrible time it is, but we're very lucky to be here. The people who have put this together, invested a lot of their hearts, souls, and intelligence in making us safe. We're having a little bubble here, and it's very creatively delightful. Colin Trevorrow is directing and writing it, and he's terrific. Laura Dern and Sam Neill are back, joining Chris Pratt and Bryce Dallas Howard. It's really fun. It'll be good.
Why did you choose to watch Babylon Berlin during lockdown?
I keep watching different things. Now that I'm here, we're pretty immersed in the work around here [in England]. Of course, I've been taking off a moment or two and playing music with Sam Neill. We were all bubbled up before then, being very, very careful and not going out at all. We were watching television, and one of the things that Emilie and I watched every night—when we could after we put the kids to bed—we watched passionately, obsessively Babylon Berlin.
What was it about that show that kept you hooked?
We were kind of on the edges of our seats the whole time. It was a bunch of episodes; it's many hours. We went through three seasons, but it kept compelling our interest. It's really well done. It's about the period before World War II. This is 1929, before everything shattered in the culture over in Germany and around the world—there was the [stock market] crash, of course—and it sort of suggests what elements might have been there that led to all the future events, disastrous events. We focus on these very compelling few characters. There's a noir detective story at the center of it with this great actor, Volker Bruch, whom I think I'll dress up a little like in this picture that we're planning on, and get my trenchcoat and a fedora. Maybe even Emilie could be part of it, because his costar Liv Lisa Fries plays Charlotte Ritter. It's very romantic, and you keep wanting them to get together. In the meantime, they're in this city where democracy is teetering on its foundations, and the whole culture is volatile with many awful types already emerging. It's really, really something. We tuned in night after night for that.
It must be really interesting to watch something that might feel prescient, that takes place before World War II when a lot of disastrous global events occurred. Nearly a century later, there's certainly a lot of ongoing chaos on a global level. Do you see any threads between what's depicted onscreen in Babylon Berlin and the current moment that we're living in now?
Yes, I do. It's certainly painful now. It's certainly volatile. There are different polarized—as everyone knows and talks about—factions that have been stirred up into a wide range of expressiveness and impulsiveness and, sometimes, vulgarity and instability and indecency. I'm concerned. This is tied to my interest in many issues that arose in our show The World According to Jeff Goldblum, which has to do with what draws us all together. And the other side of the coin is what can tear us apart, of course. And in Jurassic World, playing Malcolm, it's a dinosaur movie, but my character is always full of ideas that have to do with perspective and wisdom about the planet and ecology and the species. This character talks about nuclear power and the scientific tools that we have at our disposal, but without the right management and leadership and global cooperation, not to mention climate change, which I think my character also mentions, we're in for a bad time.
They even bring up the people who set the Doomsday Clock, if you know about them. They say how close we are to a potential ending of organized human life on earth. We're now, according to them—of course, it moved closer to midnight when the bomb was invented and then dropped, and there have been many close scrapes that many people are unaware of since. But now, with climate change and many other things in the last couple of years, the last time they set it, it sort of sped ahead. All of this is not unlike, and is adjacent in some psychological way to, 1929, or the potential is there, and we have to now honor the best of the brains around us so that we can make the right decisions.
Now that you're caught up on Babylon Berlin, has there been anything else that you've been watching in lockdown—maybe with your kids or with Emilie, or even just alone—that you've really enjoyed lately?
She and I have been going crazy over that Michael Jordan documentary. And during this period, I watched some more Ken Burns. I watched all of the Vietnam War documentary that he did and the Country Music documentary, which I loved. I've been obsessed recently with some [Stanley] Kubrick movies and all of his work—2001: A Space Odyssey and Barry Lyndon. Something that just came out that I really enjoyed is the Charlie Kaufman movie called I'm Thinking of Ending Things. I just saw it yesterday for the first time and then started to play it again immediately. It wants you to look at it immediately again, from the perspective of the end. It's fascinating. I really love it, and I loved his movies Anomalisa and Synecdoche, New York.
On The World According to Jeff Goldblum, you covered a variety of topics, from sneakers to coffee. Which one was your favorite to film?
I liked a lot of them. The sneakers episode was wonderful. I really got a kick out of playing basketball with all those wonderful players and to talk about shoes. During the filming of these episodes, I read Yuval Noah Harari's book, you know, Sapiens: A Brief History of Humankind. He talks about technology being on the brink of being able to hack into us and know us better than we know ourselves, and the gift and dangers surrounding that. In the pools episode, I enjoyed not only visiting those women who did the aquatic ballet—that was very moving to me—but visiting NASA was particularly delicious because they're so smart and brave. I was just moved and enlightened by talking to the astronaut women who were in training. I got the chance off-screen to actually talk to an astronaut on my cell phone. He called me, it was a perfect connection, a guy who was up in the space station currently. So many of the experiences that I had, we've tried to render in an uncontrived way.
Are you going to virtually attend the Emmys?
If I can, I will certainly tune in with great interest. I love being nominated along with those other people. I'm proud of this show, and you know, it's not me that's nominated, it's the show.
You're known for wearing a lot of vibrant outfits and accessories, like your glasses and jewelry. What's your favorite kind of mask to wear these days when you leave the house? Do you have a brand of masks that you really love wearing?
A friend of ours made a cool tie-dye thing. I haven't really kind of shopped around or done anything that was particularly stylish. I'm looking in my desk, and I have a very simple white mask. Nothing too fancy. I haven't really considered the mask as a style opportunity. I've been keyed in to the necessity of wearing it and trying to stay healthy, to contribute to the health of the community. That's been my focus.
Why do you think during these times that television has persisted as the art form that seems to be bringing people a lot of comfort and pleasure and optimism, especially during a quarantine period?
I'm no expert, of course, but I guess it's for lack of being able to go to the movies and to a sporting event and to all sorts of live alternatives. That's the obvious answer. It's in the house, it's going to be clean and unrisky, and you can watch it. But as we know, television has for a while now been a place of opportunity for some of the best creative people and ideas around. I watched every episode of Breaking Bad, Mad Men, The Sopranos, The Wire. There are many esteemed series, and all those Ken Burns things. I'm a fan of documentaries. You tune in, and you've got your whole menu of everything. I have seen many things that I wouldn't have otherwise.
Related: A Jeff Goldblum Statue in London Just Appeared to Celebrate the 25th Anniversary of Jurassic Park