Jodie Comer Is Also Mystified by Killing Eve's Cliffhanger
The Emmy-nominated actress, who's once again up against costar Sandra Oh, talks Villanelle and privacy concerns.
---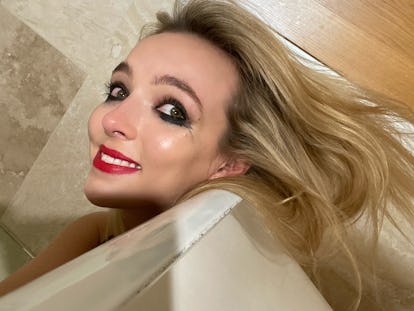 For W's 2020 TV Portfolio, we asked 21 of the most sought-after names in television to embody their favorite characters from their favorite shows of the past few months—and to explain why we should all be (re-)watching The Sopranos, Ozark, Schitt's Creek, and, yes, Floor Is Lava. To see all the images and discover their picks, click here.
Just as Jodie Comer was getting a break from being Villanelle, production on The Last Duel, a period drama-thriller starring Adam Driver and Matt Damon, was cut short. Within a few weeks, the 27-year-old actress was once again immersed in the universe of Killing Eve, with quarantine turning each week's episode of season 3 into an event. As the show delved further and further into Villanelle's backstory, the fandom surrounding Killing Eve was unavoidable—especially for Comer. The previously straightforward role of a stylish serial killer now had complexity, making her even more irresistible. And fans, including Elton John, were riveted.
Perhaps it's partly thanks to her growing fame that Comer, in turn, has become a passionate fan of another series: I Hate Suzie, which stars Billie Piper as an actress whose phone gets hacked. Whether or not the leaked images making headlines are real, they turn Suzie's life upside down and shatter any semblance of privacy. But you don't have to be a celebrity to get the draw of the series. In this day and age, Comer noted, everyone has privacy concerns. Here, she shares how she navigates her own, along with a few hints at Villanelle's future.
Where are you right now?
I'm in Ireland, in a place called Dalkey that's about 20 minutes south of Dublin. It's really beautiful, actually—like a tiny little town right on the sea. I'm enjoying the village life at the moment.
How long have you been there?
I've been here for two weeks. I'm about to resume filming on The Last Duel, which we were in the middle of all the way back in March. The time has kind of come to carry it on. It's crazy, but it feels like the safest place to be, in a sense, with all the measurements and precautions they're obviously having to take. They take things extremely seriously. I'm going back to set on Monday, and I'm sure it will be different. But I think it'll be a good atmosphere to be around, with everybody so ready to get back to work. My costars have been back for a week, so they've already started, but so far I've only seen them on Zoom calls.
Does it throw off your process, to deal with an interruption?
Yeah, I guess so. It's funny, because I always find that it's not until, like, six weeks into a job that I then feel like I know what I'm doing. And that's when we stopped. [Laughs] You know, I'm sure it'll be fine. I hope. Once I get my wig back on and my clothes on, I'm hoping it'll all come back to me.
Where had you been quarantining prior to this?
I was in Liverpool with my family, which was lovely. Everyone was healthy, which is the main thing. And my brother was home. I got to spend a lot of time with them that I don't usually get, so I feel very lucky in that sense.
You've also been watching I Hate Suzie, which unfortunately isn't available yet in the U.S. I'm jealous—it sounds amazing.
It's a real trip. I think what Billie Piper and Lucy Prebble have done is brilliant. The series is very, very immersive. In the first episode, you meet an actress who's having a photo shoot in her house, doing some sort of publicity for a role. And in the midst of all that, there's a notification on the news that a group of celebrities' and public figures' phones and accounts have been hacked. Compromising, private images have been released, and the images are of her. I don't really want to give you any spoilers, but the series follows how she deals with it and goes through it. Each episode follows a certain emotion—I guess the kind of journey you go on when something catastrophic like that happens in your life. But it's really funny. It's got a lot of comedy, and Billie Piper is just incredible. And I think the way they portray people in the industry is so spot-on. It's so fun to watch when you've been on sets before, when you've been on photo shoots, and all those clichés.
But I think ultimately what really fascinated me is how she explores handling something like this, having your privacy invaded and put out there for all the world to see and what that does to a person. And also the expectations we have of people, whether they're in the public eye or not. You know, it seems like now people can't afford to make mistakes or slip up or seem to have been doing wrong, even within their own lives. It's something that everybody takes part of in one way or another, the ridicule. Everyone jumps on top of it. I think sometimes in society now, it's like this mob mentality, isn't it? I really admired the way she explored that, and once I started, I just couldn't stop. Like Michaela Coel and I May Destroy You, this show has this very particular tone, and it's very fresh. And I just feel like it's women who are doing this. I'm like, please give me the name of a man who is doing this! It's just women, like, of course, Phoebe [Waller-Bridge]. It's so inspiring.
Is this something you worry about? Privacy concerns?
Yeah, I think always, you know? There's definitely part of my life that I want to keep sacred in a way. That's always been important to me. It's just navigating that and knowing what it is that you're willing and not willing to share. It's nice to keep some things to yourself and not have everything out there, because, of course, with acting, people think they have a very clear indication of who you are as a person. I also just love thinking back to old Hollywood, with no social media and the mystery that surrounded the people we adored onscreen. A lot of that has fizzled away. Of course, we're in a different age, but I quite crave that.
Do you feel pressure to post things that are more personal?
Not at all. I do as I feel. My Instagram has mainly been for promotion, with work and various other things. I just never really feel the need to post about my personal life. But when I feel comfortable in doing so, I do. I think that's the way in which I try to navigate social media—just listening to what it is I feel like I want and don't want to share. Everyone has different ways of doing it, you know? Some people are more personal, and I enjoy that. I can see why people would want to see that, I really do. But I just kind of go with how I'm feeling, really.
Congratulations on another Emmy nomination, by the way. This is your second year being in the [Lead Actress in a Drama Series] category with Sandra Oh, right?
Yeah, it's amazing.
How quickly did you guys get in touch with each other after it was announced?
We text. We always text straight away. [Laughs] She's in L.A. and I'm London, but we very quickly messaged. We sent Fiona [Shaw, their Killing Eve costar and a nominee for Supporting Actress in a Drama Series] a message, as well. It's just so great for the show to be nominated, and there are so many other fantastic nods, like Sam Perry, who came on this year as costume designer. When you're coming back each year and creating something, it's so lovely to see that people are responsive and they've enjoyed it. Like with all shows, it's such a team effort.
Have you and Sandra kept in touch throughout quarantine?
Not a great deal. We touched base a couple of weeks ago, and we always do to see how it's going. And of course, when it all first started, we were having a lot of Zoom calls and stuff because the show aired as this all kind of began. We know we've got a season 4, but it's unclear as to when that will be. But we've vaguely started having conversations about storylines and what kinds of possibilities there are, so that's always really exciting.
Yeah, I mean, I know you can't tell me what does happen, but I'm wondering—
I can't tell you aaaaanything! [Laughs]
I'm just curious, because it ended on such a cliff-hanger, if you personally know how the next season starts off.
No, not yet. And I think it's all still very much up for debate. I know the writers room is finished now, so I know those guys have ideas, but we've yet to kind of get a draft. But what's amazing about this whole experience and being a part of this show is finding my own voice. The production and the team really value that, and make a space in which I feel comfortable to give my opinion. It's very collaborative. You know, I think back to when I was younger, and you'd just go up to set and say your lines. Whereas now, I have a whole new perspective on how I can actually do my job and find it more fulfilling.
Do you have any hopes for what happens in the beginning?
Oh, gosh. [Laughs] Oh gosh. I've said this before, but it's tricky for me because I feel like Villanelle's own worst enemy is herself. And I just don't know how you ever get away from that. Thinking about the person she is, I feel like she's going to be the cause of her own demise in many ways. So we will see. We see a very different side to her in season 3, so I'm hoping and looking forward to how the writers keep what we love about Villanelle but also find new ways of exploring certain things, like her interactions with Eve. I think there was a big shift in season 3, so I think that definitely has to continue in some way going forward.
What are your plans for watching the Emmys?
I'm so gutted, because I'm not able to make the virtual ceremony. I've got filming, and I'm in Ireland. [Laughs] I'll be eagerly looking at my phone in the morning to see how everybody did, because it will be Sunday in L.A. but Monday here, but because of the time difference and the conflicts of film and schedule, I'm not able to! I'm actually really intrigued to see what everyone's going to do in regard to what they're going to wear. I quite enjoy that.
The nominees I've talked to all seem to be treating it normally, with hair and makeup and calling things in.
Yeah, it's an event! Why not?
Do you miss red carpets and getting dressed up?
Yeah, I do. You know, I think actually what I miss more about that whole experience is the team of people I'm always around, like the hair and makeup team. My stylist, Elizabeth Saltzman, is just one of the best human beings ever. She's so much fun. I think what I miss most is being around like-minded people like that, who really celebrate those moments and make them fun. They're always such a good energy to be around. So I look forward to the day when, when we can all do that again in person.
Well, it sounds like the first step is getting back to set, which you're about to do.
Yeah, I know. Baby steps!
Related: Jodie Comer Muses on Villanelle's Future in Killing Eve