John Mulaney Has a Fear of Wearing Shorts on Television
Otherwise, he'd try his hand at competing on Netflix's Floor Is Lava game show.
---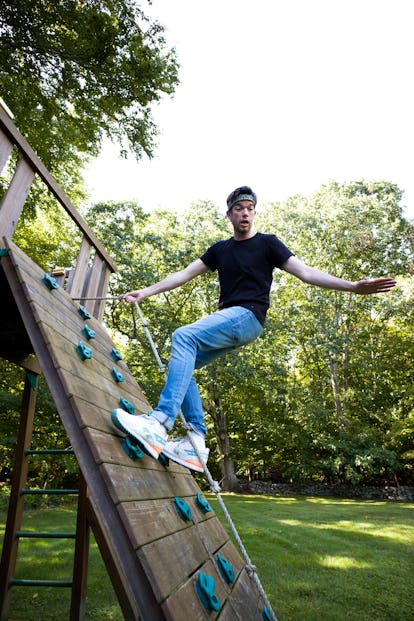 John Mulaney, star of John Mulaney & the Sack Lunch Bunch's, pays tribute to his favorite show, Floor is Lava. Photograph by John's wife, Annamarie Tendler Mulaney, for W magazine's 2020 TV Portfolio.
For W's 2020 TV Portfolio, we asked 21 of the most sought-after names in television to embody their favorite characters from their favorite shows of the past few months—and to explain why we should all be (re-)watching The Sopranos, Ozark, Schitt's Creek, and, yes, Floor Is Lava. To see all the images and discover their picks, click here.
John Mulaney has had a busy year: Riding off the success of creating and starring in his own Emmy-nominated variety special, John Mulaney & the Sack Lunch Bunch, he hosted Saturday Night Live for the third time in his career, just weeks before New York went on lockdown. Still, while in quarantine, the performer found time to watch reality television. He doesn't just watch one reality series, either—he is intimately acquainted with at least three of Bravo's Real Housewives franchises, a show about polyamory on Showtime, and, of course, Floor Is Lava, the Netflix game show based on that game you probably played as a child, in which you must do whatever it takes to not touch the ground.
Okay—how did you ever find Floor Is Lava?
A friend sent me a cell phone photo of a person trying to avoid a viscous red fluid and I immediately said, "What is that wonderful looking show?" I really like that there's no article in the name—Floor Is Lava. Shorthand we should all use. Like: Door's Broken. Floor Is Lava. So, I went straight to my iPad and watched the show. It was so good that I immediately felt terrible that I had not waited to watch it with my wife. We usually watch great shows together from the beginning. I went hat in hand and she forgave me.
What is the premise?
Mostly, it's people trying to do something physical and falling. Perfection. The only problem with Floor Is Lava is there's not enough episodes. I've thought of emailing Ted Sarandos [Co-CEO and Chief Content Officer of Netflix] for more episodes. Once you get the red viscous fluid going, you should shoot at least 100 episodes.
Would you want to be a contestant?
I'm of two minds on this: I might wipe out right away and then I'm gone. I would ask, "Hey—could I do it again?" Or, if I fell in the lava, would that be the end. I also have a fear of wearing shorts on television. The contestants all wear shorts.
I have a fear of men in sandals on the subway.
How do you run in sandals? I was once buying drugs in Barbados and I was wearing flip-flops and I thought, These were not made for this transaction. And why did we go to a strange farmhouse? The folded piece of paper they sold us was empty. That was almost as disappointing as seeing the last episode of Floor Is Lava.
Do you watch reality shows?
I watch The Real Housewives of Beverly Hills, Orange County, and New York City. I watched something called Too Hot to Handle. I became addicted to a show called Polyamory: Married & Dating on Showtime. For two seasons, we would follow the pitfalls and triumphs of polyamorous people. Inevitably somebody gets jealous. Their biggest criticism would be, "You're very mono," meaning monogamous. "It's poly, man, not mono," they would retort. I wouldn't do well in the polyamorous life. There's too much extra dialogue. Everybody would love group sex on a U-shape couch, but having twice as many marital conversations kind of takes away from the extra sex.
Being in quarantine, what do you miss?
Movie theaters. Restaurants. I know they're open outdoors but, c'mon. I'm not opposed to everything stopping. It's been interesting. I became a better cook during quarantine, although I don't understand the interest in sourdough bread. Feeding that Audrey II-like starter? Very weird. Who wants a bubbling jar of yeast? I also started calling people on the phone; something that I never really did before. I spoke to friends a lot. And regularly. I think I'll keep that up forever, even when the world returns to normal.
Related: A Black Lady Sketch Show's Quinta Brunson Considers Her DMs to Be a "Graveyard"