Kaitlyn Dever Quarantined With Ben Platt
The Unbelievable actor talks delivering (distanced) homemade cookies during quarantine, and getting her family hooked on Schitt's Creek.
---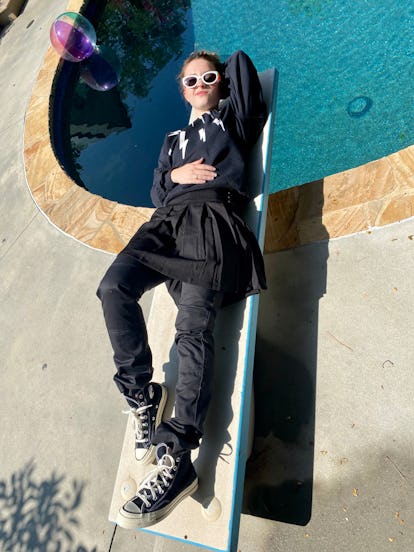 Unbelievable's Kaitlyn Dever dresses as Dan Levy's character, David Rose, in Schitt's Creek. Photograph by Ben Platt for W magazine's 2020 TV Portfolio. Kaitlyn wears Jazzy Goes Berserk on Etsy Sweatshirt, Dickie Pants, Stylist's own skirt, Bonnie & Clyde Sunglasses, and Converse sneakers.
For W's 2020 TV Portfolio, we asked 21 of the most sought-after names in television to embody their favorite characters from their favorite shows of the past few months—and to explain why we should all be (re-)watching The Sopranos, Ozark, Schitt's Creek, and, yes, Floor Is Lava. To see all the images and discover their picks, click here.
Like many people with access to streaming platforms such as Netflix, Kaitlyn Dever has recently discovered the joy that comes from watching Schitt's Creek. In addition to learning TikTok dances from her younger sister and meeting the best friend of one of her own best friends for the first time (that would be Ben Platt, with whom she will costar in the upcoming film adaptation of the Broadway musical Dear Evan Hansen), watching the Canadian comedy series became her quarantine obsession.
For the 23-year-old Dever, it might have even been fate that she would get hooked on Schitt's Creek around the same time that both she and the show's Emmy-nominated star Dan Levy would be cast in Coastal Elites, an HBO special that recently aired that includes a collection of five monologues by Paul Rudnick and was produced entirely in quarantine. This September, Dever also finds herself wrapped up in Emmy Awards prep for her show Unbelievable, which scored four Emmy nominations, one of which was for Outstanding Limited Series.
Did you cook a lot during quarantine?
I made cookies! I love cookies—they are my favorite food. I would bake a lot of them and then put them in mason jars and deliver them to my friends. I'd drop them off and wave from a distance. My younger sister, who is 16, also taught me a lot of TikTok dances. I'm not on TikTok, but I can now do many of the dances.
Did you watch a lot of television?
I felt really grateful for Schitt's Creek. My entire family was hooked. It was dark and scary at the beginning of quarantine, and we all wanted something funny to watch. All the characters are icons, but I was particularly drawn to Dan Levy. I started following him on Instagram, and then we were both cast in Coastal Elites. Dan and I bonded over our nerves—it's scary to do a long speech straight to camera. I also rewatched any rom-com I could find. Anything with my crush, Chad Michael Murray! I began to realize that good romantic comedies are hard to make. My post-quarantine goal is to be in a great rom-com.
You starred in Booksmart, which was a kind of romantic comedy—there was a platonic romance between your character and Beanie Feldstein's character.
Yes! And it's an ongoing love story—Beanie and I became so close. And now I'm about to shoot the musical film Dear Evan Hansen in Atlanta. I'm quarantining in a house with Ben Platt, Beanie's best friend, [before we start pre-production]. Meeting Ben was like meeting your girlfriend's or boyfriend's parents—he's so close to Beanie that I was nervous. But he's so lovely.
In Unbelievable, which is nominated for several Emmys, you play the main character, a rape victim. Did you have to audition for the part?
Unbelievable is based on the story of a real woman named Marie. It was a very difficult audition, and shooting Unbelievable was the hardest thing I've ever done. The script called for tears—a lot of tears—but I tried not to cry all the time. Instead, I wanted to scream. A lot. But I didn't. I stayed in that emotional state all the way through to the end of filming. I love to be part of projects that start a conversation. I wanted to give Marie her moment. And her justice.
Related: Beanie Feldstein, Billie Lourd, and Kaitlyn Dever Talk First Kisses and Pop Bottles of Champagne