Paul Mescal Would Rather Discuss Normal People's Deeper Themes
The Emmy-nominated actor would rather talk about Normal People's deeper themes.
---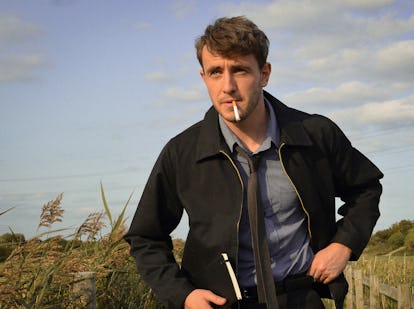 Normal People's Paul Mescal pays homage to True Detective. Photograph by India Mullen for W magazine's 2020 TV Portfolio. Paul wears Dickies Jacket, Margaret Howell shirt and tie.
For W's 2020 TV Portfolio, we asked 21 of the most sought-after names in television to embody their favorite characters from their favorite shows of the past few months—and to explain why we should all be (re-)watching The Sopranos, Ozark, Schitt's Creek, and, yes, Floor Is Lava. To see all the images and discover their picks, click here.
Paul Mescal became an overnight sensation when he stepped into the role of Connell Waldron, the brooding, introspective other half to Marianne Sheridan in Sally Rooney's Normal People. The Irish actor has an affinity for various expressions of masculinity, as he made clear with his homage to the first season of True Detective, in photos taken by his Normal People costar and friend India Mullen. Here, the actor talks about rewatching True Detective to deepen his understanding of its quality, evolving over time, and why he's a little bit sick of talking about that seductive accoutrement hanging around his character's neck throughout Normal People's 12 episodes.
How did you put together this homage to True Detective?
Me and India Mullen [who plays Peggy on Normal People] took two specific images from the show and tried to get as close as possible.
What was it about that show that made you want to watch it during quarantine?
I've watched that show definitely three, maybe four times. I'm obsessed with that piece of television. I think it's just nearly perfect. I just love that show so much. I think Matthew McConaughey and Woody Harrelson are pretty close to perfect. You can go back and watch it three or four times and not get bored.
In different genres of storytelling—sci-fi, romance, noir—it is so satisfying when the performances, aesthetic, and writing are all at a particularly impressive level. That's a pretty rare thing to witness, wouldn't you say?
Yeah. I think I was in drama school when I first watched it and studied the acting. I went back to it at the start of lockdown to see all of the other parts and have a greater understanding of why that show is so good, and it's not just the acting. It's the production design, the way it's shot, the direction of it, the music—it's all moving in the right direction.
On True Detective, there are differing expressions of masculinity. Maybe the True Detective characters exhibit a harsher, more traditional form of masculinity, whereas in Normal People, Connell exhibits something a bit softer and more introspective?
Yeah. I think you get the trope of hypermasculine detectives, but also I think Matthew McConaughey's character, Rust, in particular, is more introspective, which I always find more interesting to watch. With Woody Harrelson's character, Marty, you feel like he's more hypermasculine, but as the show goes on, the more you see he's wrestling with that and it makes him uncomfortable and he's trying to step into a role, similar to Connell, and it just doesn't fit right with anybody.
Have you had experience with that in your personal life, going from being a Gaelic football player to becoming an actor, and tapping into different expressions of masculinity?
I think in my case, that football environment was actually quite tolerant when I wanted to go on to be an actor. They were really cool about it. It made me think about my own identity, and I suddenly had to readjust what my life would be like. I definitely have seen the change, or looked at how I identify as a man in the world. That's constantly changing and evolving, I think.
I think it should evolve. Life would be boring if we didn't change.
The thing that I hate is when you hear people say, "Oh man, you've changed…" It's like, everybody's constantly changing. I'd be incredibly bored if I was the same person that I was last year, four years ago, or if I'm the same person as now in five years' time. I highly doubt that would be the case. It's not something that's interesting.
When Normal People premiered on Hulu, the Internet fawned over one accessory worn by your character throughout the series: a chain. Why do you think people obsessed over that, and whose idea was it to give Connell the chain in the first place?
The chain is actually from the book. It wasn't my idea or the costume designer's idea. I remember going to a fitting, and the chain was there, and I was like, Oh, it's a reference to the book. I also think it's right for the character. I don't know why it's garnered the attention that it did. I'm slightly confused by it. That's my honest answer. I see tons of people walking around with chains on, and yeah, I'm slightly confused.
Do you wear one in your personal life?
Mmm hmm. Yeah.
Have you noticed a change in the way people respond to you when you wear it?
No. My feelings around it are complicated. I don't like talking about it because I find this dominates the conversation, but I also understand that it's a piece of the costume that people associate with the character, and an audience can take whatever they want from the show. I don't know, it's been tricky in that sense, because when you're talking about a show that explores huge themes in terms of depression, love, friendship, and then—and this isn't in reference to this interview—but you talk about the chain for a certain amount of time in an interview, and it can be difficult because I find there's only so much I can say about it without going around in circles and being like, "I have no idea what it was." It's probably associated with maybe a higher, kind of sexualized version of the character, which has nothing to do with me or the acting. It's kind of something that the audience can project onto me and the character.
In terms of those bigger, deeper themes, which are written into the book and explored on the show, what do you think is the most gut-wrenching part of the dynamic between Connell and Marianne [his on-again, off-again girlfriend]? As you said, there's depression, and romance, and the idea of not knowing what your future holds, class consciousness—there's a lot. What's the most heartbreaking?
That's such a good question. I think, ultimately, the thing that crosses all of those things is the fact that they have found in each other a best friend, you know? That then allows the platform for love, for sexual intimacy, for big, elaborate conversations. And with that decision to be separate at the end and not feel like they're losing each other, I think friendship is undercutting it. I think they have an indescribable connection, that the closest thing I could associate it with is a best friend that you can share everything with and not feel exposed, not feel judged. I think when they don't have that or when they're separate from each other, or when they find it difficult to express, or when Connell realizes how much Marianne actually means to him and he finds that difficult, looking at it from the audience's perspective, you're like, Come on here, dude, you're going to be in a lot of trouble without this person by your side. I think that's, for me, one of the most heartbreaking things about them.
Why do you think television has persisted as the art form that continues to bring people joy and comfort—and thought-provoking conversations—during quarantine?
I would say that it takes up more time than a film, which is a good thing at the moment. It's the writing and styling going into television in the moment. You're looking at writers like Sally writing for television, whereas before it was maybe seen as a lesser art form. But you're getting these incredibly well-drawn characters, and you're seeing them for a longer period of time than you would during a film—therefore, I think, giving an audience a greater chance to connect or see the complications, or see themselves in it. I think the longer you allow an audience to sit with a character, the more complicated the response is to a character, to a situation, to a relationship. I think that's what people want at the moment, time with the story and the characters.
Has there been any other show that you've spent a lot of time with during lockdown?
I've been watching a lot of comedy at the moment. Stath Lets Flats on Channel 4 [and HBO Max] is amazing. I've gone back and watched the Godfather movies, though that's film. I watched more stuff at the start of lockdown and have gotten a little bit busier since then, so I don't have the time that I probably did at the start of this.
Stath Lets Flats is so good. From an American perspective, it seems to be so culturally specific to Greek immigrant culture in the United Kingdom, but also very specific to living in London.
It's also just a master class. There's definitely social commentary going on, but watching Jamie [Demetriou] being so technically proficient and so funny, it's a laugh a minute. It's physical comedy, or the way he structures a sentence, but at the same time, that character can be quite irritating and so un-p.c., and says the wrong thing at the wrong time, but you're still rooting for him at all points. I think that's a really difficult thing to do.
Have you had time to read anything good lately?
I'm reading at the moment The Catcher in the Rye.
Have you read that before?
No, I haven't.
Okay, then I won't spoil it for you!
No, please don't. [Laughs]
Related: Normal People Stars Daisy Edgar-Jones and Paul Mescal Bring the Novel's Electricity to the Screen