Rachel Brosnahan Reveals Her True Self: A Survivor Superfan
The Marvelous Mrs. Maisel actress' fandom is so well-known among her friends and family that they purchased Survivor gear for her birthday.
---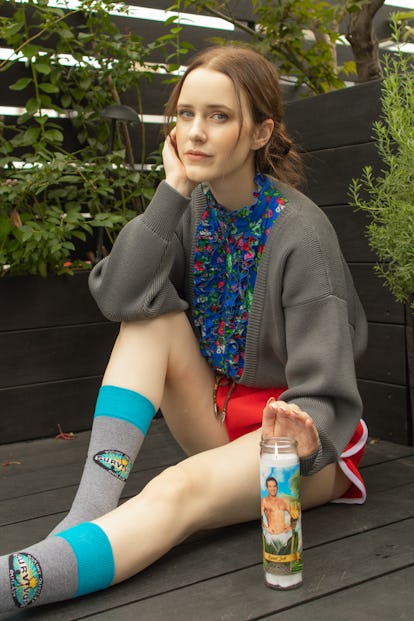 The Marvelous Mrs. Maisel's Rachel Brosnahan pays homage to the show she binged during quarantine, Survivor. Photograph by Serichai Traipoom for W magazine's 2020 TV Portfolio. Rachel wears Louis Vuitton sweater and shorts and her own socks.
For W's 2020 TV Portfolio, we asked 21 of the most sought-after names in television to embody their favorite characters from their favorite shows of the past few months—and to explain why we should all be (re-)watching The Sopranos, Ozark, Schitt's Creek, and, yes, Floor Is Lava. To see all the images and discover their picks, click here.
In The Marvelous Mrs. Maisel, Rachel Brosnahan plays an Upper West Side woman during the 1950s who seemingly has it all, especially for that time period: a husband, two children, a lavish apartment. But when she discovers she has a hidden talent—doing stand-up comedy, and doing it well—her life is turned upside down. The show operates with a run-and-gun dialogue cadence, and unending wit (Maisel was created by Gilmore Girls' Amy Sherman-Palladino). So when Brosnahan shared her favorite show to watch during quarantine, a competitive television series that's run on CBS for decades came as something of a surprise. But Brosnahan insists that she loves, and has loved, Survivor for years; a friend from college recommended she watch it when she "had a lot of time on her hands." In that way, the 40 seasons-strong Survivor was tailor-made for lockdown.
What did you do to get into character for this shoot?
Honestly, I was living out my full Survivor dream. I just had so much fun. I also realized, sadly, how much Survivor gear I own.
Where on earth did you get "The Tribe Has Spoken" socks?
This has now become my full brand, and I'm really gonna need to find something else to watch in addition to Survivor, which I love. I celebrated my 30th birthday recently, and absolutely every single one of my gifts was Survivor-themed. So the socks were a very thoughtful birthday gift.
So your love for Survivor is well-known in your friend group?
Well, yes. There's been four of us in our little—I don't know what you'd call it—quaran-pod, or quaran-family, since the beginning of March, since essentially the day that New York shut down. So that has been our family show; that's essentially how we got so deep into it. So it's a shared passion.
And was it a rewatch for all of you?
Embarrassingly. It's a rewatch for my husband and I, but first time for the rest of the family. So that was very fun for us. And there were so many seasons that I'd honestly forgotten who won a lot of them.
But that's perfect for quarantine.
That's exactly what started it, to be honest. We were like, okay, we might be stuck here for a while. What should we watch? And there were 40 seasons of Survivor. It seemed like it was bound to get us through even the longest of stay-at-home orders.
I did want to ask why Survivor ended up being the show that you watched the most during quarantine.
There was so much of it! It was already a show that I've been a big nerd about for some time—mostly, that was like people saying, "That show's still on the air?" But I think I have turned a lot of people in quaran-times into Survivor superfans.
What is your personal history with Survivor?
It's truly that a friend from college, who I didn't know was a big Survivor fan, was talking with another friend who watched Survivor, and they were talking about probably what was then the current season. This is a number of years ago. I think I was one of those people who was like, Is that show still on? And they were like, Yes, yes, yes. And I'll never forget it, my friend was like, Listen, one day, you're going to have a lot of time on your hands. You're going to be stuck somewhere shooting, and you're going to have nothing to do. And I'm telling you, watch season 13 of Survivor. I shrugged it off and had no intention of following up. But sure enough, I was shooting a project in the middle of nowhere, Massachusetts, and I shot once every four or five days. And I had a lot of time on my hands and no money, and so I couldn't go anywhere. You know, I was stuck in this hotel on a highway. And I turned on season 13 of Survivor, and that was the end.
Have you been reading or watching anything else in quarantine that's brought you joy, or made you think?
The thing that's brought me the most joy has actually been that I recently launched a production company, Scrap Paper Pictures, and have been sent so many writing samples from a lot of writers who were new to me and who are pretty new in general. And so, I've actually just been reading a ton of incredible scripts from young and new writers. And that has brought me an incredible amount of joy during quarantine.
We also moved on from Survivor a little bit and are now watching—which is maybe a little too Survivor in this moment—but I've been watching Alone. It's amazing. It's hard to watch. They are alone and surviving without any games. They're just trying to make it. But watching these incredibly skilled survivalists live in the wild, where they have such a spiritual relationship to the land, has been really inspiring—especially, I think, in the middle of everything that's happening right now.
The other thing that I have been reading that has brought me great joy is this book about Joan Rivers. It's right in front of me, actually. It's called Last Girl Before Freeway: The Life, Loves, Losses, and Liberation of Joan Rivers. It's a really amazing portrait of an amazing woman—of the pioneering comedienne who has been so inspiring to me, who I had the great privilege of meeting once. It's a book that Caroline Aaron, who's on The Marvelous Mrs. Maisel with me, had given me to read. This extended period at home finally gave me a chance to sit down and read it. It's not necessarily always an uplifting book, but it's a really powerful story about a powerful woman.
Would you say that you identify with Joan Rivers in some way, or has she been an influence on you?
I don't know that she's an influence or that I identify with her, but in prepping for Maisel, Joan Rivers was one of the comediennes I studied, and I have learned so much about her beyond the sometimes caricature that was presented to the world. Looking underneath that facade has been moving and inspiring, and there was so much more to her that I wish more people knew about.
Do you know what you'll wear to the Emmys on Sunday?
I do. I don't know if I'm allowed to—I don't want to spoil it. Let's just say I will be very comfortable. I'll be more comfortable than I've ever been at a public event.
Related: Rachel Brosnahan Channels Beyoncé For the Standup Scenes in The Marvelous Mrs. Maisel