Shira Haas's First Awards Show Experience Will Be Virtual
"It's not like I've been nominated for an Emmy before. I'm just really, really excited for this opportunity," the actress said of her Emmy-nominated series, Unorthodox.
---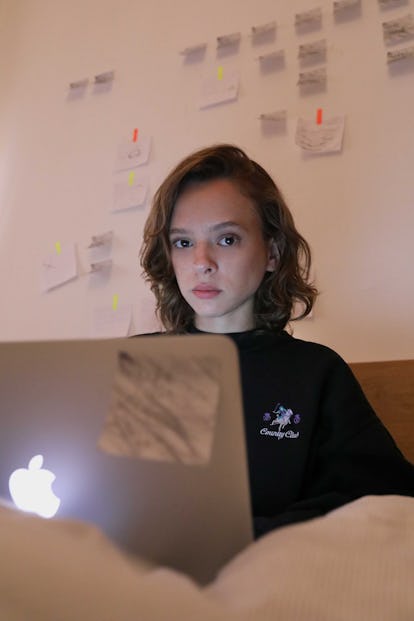 Unorthodox's Shira Haas references Michael Coel's character in I May Destroy You. Photograph by Ido Weisman for W magazine's 2020 TV Portfolio.
For W's 2020 TV Portfolio, we asked 21 of the most sought-after names in television to embody their favorite characters from their favorite shows of the past few months—and to explain why we should all be (re-)watching The Sopranos, Ozark, Schitt's Creek, and, yes, Floor Is Lava. To see all the images and discover their picks, click here.
Four of this year's five nominees for the Outstanding Lead Actress in a Limited Series or Movie Emmy are established industry heavyweights: Regina King, Kerry Washington, Octavia Spencer, and Cate Blanchett. The fifth is an anomaly: Shira Haas, a 25-year-old Israeli actress whose name was scarcely known until this past March, when Netflix premiered its first series primarily in Yiddish, Unorthodox. Haas stars as Esty, a young ultra-Orthodox Jewish woman who delights her grandmother by agreeing to an arranged marriage. For a time, Esty weathers married life in Williamsburg, Brooklyn—cooking, cleaning, and trying to avoid having sex—but flees to Berlin the first chance she gets. Once she's there, a splurge on a cup of coffee leads to a chance encounter with a music student, which lands her a place to sleep—the basement floor of a music conservatory—and a group of friends. They watch with amusement as she navigates a whole new world, starting with discarding her wig and embracing her shaved head—a look that, in the context of Berlin, actually helps her blend in. Meanwhile, on the orders of their rabbi, her husband, Yanky (Amit Rahav), is hot on Esty's tracks.
It's been a whole new world for Haas in real life, too. But thanks in part to another breakout series, I May Destroy You, she's found ways to adjust. "Maybe, in a way, it helps me to process it," the actress said of working from home, which, in her case, is Tel Aviv. Here, she reflects on the surprising similarities between her and Michaela Coel's breakout roles, and how she's prepping for her first (semblance of an) industry event.
Where have you been quarantining?
I'm in Israel, where I live. I was, of course, like all of us, supposed to travel with Unorthodox, but I did everything from Tel Aviv. Work from home, 100 percent.
What is working from home like for you?
Well, with all the success and what's happened with Unorthodox—it's very new to me. Maybe, in a way, it helps me to process it. And it's not like I'm used to something else. So I love working from home. I love staying at home in general. So working from home hasn't been the hard part of quarantine. But, of course, I wish the circumstances were different.
So are you prepping for roles right now?
Yeah. I just finished another Netflix series, an Israeli one called Shtisel, here in Israel. And I've still been doing a lot of interviews and press for Unorthodox, which still is really exciting. But otherwise, there are very few people that I see. I've always had this hobby of Photoshop and graphic design and making collages and stuff, so I've been doing that. And I really love writing, so I'm trying to write a bit. And, of course, watching movies and TV.
I know it's everywhere right now, but how did you first get into I May Destroy You?
I got a recommendation before it exploded, before everyone was talking about it. I just started watching it and was so fascinated. I mean, it's such a brave TV series. I think it brought something very, very different to television. It brought up [familiar] situations from our lives, maybe stuff we've seen before in films and television, but it took so many complex approaches to it. You don't just see black and white—you see all the gray in the middle. I felt so many mixed emotions, toward the situations, toward the lead character. And I love TV series that actually make me think about what I watched after I watch them. After seeing an episode, I found myself talking about it with people or thinking about myself. It really stayed with me. It was really powerful.
It's also pretty heavy. How do you balance watching something like that when things are already so heavy in general?
Oh, yeah. I mean, I also enjoy comedies and light stuff, as well. But I always find myself, with the roles I choose and the things I watch, enjoying things that might make you question things and sometimes feel uncomfortable. In a very different way, Unorthodox also makes you question a lot of things. It may seem hard to pick something that will affect you like that, but I love it. That's my kind of stuff. [Laughs] It was hard, but it wasn't too hard for me. It was exactly what I needed, especially in this time of quarantine, when you have time to think and you have time to be with yourself and actually process things. Maybe the fact that I watched this during quarantine made it even more meaningful to me. I kind of had time to take it in, you know what I mean?
No, I totally agree. I also found it easier to process because it was released weekly. Did you watch it on a weekly basis, or in one go?
I watched three episodes in two days, and then I had to wait. It was interesting, because, of course, I wanted to keep going. But there was something about waiting for every episode, which is so rare nowadays, that was actually exciting.
And that's so different from Unorthodox—I had to stop myself from watching all four episodes in one night. But I do feel like there is some similarity between the two. Michaela Coel's role really resonated with people, and so did yours.
Thank you so much—that's a real compliment. I mean, these projects are so different, it's really hard to compare. But both of them, especially in the time of Covid-19, really question stuff that we haven't thought about before. Unorthodox is a story about a woman finding her voice and understanding the value of freedom. And what's more relevant than the value of freedom when we're in the place we are now, in quarantine? And, of course, both have female leads who are trying to find their truth, in a way. So maybe there are some similarities, even though they're so different.
You mentioned that you like comedies and light stuff, too. What else have you been watching?
I'm watching Sex Education right now. I've only seen the first season, so no spoilers. But it's definitely a lighter watch and more fun. And also great acting.
I also wanted to congratulate you on the Emmy nomination. I loved the video of you and your costar getting the news, too.
Yes, yes. Amit [Rahav] is a really good friend of mine. We didn't expect the show would get so many nominations—we just said, wouldn't it be nice to watch it together and to film it, just for us to have? It was really naive. And then the show, and also myself, got eight nominations total. The reaction was very authentic, as you can see.
Do you two get to see each other, since you live so close?
Yeah, he's a neighbor of mine. I always laugh that if I'm on my balcony and scream loud enough, he might hear me. I've known him for, like, 10 years, and he's definitely one of my favorite people.
You must be so thrilled to see your name among those of the rest of the category. It's such an incredible lineup. Are any of their names particularly significant to you?
It's crazy. I mean, all of them—the biggest names and Oscar winners. Each of these four ladies are women that I admire, from these shows specifically, and also from previous work they've done. Cate Blanchett is really a role model for me, and also Regina King. To be nominated is amazing enough, but to be nominated alongside these ladies, it's even more, really. When it was announced, and they showed everyone's pictures, I was right in the middle of Cate Blanchett and Regina King, and right below me are Kerry [Washington] and Octavia [Spencer]. It's surreal.
How are you going to prep for the event?
We're still planning, because we need more information to understand exactly how it will be broadcast. You know, I'm from Israel. I know that a lot of people who were nominated from Unorthodox are in Berlin, and I know people from Normal People are probably in the U.K., for example. There are probably people in Australia, and of course in America, so I think it will be really interesting to see exactly how they will arrange it. Thankfully, that's not my job. [Laughs] Obviously, I tend to do these things with a lot of people, but I don't want to risk anyone, so I'll have the people I'm very, very close with, who I've been seeing, and that's it. It'll be probably very, very festive, and hopefully we'll be able to find normal ways on the day of the ceremony. Like I said before, everything is very, very new to me. It's not like I've been nominated for an Emmy before, so now I need to get used to something else. I'm just really, really excited for this opportunity. Hopefully, there will be, like, other events that are face-to-face, with a red carpet, but for now I don't feel like I can complain at all.
Are you going to get ready as if it were a regular red carpet?
Definitely. It's a festive day, and I'm really looking forward to it, so I'm definitely going to do hair and makeup and dress up nicely. I mean, it won't be too much, of course. But I'd like to make it as festive as possible, and celebrate as much as I can in this time.
Will it be at a strange hour for you, with the time difference?
Well, it's a 10-hour difference between Israel and L.A., which is a lot. It'll probably be like midnight for me. I'm already thinking about trying to go to bed really, really late the two days before, just so I can properly behave on the day of the Emmys. [Laughs] But it's okay, I'm a night person in general, and I get to sleep pretty late. I love the small hours of midnight, though this will be even more extreme. But that's also a cool experience. It'll be total quiet, but we'll have our own small party.
I shaved my head at the beginning of quarantine, and the first thing my mom said was, "Oh my god, you're in Unorthodox!"
Oh my god! Well, it's been about a year since we finished filming Unorthodox, so mine is like a long bob right now. I kind of enjoy all these stages. All my life I had the longest hair. I never cut it, and I was really afraid to. I don't know why—I just got used to it. And then in Unorthodox, it was fully bald, as you saw. So now I'm really enjoying all the different options and seeing what I like and what I don't. I'm letting it grow right now, and when it's long enough, I'll definitely cut it again. Sometimes I even miss the buzz cut. It's so comfortable and so cool. It made me really think about all the different options. I miss it sometimes, definitely. I'm really jealous of you right now. [Laughs]
Would you ever shave it again?
For a role, of course. I mean, I was pretty cool in Unorthodox, but I was, of course, also scared. If I did it again right now, I wouldn't be scared at all because I know it's, like, the coolest thing. I don't know if I'll shave it again. For now, I'm enjoying the short version, but not completely bald. But I really loved it, so maybe one day. Who knows?